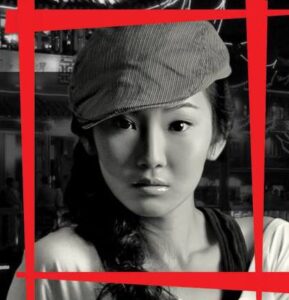 Little is known about the mysterious combo QUIETER THAN SPIDERS, other than they are to have their debut album released by Anna Logue Records, home to the Anglo-German collective TWINS NATALIA, and that VILE ELECTRODES have done a remix of a forthcoming single release.
Further investigation has uncovered that QUIETER THAN SPIDERS appears to be the project of Leon Robinson-Zhang.
Piloting a brand of "Shanghai Synthpop… using home-made electronic sounds played by hand", the first track unveiled back in 2013 was 'Shanghai Metro'.
ELECTRICITYCLUB.CO.UK reader Si Wooldridge remarked "You could put this on the last OMD album and no one would notice it was by QTS…", but while the obvious melodic elements recall Messrs Humphreys and McCluskey's recent return to form, the beautiful electronics certainly come with a fresh, dynamic slant on the station announcer sample laden tune.
The dreamscape of 'Hibakusha' merges the sounds of FOTONOVELA, SOLVENT and MICHAEL ROTHER while a modern, processed masculine twist is proof that male vocals on electronic songs do not have to be off-key monotone whines and snarls. Another positive that sets QUIETER THAN SPIDERS apart in male fronted electro is that Dave Gahan impersonations, both vocally and physically, are absent.
The simply wonderful 'The Land Of The Lost Content' just glides with a glacial beauty that not only is appealing to the ear, but can be danced to as well. 'No Illusion' keeps up the standard but has a harsher, robotic tone that is at times, reminiscent of Jyoti Mishra's WHITETOWN.
QUIETER THAN SPIDERS are a prime example of how to get things right when starting out… compose a body of work, record the songs as well as possible, edit together some accompanying videos and let the music do the talking without spamming Facebook with some grandiose manifesto and poorly designed artwork.
A few bands could learn from this process… how can you be taken seriously if you shout like you are the best thing since sliced bread after just one song and have never played live? Funnily enough, the title 'The Land Of The Lost Content' seems to sums things up 😉
---
With thanks to Marc Schaffer at Anna Logue Records
https://www.facebook.com/QTSpiders
https://soundcloud.com/quieterthanspiders
https://www.facebook.com/annaloguerecords
---
Text by Chi Ming Lai
12th March 2014, updated 5th August 2015