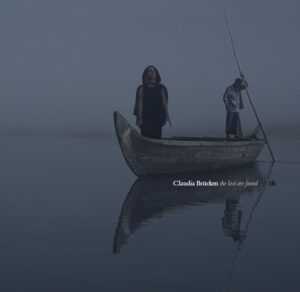 'The Lost Are Found' is an emotive body of songs, each from their very own world, but together blending to form an eleven episode triste drame.
The journey started when CLAUDIA BRÜCKEN teamed up with the top producer Stephen Hague whose credits have included MALCOLM MacLAREN, PET SHOP BOYS, OMD, ERASURE, MARC ALMOND, COMMUNARDS, NEW ORDER and A-HA.
Recording two brand new songs 'Thank You' and 'Night School' for her 'Combined' retrospective in 2011, they bookended that phase of her career which began of course with PROPAGANDA.
'Thank You' in particular captured a Bond Theme meets MASSIVE ATTACK vibe and planted the seed for an intriguing project which was the idea of her daughter Maddy.
Claudia told ELECTRICITYCLUB.CO.UK back in July: "The theme is melancholy songs…they're sad but they don't make you slash your wrists. I recorded it in four months with Stephen Hague and we had this real clear vision of what we wanted to do". Despite the varying eras of the compositions, memories and emotions within the human condition exist whatever the period. So by default, songs of love and heartbreak are generally timeless. And because many of these carefully chosen songs are semi-obscure, even within the catalogues of some of their more high profile writers, this album can be approached with fresh ears, like an adventure that has been previously uncharted. In that respect, 'The Lost Are Found' does exactly what it says on the tin.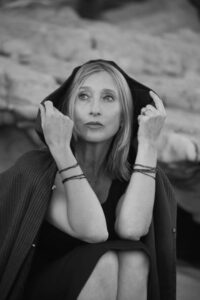 The journey begins with the ethereal 'Mysteries of Love' written by David Lynch and Angelo Badalamenti. Layers of treated voices climb over synth mountains as lonesome ivories and glacial atmospheres bring Middle America to Alpine Europe. As featured in the film 'Blue Velvet' in its JULEE CRUISE version, also on the soundtrack was ROY ORBISON's 'In Dreams', another song which Claudia has previously recorded. One suspects this surreal film noir might be one of her favourites.
Following it, 'Memories Of A Color' from Nordic avant songstress STINA NORDENSTAM is a mix of acoustic and electric guitars with distorted organ over a mid-tempo percussive jazz shuffle as Claudia's vocals provide an approachable counterpoint. Although 'The Lost Are Found' features a technological base, this is probably the most organic collection CLAUDIA BRÜCKEN has ever recorded.
Although her excellent 'Another Language' long player with ANDREW POPPY was acoustic, that relied on stark, minimal theatre for its effect. 'The Lost Are Found' combines the ice maiden chill with a fuller naturalistic warmth for an artful but accessible sound.
One nice surprise is 'The Day I See You Again' from DUBSTAR's first album 'Disgraceful'; Claudia's reinterpretation of the kitchen sink drama about a man who has grown to be "more Morrison than Morrissey" is done Düsseldorf style with Weimar piano and beautiful flügel tones complimenting the resigned frustration. Then one of the albums highlights arrives with 'Everyone Says Hi', a brilliantly lively take on one of Bowie's more recent numbers dressed with catchy riffs and fuzzy shades.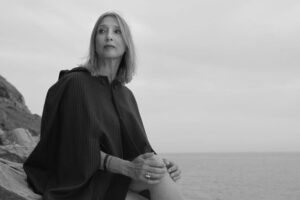 Lesser known ELO B-side 'One Summer Dream' was the first song to emerge from these sessions and begins with a vintage gramophoned segment before building to a pretty John Barry influenced, 'Felt Mountain'-era GOLDFRAPP arrangement which is frankly quite wonderful.
Interestingly, Jeff Lynne himself has recorded his own album of classic tunes recently called 'Long Wave'.
Another STINA NORDENSTAM work 'Crime' emerges with its pizzicato colours, subtle bass and sparring six string. It acts as a steadfast mid-album interlude in almost hushed resonance before it all snaps back into place with THE LILAC TIME's 'The Road To Happiness'. Here Stephen Duffy's ironic ditty kisses Claudia within an idyllic setting of angelic chorals, spritely strums and French accordion courtesy of Stephen Hague. Salute!
Perhaps thanks to Stephen Hague's production duties on the original, Claudia's reworking of PET SHOP BOYS' 'Kings Cross' retains the song's melancholic edge, the metaphor of capitalism is actually very much still intact. But how it differs is the pressure now rises to a dramatic climax and adds a rush not previously apparent in the song. On the album's singular new composition from The Burt Bros called 'No One To Blame', hints of 'Spiegel Im Spiegel' like an antique music box flit in while the electronic orchestration lifts the tune into a dreamboat setting as Claudia's timbres alternate between innocence and worldliness.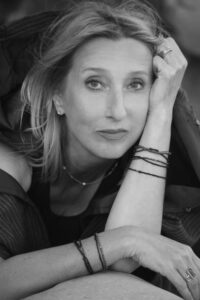 As 'The Lost Are Found' steps to its conclusion, the revamp of 'And The Sun Will Shine' rom BEE GEES' 1968 album 'Horizontal' is marvellously majestic with rousing string stylings, the neo-Riviera flavour sitting well with the soaring chorus. The album closes with Robbie Robertson and Richard Manuel's rustic 'Whispering Pines' from which 'The Lost Are Found' title comes from. With spacey synth forte not unlike THE KORGIS 'Everybody's Got To Learn Sometime' sitting alongside percussive brushes, it's not quite how one would imagine THE BAND to sound but that's the point…
The character spectrum which Stephen Hague has crafted for 'The Lost Are Found' is a hopeful, soothing experience that is not at all overbearing; Hague is known for placing his emphasis on vocals and by working the music around them, all the instruments have their place.
As a result, there is plenty of room for Claudia to breathe and manoeuvre. While obvious electronic references are perhaps more muted than what one would normally expect from her work, the varied organic embellishments add an enjoyable lounge dimension to Claudia's repertoire which matures with each listen.
---
With thanks to Rosie Johnstone and David Lawrence at Impressive PR
'The Lost Are Found'
is released by There (there) on 5th November 2012
http://www.claudiabrucken.co.uk
---
Text by Chi Ming Lai
Photos by Andrew Catlin
29th October 2012