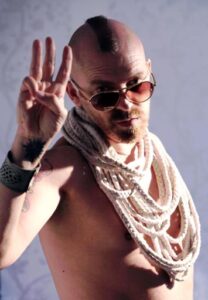 Rave legend ADAMSKI, best known for his international No.1 'Killer' with SEAL, waltzes into the future. His innovative new electronic music project 'Neo-Waltz' gives a 21st century update of the style which was originally thought of as an indecent dance back in 18th Century England.
Waltzing became popular in Vienna in the 1780s and quickly spread throughout Europe as the most popular form of dance. Waltzing is performed in 3/4 time in close proximity by couples. Bored of seeing clubbers dancing alone all these years, ADAMSKI has put a modern twist on the dance in a bid to get people dancing together. ADAMSKI is bringing his 'Neo-Waltz' concept into the live arena at Chats Palace, the venue that witnessed several riotous performances by his electro-punk band DISKORD DATKORD before he went solo during the acid house revolution.
He will be joined by singer/model VIKTORIA MODESTA who was one of the Paralympics Closing Ceremony performers who was not actually COLDPLAY and DAVID McALMONT who had two hits 'Yes' and 'Falling' as a result of a pair of musical sojourns with one-time SUEDE guitarist Bernard Butler.
Working in the 3/4 time signature has re-energised ADAMSKI. Having just signed to Mark Jones' Wall Of Sound, a number of diverse collaborators will feature on his 'Neo-Waltz' album project including REBEL MC, Adrian Sherwood from ON-U SOUND, Rat Scabies of THE DAMNED and SIOUXSIE & THE BANSHEES' Budgie.
ADAMSKI spoke to ELECTRICITYCLUB.CO.UK about his new project and partying like it's 1799!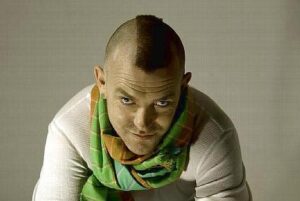 Starting with the upcoming 'Neo-Waltz' album, by bravely making all of the tracks on the project fit a 3/4 waltz template, this could either be seen as a constraining format or a springboard to help develop new ideas within the electronic genre, how did you view it?
Working in a different time signature has revitalized my own imagination, it all came about organically.
I heard a lot of folk music in waltz time in Venezuela played with irritating instruments, but with a sexy Latin groove that you don't hear on European classical waltzes. I started playing around on my laptop with Logic, changing from 4/4 to 3/4 time and found this parallel universe of music.
A few electronic acts like THE HUMAN LEAGUE ('Empire State Human') and DEPECHE MODE ('Personal Jesus') have dabbled with 6/8 time signatures…
Most legendary groups have done a waltz or two like LED ZEPPELIN and THE CLASH, and pop music up until the last decade also. DEPECHE MODE's new single, that's in waltz time. I've always got my ears open because I love to make my DJ sets as diverse as possible. To be honest, I'm not a trained musician but 6/8 is too fast to waltz too cos I've had a few lessons! I spin round the floor of my studio on my own just to make sure it's waltzable! *laughs*
I don't understand why people stick to such formulaic stuff. When I'm DJing, I like all the dynamics and tempo changes. But even myself, I find if I'm playing more regular music, get caught in this linear groove. This waltz stuff has opened me up. I've got to the age where I'm not going to grow out of this music thing and I'm making it interesting for myself. Waltz in the 18th Century had this underground impact on culture in the same way as acid house, so there are many parallels with that. But it's a DJ thing with guest singers rather than an orchestra. And there's a romantic spin on going clubbing.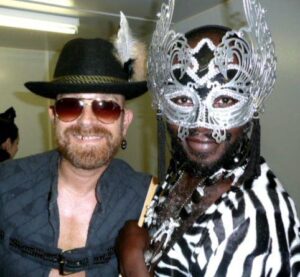 On the new album, you are working with DAVID McALMONT. He sings on a version of the 'The Last Waltz'…
I really liked the melody and the verse. I've been cyber grave digging for the last few years and I came across that ENGELBERT HUMPERDINCK song and was actually singing it myself! But it came across as really kitsch and comedy…I like a bit of humour in music but not too much! I was looking for a good male singer and I thought of David as he has one of the best soul voices in Britain to make it beautiful.
I've done one version that's very electronic and another where I've put the acappella of David over Arabic music so there's these big orchestrations and doumbek percussion…it's very incongruous but I love throwing things together!
I remember fondly watching you on TOTP with SEAL using classic analogue gear such as the Roland TR909 drum machine, do you still use any vintage gear or have you completely switched over to software based recording/programming?
I've still got that Ensoniq which I did all of my first album 'Doctor Adamski's Musical Pharmacy' on with the 909 and it's got a sticker from Amnesia on it from when I did the summer season in '89.
It's a line drawing of Fred and Ginger and it inspires me. I do dig that out and use sounds from it.
One of the tracks I've made with VIKTORIA MODESTA, it's a cross between trap music and pop. I was using a Logic piano on it and thought I'd use that Ensoniq piano sound I had on 'N-R-G' and 'Killer', but I've put in a completely different context. It's kind of post-modern to me. It's a preset and people have been asking me: "What's that piano sound?" I've heard it spring up on a KELIS track and it doesn't sound like a real piano. I had two 909s and they got stolen a few years ago…I could never be ar*ed to replace them as I was really bored of them at the time. I don't have a "go to" drum machine anymore, I get my beats from all kinds of sources.
Alongside people such as pioneering Mute/Rhythm King artist BABY FORD, THE KLF and Mark Moore's S-EXPRESS, tracks such as 'N-R-G' helped kickstart the whole rave scene. Personally I find dance music these days pretty faceless and lacking in real personalities…
Yeah! In any field really, I find current pop stars bland. You used to be able to get real maverick characters like MARC ALMOND, BOY GEORGE, ADAM ANT and people would get behind them and loved that.
Now people just play it safe with really mundane stuff like TAKE THAT and their token eccentric ROBBIE WILLIAMS who's a bit wacky! I find it all a bit soulless. Kids these days are opiated by the internet!
We have this song called 'Numb Generation'; apart from DAVID McALMONT, my singers and rappers are in their 20s and Micky Lightfoot is saying his generation don't give a sh*t about anything other than Facebook and stuff which is kind of an obvious thing to say bit it's true! What about the forty war zones, why isn't anyone bothered about anything? But then in the rave scene, we were only worried about what clothes to wear and our sound systems being confiscated!
Legendary punk drummers Rat Scabies and Budgie are also involved with 'Neo-Waltz', what was the idea behind bringing these guys in?
I'm made track with them and about to do one with Dave Barbarossa from the original ADAM & THE ANTS and BOW WOW WOW…I don't know why because I prefer electronic drums but I crossed paths with people and I'm quite good friends with Budgie and Dave. I like working with all different musicians just to see what happens. THE DAMNED had a waltz track and THE BANSHEES had a couple like 'Playground Twist'! Budgie actually said to me their label told them they had too many waltzes and they had to rework it all into 4/4 time! Those people have a rich heritage coming from when music was more misfit yet SIOUXSIE & THE BANSHEES made it into the charts all the time! I don't think that would happen now.
But Britain got so cocky and colonial after in the 90s that when good music started coming from all over Europe, they started to take the p*ss out of Spanish pop songs but Ibiza became the Mecca of dance music and still is! There's good, wicked pop music that comes out of Sweden although there was always ABBA…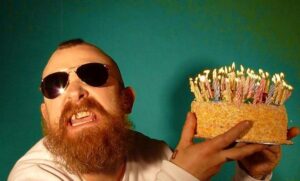 The whole vintage/steampunk scene has become massive over the last few years, what do you hope that your new project will bring to this and are you partially aligning yourself with these scenes?
Not really, I've see the way they dress but not heard the music! There's the electro-swing stuff which is just talking an old track and putting a beat with it…my stuff's more evolved.
There's not that much that's retro about it, I'm mixing up all eras. I just want to encourage individuality having been interested in punk as a kid. I know 'Never Mind The Bollocks' is the greatest rock album of all-time, but 'The Great Rock 'N' Roll Swindle' was so inspiring… it had classical, it had disco and waltz on it, a French version of 'Anarchy In The UK', Sid Vicious doing EDDIE COCHRAN rockabilly songs! It was just saying you can do whatever you want and I like that sort of thing.
I can just about play enough notes and chords into a sequencer. I'd like to point out it is easy; it's not like some clever music professor sort of thing! It's about having an idea and the passion for it. I've always been into DIY music but there are limits…there are some chancers who have made completely sh*t music! *laughs*
While we are on the topic of the early days, 'Killer' was such a massive hit for you, did it become a bit of a millstone for you in trying to surpass or equal it or is it something that you will always be proud of?
I've grown proud of it more in recent years. I was over it for about 15 years and I wouldn't play it in my set. I found it all a bit embarrassing and annoying that people would define me by that one track just because it was commercially more successful.
It was just the one that resonated with the public and crossed over into the mainstream more than my other stuff. It wasn't my favourite so in that sense, it was annoying! People wanted me to do awful things like get a SEAL soundalike and do tours!
About three years ago, it was the 20th Anniversary and I got NINA HAGEN to re-sing it because I wanted to commemorate it seeing as that's what everyone was doing, all this retro culture, tribute bands and bands reforming! So I got NINA HAGEN because she was the antithesis of SEAL! But it didn't work out because of admin people getting in the middle of it as usual. So I got my friend Gerardo to sing it.
Lately, I've been proud of how many times it's been covered. It dawned on me…I can't think of any other track from that acid house generation that's been covered so much.
At the heart of it is a good song and it has the cool sounds… you'll laugh but I used to be in a band and we covered it!!
Thank you.
I met this Austrian producer in a pub a couple of months ago and he was talking about it in real musical terms: "the bit that really made it work is the way that minor note clashes with the major key"… I really hadn't a clue what he was talking about! The intellectual stuff was going over my head *laughs*
It's been covered by heavy metal bands, schmaltzy pop singers like GEORGE MICHAEL and indie folkies like WHITEST BOY ALIVE. Obviously, when I was sticking in my one finger bassline, I never envisaged that it would keep going and going! People have asked if I'm going to do a waltz version and I feel like head butting them!! *laughs*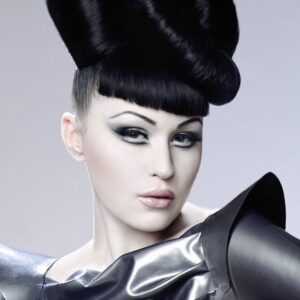 You have booked the Chats Palace in Hackney for a live experience to link in with the Neo-Waltz project, what can people expect from these upcoming events?
The music all night will be in waltz time, whether that's 3/4 or 6/8 and mostly DJ orientated. But I've got an amazing pianist who's going to perform with DAVID McALMONT who is also going to do some electronic tracks with me.
And there's my main singer VIKTORIA MODESTA who is a super talented young woman, she's amazing! She's so inspiring anyway because she's lost her leg and was born in Soviet Latvia.
I asked her to do one track and she ended up doing eight and it's changed the course of the album as it's given it some continuity. She's become my main muse but we've been working together with Skip McDonald who was in the house band of Sugarhill Records and he's brought in this Afro-American authenticity and spirit.
So there's this sort of cabaret element to it but it's not a nightclub thing. It's an evening event but from me, you will get phat bass and beats chopped up with many bits of genres. The other DJ Richard Torry will unearth these weird waltzes from strange soundtracks of flesh eating zombies from outer space that were made on Moogs. He's been editing and adding beats to them. I think people will find it refreshing, they'll hear a lot of music they've never heard in a club before and music you think you should hear in a club but just don't. Included in the price is dance lessons off the legendary choreographer Les Childs who has worked with ERASURE and PET SHOP BOYS too.
With the new shows, are you deliberately disassociating yourself from your previous work or will there be a chance for fans to hear versions of your earlier tracks?
No, there won't be anything from my back catalogue because none of it's in waltz time but speaking of SEAL, I did do a remix of 'Kiss From A Rose' back in the day which was my first foray into working with electronic waltz beats, because that track's a waltz. So I've got him to thank for that funnily enough. It's the only song of his that I like. Once the remix was finished, I was really happy with it and so was he and then, unbeknown to me, Trevor Horn took it away, re-edited it and layered on all these sounds and butchered it as far as we were concerned…we were both really pis*ed off! First we heard of it was on KissFM on a Saturday afternoon…"hang on, I took off all those expensive strings and things!"
So I might rework that, that'll be the only associated thing from my past. Otherwise it's all about the new! I do these old skool rave reunions occasionally and I'm grateful that people are interested in my music from whatever time in my life but it's really my least favourite thing to do to keep playing music from half my life ago! But I try to make it a bit interesting for myself by sticking FREDDIE MERCURY samples in! *laughs*
---
ELECTRICITYCLUB.CO.UK gives its warmest thanks to ADAMSKI
Special thanks to Sacha Taylor-Cox and Billy Burrell at Impressive PR
ADAMSKI presents 'Neo-Waltz' featuring DAVID McALMONT and VIKTORIA MODESTA takes place on Saturday 3rd November and Saturday 1st December 2012 at Chats Palace, 42-44 Brooksby's Walk, Homerton, Hackney, London E9 6DF. Waltz lessons from 6.30pm with DJs from 8.00pm. Tickets are £10.
The album 'Neo-Waltz' will be released by Wall Of Sound in 2013
http://www.facebook.com/Adamski.Music.Official
---
Text and Interview by Paul Boddy
31st October 2012