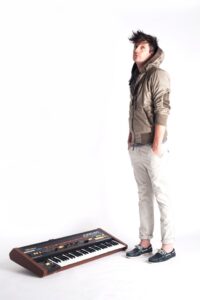 KID KASIO's latest video 'Telephone Line' features an array of vintage technology and wires.
The Kid himself Nathan Cooper said: "The video has been a labour of love! It features a Commodore Pet, 2 reel-to-reels, the Prophet 5 and an old 6 foot tall patch bay I built!!!!" 
Also featured are a green two-tone pre-BT rotary dial Type 746 and a customised yellow Simmons drum set. The song itself is a bouncy holiday flavoured number with its funky bassline recalling LES RYTHMES DIGITALES' 'Jacques Your Body'.
Imagine if HOWARD JONES and NIK KERSHAW had an illicit affair in the dressing room of Top Of The Pops back in 1984? KID KASIO would be their resultant love child!
From his debut album 'Kasiotone', it also features the great LA ROUX meets RYUICHI SAKAMOTO ballad 'I Miss You' and the optimistic synthpop tunes 'Not For Turning' and 'Living My Life'. Plus as if to prove his musical parentage, there's even a cover of NIK KERSHAW's 'Dark Glasses'.
---
'Kasiotone' is available via Amazon and iTunes
http://www.facebook.com/kidkasio
---
Text by Chi Ming Lai
28th October 2012