Brian Griffin is the renowned photographer whose work captured the inventive spirit of post-punk and Synth Britannia.
His numerous subjects have included DEPECHE MODE, ULTRAVOX, JOHN FOXX, OMD, BRYAN FERRY, SPANDAU BALLET, THE PSYCHEDELIC FURS, BILLY IDOL, HOWARD JONES, ECHO & THE BUNNYMEN and THE TEARDROP EXPLODES.
Although perhaps not as well known as his contemporary Anton Corbijn, Griffin's work is no less iconic and some would say, more focussed if far out…
The sleeve of ECHO & THE BUNNYMEN's 'Heaven Up There' which featured his photograph of the band on a windswept Porthcawl Beach in South Wales was voted 'Best Album Cover' in the 1980 NME Readers' Poll, while his image for DEPECHE MODE's 'A Broken Frame' adorned the front cover of Life Magazine's 'World's Best Photographs 1980-1990' supplement.
Reflective of Griffin's interest in socialist iconography which continued into DEPECHE MODE's next album 'Construction Time Again', it projected the band's musical interregnum without being too blatant. As Dave Gahan said to Richard Skinner on Radio1 at the time "Y'know, we didn't want to be obvious and have a frame with a bit missing!"
While most of Griffin's front cover photographs have become part of folklore among music enthusiasts, one that still provokes polarising debate is the sleeve of DEPECHE MODE's debut 'Speak & Spell'. Brian Griffin kindly discussed 'Speak & Spell', along with assorted anecdotes about his other work and what he would do on a DEPECHE MODE album cover today…
How did you become involved with Mute Records?
My photographic agent David Burnham held the lease on a shop in Seymour Place.
Daniel Miller and Mute records moved in on the ground floor. David Burnham did what agents do and showed Daniel my portfolio, with the rest being history.
What was the brief when you were asked to do the cover photo for DEPECHE MODE's 'Speak & Spell'?
From memory it was totally open. Although with the cover featuring a swan that cannot be the case. I personally would love to know what made me come up with that crazy idea.
What were the other concepts you considered before arriving at the swan in a bag pic?
Not doing the cover, because DEPECHE MODE was hardly my favourite band at the time.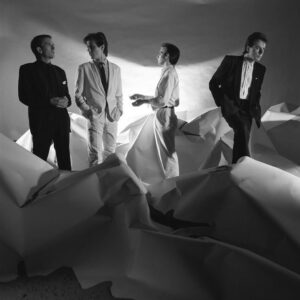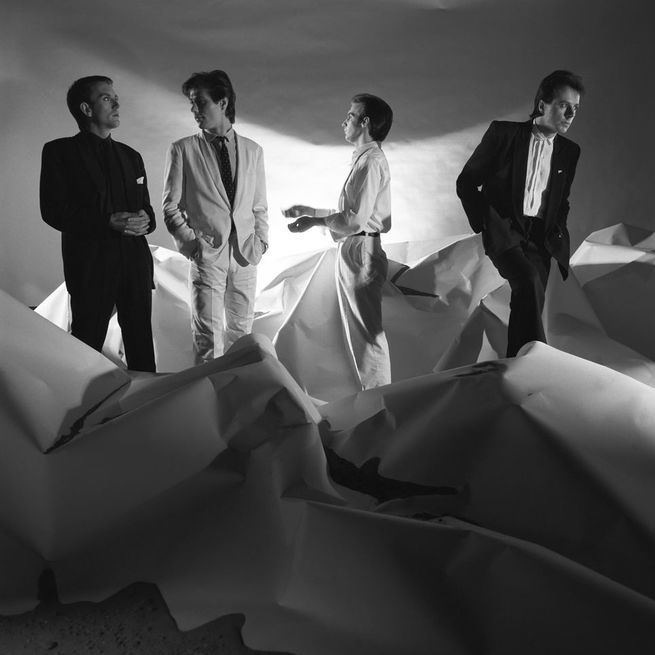 Was using a photo of the band on the front cover of 'Speak & Spell' ever an option like had been done with your photo of ULTRAVOX for 'Vienna'?
Never. A photograph by me was definitely required.
I personally love the 'Speak & Spell' sleeve, but it got a mixed reaction including from the band? What do you think of it now?
It's right out there, but at the time it was regarded as being one of the worst album covers of recent years. I was at the time, certainly in some other space, maybe outer space!!
Did you feel at all aggrieved when the first CD issue of 'Speak & Spell' came out with just a small detail of the swan's head and neck on the artwork?
Designers trying to give original images a modified twist always do my head in. Obviously the designer, whoever he or she is, is a load of crap.
You did all the album cover photos for DEPECHE MODE up to 'Black Celebration', which one is your favourite sleeve and why?
The imagery that I produced for both 'A Broken Frame' and 'Construction Time Again' I'm immensely proud of and to me, they are of equal merit. However the image choice for 'Construction Time Again' was poor by the decision makers, there being far better alternative choices.
The iconic photo used on 'A Broken Frame' ended up on the cover of Life Magazine's 'The World's Greatest Photographs 1980-1990' supplement and even on biscuit packaging in Greece. Where did the rumour that the woman in the photo was Daniel Miller in drag come from?
I haven't heard that one before! It's certainly not true.
Your worker images for 'Construction Time Again' are very interesting. Back in the day, I thought it was studio work superimposed but you and the musclebound model actually went to The Alps!
Yes, my assistant and his brother the model flew to Switzerland and we even took the sledgehammer with us from Rotherhithe London.
You also took portrait photos of DEPECHE MODE as well as artists such as ULTRAVOX, JOHN FOXX, OMD and TALK TALK. How do look back on that whole Synth Britannia era?
At the time I was a great Krautrock fan like Daniel Miller and I found all these English bands not that interesting, although great photographic opportunities. Now I realise I was wrong and narrow-minded, for listening to them today they produced some great stuff.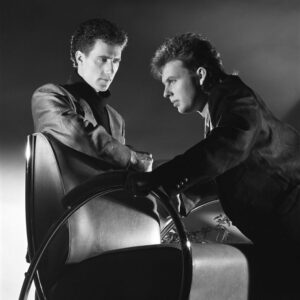 Your portrait photos often featured an interesting use of props ie board games with DEPECHE MODE, a pool table with SPANDAU BALLET, chairs and ropes with OMD?
Back then you had to be so inventive. My studio was full of props from various shoots, with budgets low, we would just create ideas from whatever was at hand.
A number of artists you photographed like DEPECHE MODE, ULTRAVOX and ECHO & THE BUNNYMEN went on to work with Anton Corbijn as well… is that a coincidence?
Not really, for he was always hanging around waiting to pounce. Eventually I lost the bands to him.
You have an online shop that includes prints of your DEPECHE MODE photographs and many others. How did you decide upon which outtakes to put into the public domain and were there any interesting legal processes you had to go through to enable them to be sold?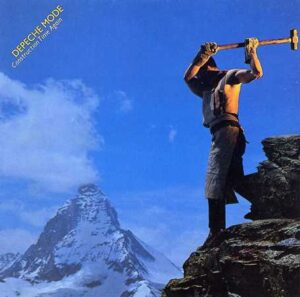 With regards to the outtakes, they had been buried away 32 to 37 years.
It was now time for the fans to see them. I went through no legal processes, for it is such a positive gesture for everyone involved.
If you were photographing for a DEPECHE MODE album cover today, what sort of imagery would you be looking to use?
I would produce an image that would form a trilogy with 'A Broken Frame' and 'Construction Time Again'.
---
ELECTRICITYCLUB.CO.UK gives its warmest thanks to Brian Griffin
Special thanks also to Deb Danahay
A selection of Brian Griffin's iconic photographs can be viewed and purchased from his website at http://www.briangriffin.co.uk/
---
Text and Interview by Chi Ming Lai
7th May 2014