With LITTLE BOOTS having gone dance and LA ROUX brandishing a guitar on her forthcoming second album, there is now a vacancy for a new kooky homegrown talent to take on the female electropop challenge laid down by Norway's ANNIE back in 2007.
One of the possible candidates is PAWWS, otherwise known to her parents as Lucy Taylor.
PAWWS is what CHVRCHES would sound like if they were an all-female concern ie a blokey free zone. Throw in some Scandipop influences plus a dose of second hand Roland JX-8P and the end result is some sweet, sugary electronically driven pop.
Certainly those on a calorie controlled diet will need to be careful. Sparkling and sprightly, ELECTRICITYCLUB.CO.UK was drawn to the coy, feline magnetism of 'Slow Love', a track that was the B-side of her 2013 debut single 'Time To Say Goodbye' while several of the team spotted her supporting HURTS.
Slightly moodier, 'Time To Say Goodbye' took on a more dramatic pace but was no less impactful, like LYKKE LI or IAMAMIWHOAMI on extra helium. Whether the classically trained North Londoner will last the course eventually to take on ROBYN and ANNIE or disappear into the wilderness like SUNDAY GIRL is not important right now. That her music exists and is good is all that really matters.
Her new EP 'Sugar' uses the short-chain, soluble carbohydrate as a metaphor for the pitfalls of love… after all, who hasn't pursued something that may actually be harmful for you in the long term? The title track has been described "As if Kylie had worked with OMD" by The Sunday Times.
Meanwhile Lucy Taylor herself has labelled her music "upsetting disco" and 'Give You Love' from the EP lives up to that template. Certainly those who prefer their music with rough edges and have an aversion to female fronted synthpop will have their touch paper lit even further with the rich, smooth offerings that are 'Sugar' and 'Give You Love' 😉
'Sugar' is released on 16th June 2014 as a download EP by Best Fit Recordings but there will also be a limited edition 12" pink vinyl and most importantly, a CD… yes, at last, there is an artist and label who together are seeing sense and recognising there is still a demand for the silver digital discs!
---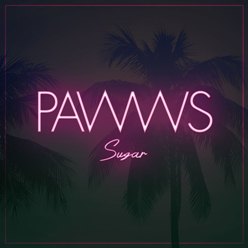 The 'Sugar'
EP is released by Best Fit Recordings
PAWWS plays The Lexington in London on Monday 12th May 2014
https://www.facebook.com/PawwsMusic
https://www.instagram.com/pawwslucy/
https://www.soundcloud.com/pawws
---
Text by Chi Ming Lai
9th May 2014, updated 7th July 2014