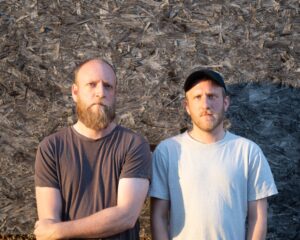 FIELD GLASS are brothers Dan and Jacob Mayfield; although they founded the School of Noise workshop as a platform for children and young people to explore music and the science of sound in 2015, FIELD GLASS is the sibling's first creative adventure together.
Jacob was once in a dreampop duo with Vicky Harrison from POLYCHROME and a 2013 album to their name while Dan was in the folk flavoured combo ENDERBY'S ROOM who released a self-titled long player on Fika Recordings in 2017.
Issued on Happy Robots Records, home to Rodney Cromwell, Alice Hubble and Roman Angelos, the appropriately titled 'Kin' is a wonderfully sedate suite of electro-acoustic instrumentals, sharing an affinity with OBLONG and their rustic organically farmed work 'The Sea At Night' from 2019.
Doing as the title suggests, the opening track 'The Bell Organ Company' sets the album's manifesto, mixing Victorian instruments with analogue electronics and drum machines. 'Gardens' takes this template further by adding even prettier keyboard runs and synthbass. Making effective use of Dulcitone and its plucky vibe, 'Fulgurite' gives the impression of an English AIR in the 19th Century, with a windy Dickensian air thrown in for good measure.
With the haunted moods of '59', it's no surprise to learn that the album was were recorded at deconsecrated chapel in Ramsgate, now the renovated base for Big Jelly Studios run by Mike Collins who incidentally mixed Alice Hubble's 'Hexentanzplatz'.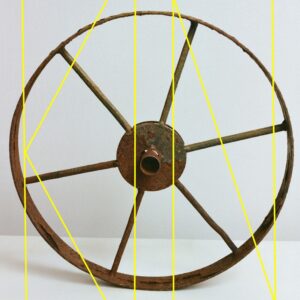 But the lively 'Everyone Was Beginning' adds subtle glitching which draws attention and plays with the mind of the listener. Continuing with the glitch techniques, 'Rooftops' is a stuttering music box interlude that leads into the nautical overtures of 'Landings' while the noise laden 'A Boat Turned Turtle' ends the album on a sombre note by soundtracking a disaster at sea as a vessel capsizes.
With many of the tracks improvised and recorded live in one take, 'Kin' captures a heartfelt spontaneity that can only come from centuries old traditions of musicianship while applying modern technological treatments to bring proceedings into the landscape of today.
---
'Kin' is released by Happy Robots Records is released as super limited edition 12″ lathe-cut clear vinyl LP and download available from https://happyrobotsrecords.bandcamp.com/album/kin-2
https://www.happyrobots.co.uk/field-glass
https://www.facebook.com/fieldglassband
https://twitter.com/fieldglassmusic
https://www.instagram.com/field.glass/
---
Text by Chi Ming Lai
Photo by Steven Mayfield
27th May 2022