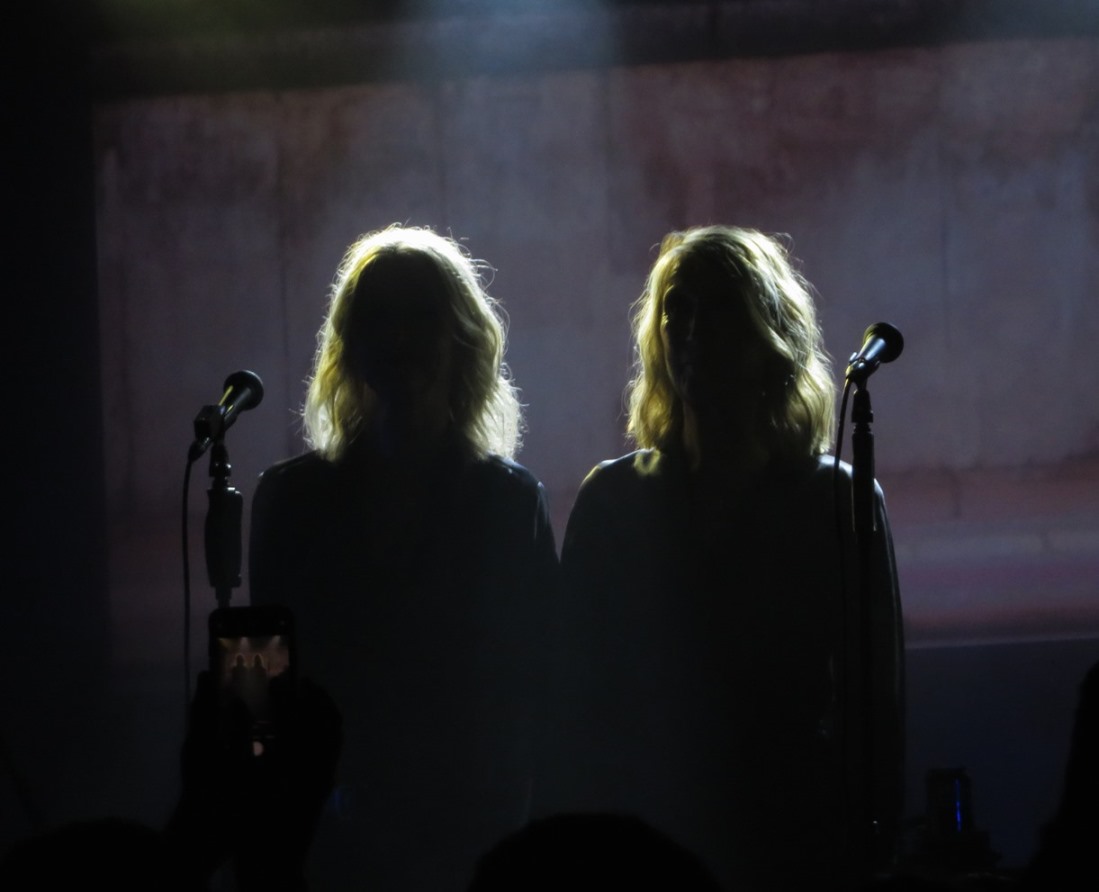 With "x" marking the spot in 2018, Claudia Brücken and Susanne Freytag launched themselves as xPROPAGANDA to perform 'A Secret Wish', the 1985 album released by ZTT which was recorded with their former bandmates Ralf Dörper and Michael Mertens as PROPAGANDA.
Dubbed "ABBA in hell", the quartet's album was produced by Stephen Lipson and heralded the advent of sampling and digital synthesis. But during those shows, Brücken and Freytag realised they needed more material.
With Lipson on-board to helm a brand new album, the end result has been an excellent collection of songs entitled 'The Heart Is Strange'; both a debut and a continuation, the sonically satisfying long player was given its live debut at The Garage, the very venue where xPROPAGANDA became an entity.
The nine piece live ensemble was crammed onto the small stage with Brücken and Freytag joined by Lipson and David Rainger on guitar as well as James Watson and Philip Larsen on keyboards. Drummer Paul Jones and percussionist Luís Jardim were almost hidden on opposite sides of the stage while Nick Mead made appearances as appropriate on Flugelhorn and trumpet.
Beginning with the first seven tracks from 'The Heart Is Strange' in order, 'The Night' provided a lively cacophony of sequenced digitised bass, crashing beats and sweeping synthetic strings in true ZTT style with a long intro before Brücken broke into song. However feedback, particularly on Freytag's mic and the buffering glitches on the visuals made it a shaky start.
More metronomic, 'Chasing Utopia' saw Freytag offer her distinctive spoken harmony next to Brücken before an alluring German monologue. Lyrically, 'The Heart Is Strange' has focussed on the world's socio-political landscape and with commentary on fake news as well as social media's unrealistic representation of beauty culture, 'Beauty Is The Truth' came over quite aggressively with the two Germans sparring in their contrasting vocal styles.

Sounding at times like PET SHOP BOYS 'Rent' in its bassline, 'Only Human' acted as a moody breather although a synthetic rock edge propelled 'Don't (You Mess with Me)' while with an exotic swirl, 'No Ordinary Girl' saw Freytag make reference to 'A Secret Wish' with a knowing "Don't be a fool!".
One of the best numbers on 'The Heart Is Strange', 'The Wolves Are Returning' gave a stark warning on rise again of extreme right wing agendas. Despite its bounce and superb twin guitar interventions, the message was poignant coming from two Germans whose grandparents' generation had made the mistake of opening up the door to the Nazis by "doing nothing" and looking away.
The world needs to listen to people who know and understand that the likes of Boris Johnson, Jacob Rees-Mogg and their band of merry posh boys are actually veiled fascists with no interest in the plight of the British people. Only there to line the pockets of themselves and their mates, they are drunk on power with no motivation to govern, all while hobnobbing with criminal Russian oligarchs. The US saw common sense and toppled Trump, so that fraudulent grifter who pretends to be a Prime Minister needs to be next on the list…
The use of Brothers Grimm imagery in 'The Wolves Are Returning' was also highly appropriate, especially in relation to the UK's Home Secretary Priti Patel, a vile woman so evil that comedian Bill Bailey accurately described her as "Cruella de Vil without the self-confidence issues…"

With their repertoire now satisfactorily expanded, the final third of the show featured highlights from 'A Secret Wish', beginning with the unsettling cinematic glory of 'Dr Mabuse'. The machine rhythm of 'The Murder Of Love' maintained the momentum while with an equally percussive rumble, the cover of JOSEF K's 'Sorry For Laughing' headed towards a powerfully enjoyable 'P: Machinery' to close the main set.
For the encore, Brücken gave a spirited first verse of 'Duel' backed by solo piano before the band joined in on the chorus, accompanied by the rousing crowd for a nostalgic high. With the love clearly being felt in the room, Freytag poetically took the lead on 'Ribbons of Steel', the cinematic closer from 'The Heart Is Strange' to finish. With a haunting narrative on the post-war division of Germany and The Berlin Wall which physically and ideologically split families, friends and lovers, its Cold War references had resonances with today's world events.
Presented as a starker 21st Century follow-up to 'Dream Within A Dream' from 'A Secret Wish', with the declaration that "I'm trapped on the wrong side, or is it the right side", the sentiment could be applied to those with common Ukrainian / Russian heritage now set against each other in a pointless war or closer to home in history, those Chinese seamen that served in the Merchant Navy during the Second World War who were suddenly rounded up and deported with their British-born families never told of their fate; more recently, there has been the disgusting Windrush scandal.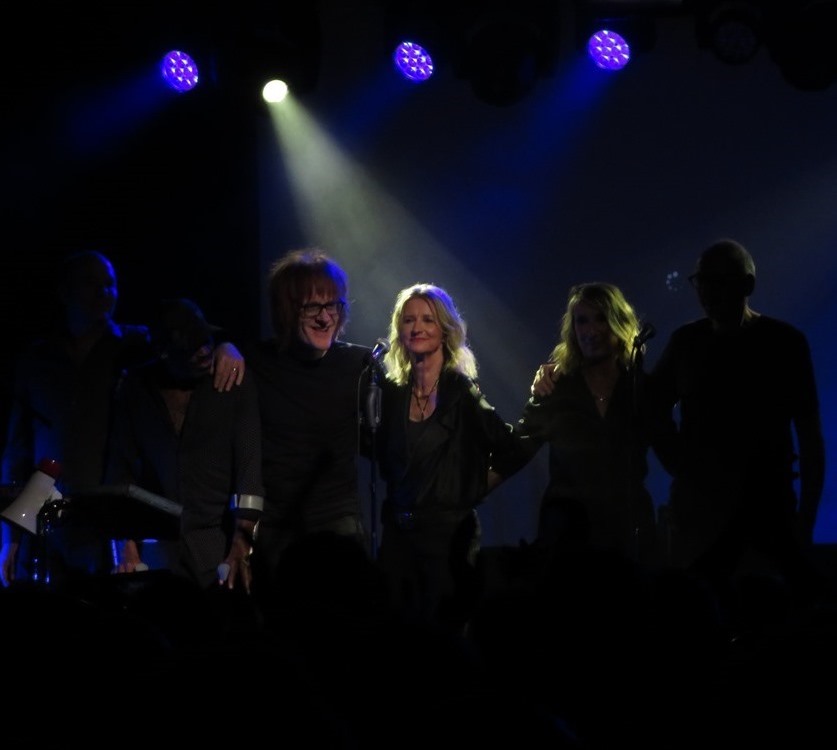 Those heinous repatriation policies fronted by that smirking race traitor Ugly Patel, in her own belief that her status is smugly safe as a Cooper, only highlighted the total lack of humanity existing in the current Tory government and provided food for thought…
Claudia Brücken and Susanne Freytag said: "We always thought it was a shame that an album as distinctive and acclaimed as 'A Secret Wish' seemed destined to be a one-off". Tonight in London, that situation was formally corrected and presented to many satisfied faces.
---
With thanks to Stuart Kirkham PR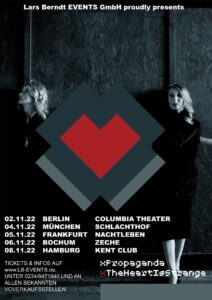 'The Heart is Strange' is out now by ZTT in CD, 2CD, vinyl LP, red vinyl LP, Bluray audio and digital formats
The 'Secretstrange' 2022 tour of Germany includes:
Berlin Columbia Theater (2nd November), München Schlachthof (4th November), Frankfurt Nachtleben (5th November), Bochum Zeche (6th November), Hamburg Kent Club (8th November)
https://www.xpropaganda.co.uk/
https://www.facebook.com/xPropagandaOfficial
https://twitter.com/_xPropaganda
https://www.instagram.com/_xpropaganda/
---
Text by Chi Ming Lai
Photos by Chi Ming Lai and Richard Price
28th May 2022