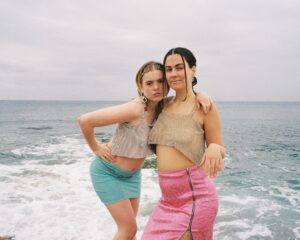 Those ULTRAFLEX girls are in the holiday mood and their latest offering 'Rhodos' celebrates those favourite sunny destinations such as Mallorca, Ibiza and of course Rhodes.
Icelander Katrín Helga Andrésdóttir and Norwegian Kari Jahnsen take their wispy electronic disco pop to the Aegean Sea for their own 18-30 holiday, inspired by their own experiences of binge drinking Smirnoff Ice while laughing at boys with pale beer bellies and avoiding sunburn.
As playful as ever, the lip licking video directed by Sigurlaug Gisladottir sees ULTRAFLEX enjoying themselves during what appears to be a cloudy day in Athens, "OK".
With a desire to escape and party, 'Rhodos' was written at the height of the pandemic in Berlin with the girls "Longing after people yelling in our ears, everyone bumping into each other, stepping on our toes and the sensation of cold beer flowing down our backs. Writing Rhodos immediately transported us to a hot and sticky beach, a place we loved and loathed equally."
'Rhodos' follows up previous singles 'Relax' and 'Baby' in the lead up to a new album scheduled for Autumn 2022. Their sumptuous debut album 'Visions of Ultraflex' was released in 2020 and won 'Best Electronic Album' at The Icelandic Music Awards 2021. Although FARAO and SPECIAL-K have been respectfully Jahnsen and Andrésdóttir's artier solo projects, the pair are simply have too much fun together as ULTRAFLEX.
With their kitsch and conceptual dancefloor weirdness and ambiguously sexy overtones, ULTRAFLEX are back to provide some groovy seductive distraction from the troubles of the world.
---
'Relax' is released by Street Pulse Records and can be listened to via https://song.link/ultraflex-rhodos or https://ultraflexband.bandcamp.com/
https://www.facebook.com/ultraflexband
https://twitter.com/ultraflexband
https://www.instagram.com/ultraflexband
https://www.tiktok.com/@ultraflexband
---
Text by Chi Ming Lai
30th May 2022