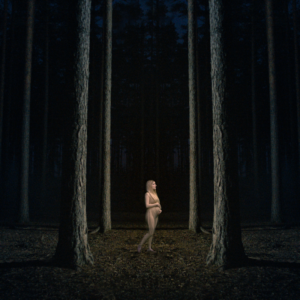 First launched in 2009 with a series of mysterious viral videos, IAMAMIWHOAMI are back after a recorded absence of eight years.
Following the ambitious 'B.O.U.N.T.Y.' EP and two acclaimed albums 'Kin' and 'Blue', the Swedish duo of Jonna Lee and Claes Björklund embarked on solo projects respectively as IONNALEE and BARBELLE. Despite this, the pair did not actually become creatively estranged as the two IONNALEE albums to date 'Everyone Afraid To Be Forgotten' and 'Remember The Future' featured Björklund in varying studio roles including instrumentation, co-production and final mix.
Although both IAMAMIWHOAMI and IONNALEE were both notable for their delightfully odd cinematic sound that was enjoyed by the electronic music cognoscenti, the new album 'Be Here Soon' turns the clock back to Jonna Lee's artist debut as a folk singer and songwriter in 2007.
With Björklund now a father and Lee becoming pregnant soon after starting the album, the rebonded over parenthood with a collective intent to make a record that was true to where their lives were in the present. Thus the audio / visual journey documents the growing of new life as Lee challenged society's expectations of her as a mother and an artist.
The opening song 'Don't Wait For Me' is a suitably airy in the manner of Angelo Badalamenti, but it is more organic sounding and distinctly less electronic with sax thrown into the mix, a farewell to the past and a start of a new chapter. Gently beat laden but augmented by six string, 'Canyon' is a duet with veteran singer Lars Winnerbäck which exudes a more folkie presence in that GOLDFRAPP 'Seventh Tree' fashion.
Meanwhile 'Zeven' adds more of a manual percussive swing before livening up and the shuffling 'I Tenacious' offers icy Nordic jazz. The spacier moods of 'Changes' recall earlier IAMAMIWHOAMI works but the live drums and flute throw off the scent. The sparse but filmic 'Flying or Falling' makes subtle use of timpani, castanets and operatic soprano.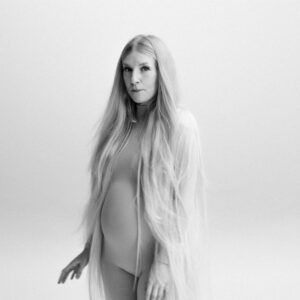 Embracing piano, 'A Thousand Years' is suitably demure before the appearance of a choir and the surprise of tinkling ivories over a skippy backbone. The acoustic guitar driven 'Thunder Lightning' brings in a range of woodwinds including the big bassoon but 'Call My Name' recalls EXIT NORTH with an eerie feminine twist before 'Walking On Air' with its cosmic synth solo closes what is a very different IAMAMIWHOAMI record.
With traditional colours and jazzier inflections, these songs are presented with the minimum of electronic seasoning. If you appreciated the approach of GOLDFRAPP's 'Seventh Tree', you will enjoy 'Be Here Soon'. With Jonna Lee now a proud mother, that joy can be celebrated collectively in the music.
---
'Be Here Soon' is released on 3rd June 2022 by to whom it may concern as a nude vinyl LP, CD and download available from https://twimc.se/release/301039-iamamiwhoami-be-here-soon
https://www.facebook.com/iamamiwhoamiofficial
https://www.instagram.com/ionnalee/
---
Text by Chi Ming Lai
Photo by John Strandh
2nd June 2022