"Change – I don't care what other people say, I know everything will be okay…"
The legacy of American sibling duo SPARKS has been celebrated in 'The SPARKS Brothers', a new documentary film directed by Edgar Wright. As can be expected from the man behind 'Shaun Of The Dead', 'Hot Fuzz' and 'The World's End', Wright's delightful film captures the deadpan wit and sarcasm of the Mael Brothers, while illustrating their serious but artistic pursuit of fun.
Born in Los Angeles of Austro-Russian Jewish heritage, Ron and Russell Mael excelled at sports but opted for more artistic studies at UCLA while harbouring ambitions in music, driven by their love of British bands such as THE BEATLES, THE KINKS and THE WHO.
In a 50 year recording career that has taken in art rock, operatic glam, nouveau swing, electronic disco, new wave, Eurodance, orchestrated pop, theatrical indie and soundtracks, SPARKS have an array of musicians who cite them as an influence. So it is no surprise that the cast of contributors to 'The SPARKS Brothers' include Vince Clarke, Andy Bell, Rusty Egan, John Taylor, Nick Rhodes, Stephen Morris, Gillian Gilbert, Martyn Ware, Nick Heyward, Steve Jones, Alex Kapranos, Bernard Butler, Jack Antonoff, Thurston Moore, Björk, Flea, Beck, Jane Wiedlin, Weird Al Yankovic and many more
Featuring the Maels themselves and previous producers Todd Rundgren, Muff Winwood, Tony Visconti and Giorgio Moroder alongside former bandmates like Christi Haydon, Ian Hampton, Earle Mankey, David Kendrick, Les Boheme, Tammy Glover and Steve Nistor, humorous animations by Joseph Wallace visualise the stories not captured in the magnificent archive footage assembled for the documentary.
SPARKS had originally been HALFNELSON whose Todd Rundgren produced debut was released on the Warners subsidiary Bearsville Records, founded by Bob Dylan's former manager Albert Grossman. Despite containing the lyrically prophetic 'Computer Girl', the album has not sold well but keen to exploit the Maels image, Grossman suggested they should rename themselves 'The SPARKS Brothers' after the comedy siblings Marx. Ron and Russell hated the idea but compromised and changed their name to SPARKS.
The HALFNELSON album was repackaged and reissued in 1972, with 'Wonder Girl' lifted as a single and gaining a prestigious TV slot on 'American Bandstand'. This led to interest from UK promoters and a Warners sponsored tour which included a residency at The Marquee in London.
But following an appearance on BBC2's 'Old Grey Whistle Test' performing 'Wonder Girl', presenter Bob Harris was unimpressed and said SPARKS were the worst thing he had ever seen… this was the same esteemed music expert who had poured scorn on ROXY MUSIC a few months earlier and later called NEW YORK DOLLS "mock rock"!
However, this ultimately provoked even more fascination in the quirky brothers among British youth with queues around the block for their shows at The Marquee. One of the support acts was QUEEN who were undoubtedly taking notes from the side of the stage, particularly with Russell Mael's bursts of falsetto within a traditional rock format.
The first SPARKS album proper was 1973's 'A Woofer in Tweeter's Clothing' and included 'Girl From Germany' with its narrative about a Jewish boy taking his new Mädchen to meet his shocked parents, perhaps reflecting the brothers' own lives and conflicts. But the continuing indifference towards Ron's Dadaist expressionism and Russell's unusual vocal articulation in their homeland led to the Maels leaving America and uprooting to the UK to find fame and fortune after extracting themselves from the Bearsville deal.
Signing almost immediately to Island Records thanks to championing by Muff Winwood (brother of Steve), SPARKS recruited a new British backing band where the audition adverts required: "a really good face that isn't covered by a beard"; one of those who did not pass the audition was Warren Cann, later to join ULTRAVOX. But eventually recruiting Dinky Diamond (drums), Adrian Fisher (guitars) and Martin Gordon (bass), the newly configured quintet recorded the now classic album 'Kimono My House' which included 'Here In Heaven' and 'Falling In Love With Myself Again' among its highlights.
Inspired by Ron Mael's love of Westerns and playing out the breakdown of a relationship as a histrionic Bach-driven gunfight, 'This Town Ain't Big Enough For Both Of Us' was chosen as the album's launch single and a now iconic appearance on 'Top Of The Pops' in May 1974 sent the single stratospheric.
One of those enthralled was Glenn Gregory of HEAVEN 17: "Obviously 'This Town Ain't Big Enough For The Both Of Us' was and still remains one of the quirkiest and best songs ever… and the 1974 Top Of The Pops appearance was truly sublime, Russell, preening and looking beautiful, his older brother Ron looking like it was his first trip outside his bedroom in several years, it was mesmerising and I loved it".
Rob Dean, guitarist of JAPAN recalled: "I first saw SPARKS on OGWT in '72. They were interesting, quirky and certainly different but it wasn't until 'This Town Ain't Big Enough For Both Of Us' was on TOTP that their true focus and talent shone through. Here was a song (and a band) so unique and undeniably fresh that it was just irresistible-it still is. It just exploded out of the TV"
Who wasn't frightened to death by the snarling stares of Ron Mael with his Charlie Chaplain moustache sitting motionless behind his RMI Electra-piano? But while his facial hair had been a feature for a number of years, the cutting of his naturally curly locks, now greased back, presented something a lot more sinister with possible references to The Third Reich. With the Maels being of Jewish descent, this was unlikely to have been a deliberate act of provocation; Ron Mael was to state his naivety in adopting such a look and years later would reshape his moustache accordingly.
But with stories circulating that John Lennon phoned Ringo Starr to tell him that "Marc Bolan is playing a song with Adolf Hitler!", they surely would have been aware of the outrage that had been caused with 15 million people watching on that Thursday evening. However, with Russell's good looks and animated stage presence, SPARKS gained themselves a screaming teenybopper audience and the appealing 'Amateur Hour' followed 'This Town Ain't Big Enough For Both Of Us' into the UK Top10.
To maintain the upward momentum, SPARKS were quickly despatched to record the next album 'Propaganda', but discontent was already brewing with Adrian Fisher and Martin Gordon leaving the band. Brian May was invited to join but with QUEEN making progress having had a hit with 'Killer Queen', he declined and the void was filled by Trevor White and Ian Hampton from the band JOOK.
From 'Propaganda', 'Something For The Girl With Everything' and 'BC' provided thrilling staccato stomps, but the beautiful synth laden ballad 'Never Turn Your Back On Mother Earth' pointed to environmental concerns and was later covered by Mary Hopkin, Martin Gore and Billy MacKenzie.
This was all at the height of SPARKS-mania and superbly documented at what was to be the final British concert of their Island period at Croydon Fairfield Halls in September 1975. The show turned into exuberant chaos when girls rushed the stage and tackled Russell to the ground while Ron, who trying his best to maintain his stoic stance, was even accorded an embrace.
This was undoubtedly the end of an era as the Tony Visconti-produced 'Indiscreet' released in October 1975 proved. Those girls who had rushed the stage in Croydon were undoubtedly peeling their posters off the wall as they were treated to this bizarre collection of songs such as the strident marches of 'Hospitality On Parade' and 'Get In The Swing'. Meanwhile 'Looks Looks Looks' with its backing by elderly jazz swing musicians and the string quartet laden 'Under The Table With Her' may have been the final straw.
Getting homesick, the Maels dissolved their British band to move back to the US in 1976 and delivered the AOR focussed 'Big Beat'. Working with Rupert Holmes, he of 'The Pina Colada Song' and producer of Barbra Streisand, it was largely met with indifference. This period in the artistic doldrums was summed up by SPARKS' appearance performing 'Fill-Er-Up' and 'Big Boy' in 1977's 'Rollercoaster', a disaster movie starring George Segal. It was a disaster in more ways than one and the ironically titled 'Introducing' album did little to change fortunes.
In a creative rut and seeking a new direction, the Maels opened their ears to the burgeoning electro-disco sound as heard on Donna Summer's 'I Feel Love' and were put into contact with its producer Giorgio Moroder by a journalist in Los Angeles.
The idea of fusing electronics with the neo-operatic songs of SPARKS was intriguing, so Moroder set to work with them immediately, the tremendous propulsive result being 'The No1 Song In Heaven'. Released in March 1979, it reached No14 in the UK charts, actually a few months before TUBEWAY ARMY's 'Are Friends Electric?' which is often been seen as the cultural turning point for the synthesizer.
Having worked with Moroder himself, Rob Dean recollected: "After two disappointing albums, hearing that they had recorded with Giorgio Moroder was welcome news as I was already a fan through the brilliant 'I Feel Love' and the 'Midnight Express' soundtrack. When I heard 'The No1 Song In Heaven', it was gratifying to hear that the band's integrity had been left completely intact, and it was another high watermark in their career. It was a more successful collaboration both commercially and artistically than JAPAN's own 'Life In Tokyo' I think."
Featuring just six tracks, the parent album 'No1 in Heaven' released on Virgin Records featured an embarrassment of riches including an even bigger hit in 'Beat The Clock' and the cosmic 'Tryouts For The Human Race', while 'Academy Award Winning Performance' would have made a great single.
"My favourite SPARKS track is, well actually, two songs together really, 'My Other Voice' segued into 'The No1 Song In Heaven'" said Glenn Gregory, "I have a fantastic memory of a bonfire night in 1979. Martyn Ware and I had taken some magic mushrooms and walked around a fairground immersed in colour and light, embraced by voices and sounds, a wonderful experience. Then as the fireworks climaxed, we were stood by the waltzer and 'The No1 Song In Heaven' was blaring out through the speakers… we both saw God at the same time, we went back to Martyn's flat and had that album on repeat for the rest of the night."
"The 'No.1 In Heaven' period is my SPARKS" explained Peter Fitzpatrick of CIRCUIT3, "They're like Doctor Who aren't they? Everyone has their version of them. Pirate radio in Dublin played SPARKS constantly in the spring and summer of 1979. With Gary Numan appearing around the same time, it became normal to have these odd looking people on TOTP playing electronic keyboards"
It was during their TV appearances promoting singles from 'No1 In Heaven' that SPARKS invented the synth duo. While Russell's flamboyant falsetto fitted in well with the electro-disco sound and inspired movement, the throbbing programmed backing meant Ron could maintain the impression he was "doing nothing" and appearing unhappy about it. As Vince Clarke put it in 'The SPARKS Brothers': "There's myself, the guy from the PET SHOP BOYS, and DURAN DURAN… we're all miserable f*ckers; it's a look which we just stole from SPARKS!"
Virgin Records pulled out all the stops with releases pressed in different colour variations. But despite the artistic rejuvenation and chart hits for SPARKS, the 'No1 In Heaven' album did not sell well. The Maels had perhaps been overshadowed by the success of Gary Numan, but it was possible that the singles focussed disco audience who had crossed over felt those were enough. To add salt to the wound, SPARKS were branded as "disco traitors" by the music press which now seems bizarre in hindsight for such a pioneering work.
Undeterred, SPARKS were despatched by Virgin Records to record the follow-up 'Terminal Jive'. Although Moroder was still nominally at the helm, it was Harold Faltermeyer who took up most of the production duties as the Italian started to lose interest, distracted by more lucrative soundtrack work such as 'American Gigolo' which hit paydirt with the BLONDIE collaboration 'Call Me'.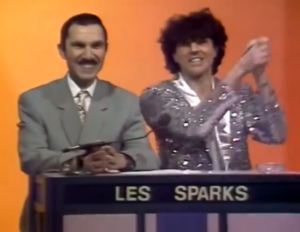 With Ron forbidden from actually playing his own keyboard parts, the 'Terminal Jive' songs featured more guitar and less of the throbbing sequencer magic with 'Rock 'N' Roll People In A Disco World' reflecting the confused state of mind on a record that was lacking the Maels' personality.
Intended to appeal more to American ears, 'Terminal Jive' was not actually issued in the US on its eventual release in January 1980. Paradoxically, 'When I'm With You' was a massive hit in France and even covered by NEW ORDER in concert.
During this period, the brothers relocated there for a few years, appearing on 'L'Académie Des Neuf' (the French equivalent of 'Celebrity Squares') as "LES SPARKS" and writing with Belgian neighbours TELEX during their sojourn.
Licensed to RCA in the US via a deal brokered by Moroder and recruiting Californian combo BATES MOTEL as a backing band, SPARKS recorded their 1981 album 'Whomp That Sucker' with QUEEN producer Reinhold Mack in Munich as a much more rock orientated affair.
Channelling a cathartic aggression, the 'Whomp That Sucker' cover depicted Russell and Ron as boxers. "I went to a SPARKS album launch party at the Grosvenor Hotel on Park Lane where they had a full size boxing ring" remembered Glenn Gregory amusingly, "they came out and fought a few rounds, I stood talking to Vivian Stanshall of BONZO DOG DOO-DAH BAND… or maybe I was tripping!"
Songs from 'Whomp That Sucker' and their next two long players on Atlantic Records 'Angst In My Pants' and 'In Outer Space' like 'Funny Face', 'I Predict' and 'Cool Places' with Jane Wiedlin from THE GO GO'S were playlisted by KROQ-FM. An influential Pasedena-based radio station, it specialised in what Americans termed New Wave with acts such as DEPECHE MODE, YAZOO, NEW ORDER, OMD, THE PYSCHEDLEIC FURS, BERLIN, DURAN DURAN, PET SHOP BOYS, SIMPLE MINDS, THE CURE, ABC and A-HA on regular rotation during its imperial phase.
This support from KROQ-FM assured SPARKS of some West Coast success for a period, although 1984's 'Pulling Rabbits Out Of A Hat' with DURAN DURAN producer Ian Little saw SPARKS become too immersed in new digital technology, with the album's lead single 'With All My Might' sounding more like HEAVEN 17.
The Mael Brothers had another rethink and used the Fairlight to accentuate their more eccentric and provocative side again with 'Change' on what turned out to be a one-off single with London Records in July 1985. Returning to Europe to record with Dan Lacksman of TELEX, the middle eight featured a sonic passage that would have made Trevor Horn proud and reminded audiences of how enthralling SPARKS could be.
However, London Records were not happy with one A&R muttering "why can't you make music that you can dance to?" – from criticism comes inspiration and this led to the next SPARKS album 'Music That You Can Dance To' released on MCA in September 1986, although the energetic similarities of the title song to ERASURE's 'Oh L'Amour' did not go unnoticed while Russell got to impersonate Gene Pitney on 'Rosebud'.
1988's 'Interior Design' did not halt downward trajectory although a French version of the album closer 'Madonna' possessed some Gallic charm and this ongoing affinity with the country saw a superb collaboration with the Parisian avant pop couple LES RITA MITSOUKO with 'Singing In The Shower', a track later used in the 1989 film 'Black Rain' starring Michael Douglas and Andy Garcia.
With ambitions in cinema, SPARKS turned their attention to an adaptation on the Japanese anime comic 'Mai The Psychic Girl' to be directed by Tim Burton. The lead was to have been played by Christi Haydon who had been a regular extra on 'Star Trek: The Next Generation'. But when the film project floundered, she became an important aspect of their video and live presentations for their next album 'Gratuitous Sax & Senseless Violins' released in November 1994.
Now working as a duo, SPARKS' new material was picked up by the German based Logic label, then home to trendy dance acts like COSMIC BABY and SNAP! And just when people least expected it, Russell and Ron Mael returned like a phoenix from the flames.
With a superb vintage styled sibling rivalry video directed by Sophie Muller, the brilliant 'When Do I Get To Sing My Way' became a smash in Germany and gave them an unexpected career renaissance with a brand new young audience. The song had everything; atmospherics, subtle rhythmical infections and an anthemic uplifting chorus. And as if to repay their debt for SPARKS paving that path for synth duos, Vince Clarke and Dave Ball of SOFT CELL (in his new guise of THE GRID with Richard Norris) provided remixes.
Meanwhile '(When I Kiss You) I Hear Charlie Parker Playing' was very much in the frantic Eurodance vein of the period, sounding like PET SHOP BOYS 'Yesterday When I Was Mad' being covered by Freddie Mercury! Russell Mael brought his obviously more quizzical character into the cutting 'I Thought I Told You To Wait In The Car' with its Arabic overtones and unsettling multi-tracked chants. 'Now That I Own The BBC' humorously imagined the Maels returning to the fame game, but best of all was the chilling ballad 'Hear No Evil, See No Evil, Speak No Evil', now with the passage of time sounding like MUSE gone synthpop!
However, the Maels lost it all again with the rather pointless 1997 reworkings collection 'Plagiarism' featuring special guests ERASURE and FAITH NO MORE, and then capped it all with the poorly received 'Balls' in 2000. After the lush synths of 'Gratuitous Sax and Senseless Violins', 'Balls' was more jagged with the title track and 'Bullet Train' rhythmically attempting to ape THE PRODIGY, although songs such as 'More Than A Sex Machine' and 'The Calm Before The Storm' showed SPARKS could still do catchy electronic pop when it took their fancy. But 'Balls' was the Maels trying to emulate others rather than being themselves.
As always, SPARKS bounced back again in 2002 with the acclaimed classical concept album 'Lil Beethoven', described in the original CD booklet as "Nine scintillating works of seduction and self-delusion…" – the bookends 'The Rhythm Thief' and 'Suburban Homeboy were immediate highlights while 'What Are All These Bands So Angry About?' was a wry baroque observation on self-destructive egos in the music biz.
'Hello Young Lovers' in 2004 developed on the template further but adding conventional band augmentation with the prog pop opus 'Dick Around' and the orchestrated swing rock of 'Perfume' released as singles, although the former earned itself a BBC radio ban.
Using photos featuring Susie the baby chimpanzee on the cover, 2008's 'Exotic Creatures Of The Deep' with songs like the buzzy 'I Can't Believe That You Would Fall For All the Cr*p In This Song' and the playful dig 'Lighten Up, Morrissey' showed SPARKS still had it was far as sardonic lyricism went. To launch the new album, they undertook their '21×21' adventure, performing each of their 20 previous albums in full during a London residency at Islington Academy over 20 nights, before culminating in the live premiere of 'Exotic Creatures Of The Deep' at Shepherds Bush Empire.
But there were signs that another jolt was needed creatively. First came the radio musical 'The Seduction of Ingmar Bergman' in 2009 while the Maels undertook two stripped down duo tours under the 'Two Hands, One Mouth' banner.
The 2015 union of FRANZ FERDINAND and SPARKS was a visceral project centred around a six piece band together in a room, unlike many modern collaborations which are distant and detached. The resultant FFS album could easily have been titled 'Art School Musical' with the Glasgow art rockers particularly invigorated by their spiritual godfathers. Snatching back the intellectual artistic high ground, the Mael brothers found themselves in the mainstream again for the fourth time in their multi-decade career.
From 'FFS', 'Call Girl' and 'So Desu Ne' revisited SPARKS' past electronic adventures while 'P*ss Off' was the ultimate two fingered anthem, grabbing the vibrancy of the 'Kimono My House' and 'Propaganda' era with its joyful multi-track phrasing and vitality. Contradicting its title, 'Collaborations Don't Work' combined operatic rants and country with buzzy synthpop, spacey jazz, a showtune and a classical mini-symphony! It was bonkers and brilliant with the sorcerer and the apprentice working in unison to double the magical power!
SPARKS returned as themselves in September 2017 and it was zoo time again on 'Hippopotamus' with the Maels are waxing lyrical about amphibious mammals, French culture, flat pack furniture, presidential widows and The Scottish Play. Featuring a whopping 15 tracks, there was the orchestrated rock eccentricity of 'What The Hell Is It This Time?', the frantic electronically assisted storm of 'The Amazing Mr Repeat' and the poperatic 'Life With The Macbeths'. Meanwhile the fascination for all things Gallic continued with 'Edith Piaf (Said It Better Than Me)' and 'When You're a French Director' featuring Leos Carax on guest vocals and accordion.
Heading into the fifth decade of their career and with their weird and wonderful sense of humour still intact, SPARKS showed no signs of waning in their zest for idiosyncratic adventure on 2020's 'A Steady Drip, Drip, Drip'. If the album had a key track, then it was the glorious 'One For The Ages' with its narrative about craving artistic longevity.
The baroque synth classical of 'Stravinsky's Only Hit' was a light hearted reflection on serious artistes while paradoxically 'Self-Effacing' was an anthemic song about modesty in the 'Kimono My House' vein but sans Ron's electric piano. Returning to the lyrical gist of their 1975 hit 'Never Turn Your Back On Mother Earth', there was the profound closing plea of 'Please Don't F*ck Up My World'.
Still remaining as enjoyably oddball as ever, after numerous aborted film projects, Russell and Ron Mael recently fulfilled their cinematic dream with the musical film 'Annette' starring Adam Driver and directed by Leos Carax.
After watching 'The SPARKS Brothers', Rob Dean said: "This is a well-deserved, successful and exhaustive overview of the brothers' chequered career so far that somehow manages to still keep their enigma intact. Undoubtedly a must see for any fan such as myself, anyone else with the curiosity to explore can expect to be richly rewarded and surprised too."
"The documentary reminded me I wish I'd been an art school boy. SPARKS let you in on the joke, never too smart for their own good and not excluding the listener" Peter Fitzpatrick thought, "Reviewers comment on the humour of course but the message it's sending to artists is choose your own path and don't follow convention; stick it out because what you create is all that matters. I dove back into their catalogue before the documentary came out and rediscovered how similar to XTC they are in that sheer bloody mindedness, but in a good way. Some current bands are like that for dumb reasons with notions about themselves. Artistic bloody mindedness is an admirable trait. SPARKS have it in spades."
As far as legacy is concerned, apart from synth duos and any act with a static keyboard player, bands such as SIMPLE MINDS and ASSOCIATES mined the poise of SPARKS' glam period for their earlier post-punk records, while the eccentric sound of SPARKS continues to be heard in modern female-fronted acts such as MARINA & THE DIAMONDS and GOLDFRAPP. But Paul McCartney choosing to impersonate Ron Mael in the 'Coming Up' video in 1980 was the ultimate symbol of worldwide cultural impact.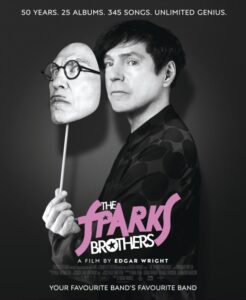 "I have some very happy memories of SPARKS" Glenn Gregory surmised, "genuinely one of the most innovative, interesting bands ever", but as Taylor Swift producer Jack Antonoff put it succinctly in the documentary: "All modern pop music is rearranged Vince Clarke and rearranged SPARKS, that's the truth"
While SPARKS were not easy task masters in their pursuit of the unconventional, their unwillingness to compromise and determination to remain accessibly intelligent has to be admired in a world that has lowered itself to ignorance and complacency over the past few years.
"They're clever but not impenetrable" concluded Peter Fitzpatrick.
---
With thanks to Glenn Gregory, Rob Dean and Peter Fitzpatrick for their contributions
'The SPARKS Brothers' is on general release in selected cinemas, more information at http://thesparksbrothers.co.uk – Blu-ray and DVD released on 22nd October 2021
'The SPARKS Brothers (Original Motion Picture Soundtrack)' will be released by Waxwork Records as a quadruple marbled vinyl LP boxed set on 22nd January 2022
'Past Tense – The Best of SPARKS' is available as a 2CD, 3CD and triple vinyl set via BMG
https://www.facebook.com/sparksofficial/
https://twitter.com/sparksofficial
https://www.instagram.com/sparks_official/
https://sparks.lnk.to/spotifyWE
---
Text by Chi Ming Lai
3rd August 2021, updated 23rd September 2021