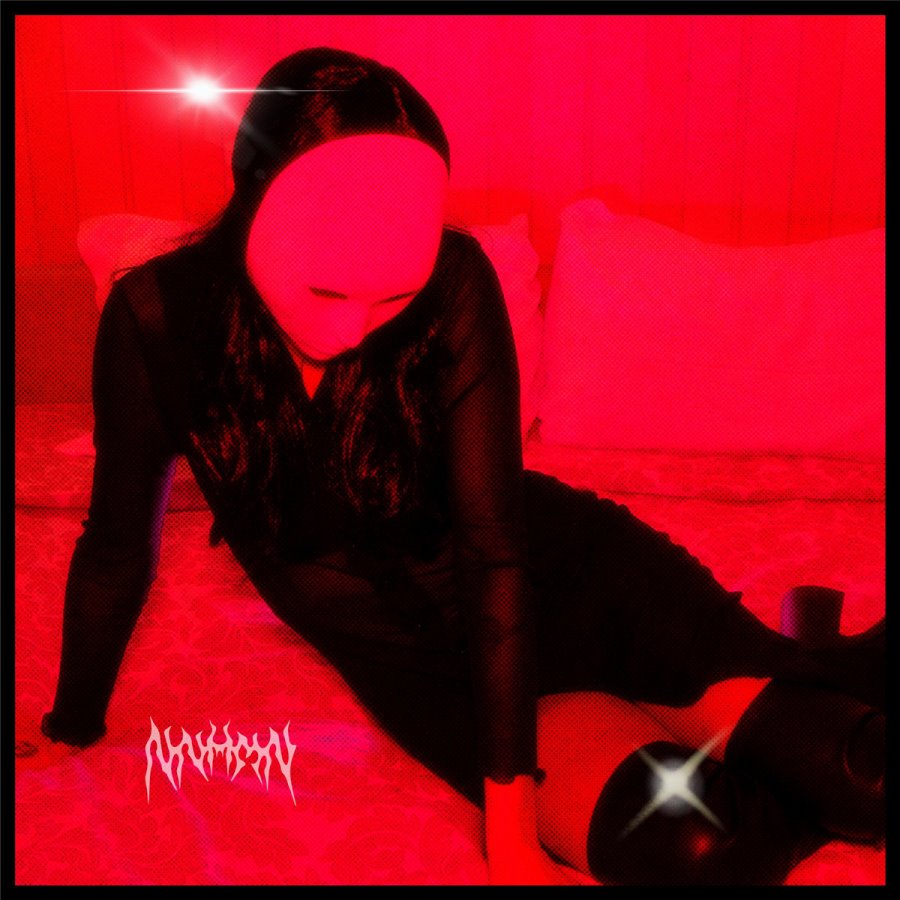 Berlin-based couple NNHMN released their debut album 'Church Of No Religion' in 2019.
Since then, there have been a number of EPs including most recently 'For The Comfort Of Your Exstazy' which featured the strong body breakthrough of 'Omen' and its poignant anti-war message stating the true nature of evil.
Continuing that encapsulation of these unsettling times, "non-humans" Lee Margot and Michal Laudarg present their new album 'Circle of Doom' where they adapt their dark electronic body style with more varied dance elements.
Making use of a trance laden backbone and icy futurepop hooks, the German language 'Hungrige Liebe' embodies a Mittel Europa detachment in its spoken word, chosen as it "fits best to the theme of love and death". Much more techno in construction and "a meditation on love, evil, sin and redemption", 'Gloomy Heart' throbs in triplicate but adds an eerie choral vibe over the enticing club friendly action.
The wonderful glory of 'Soldier of Beauty' is more serene but no less danceable with a particularly hypnotic bassline and the viewpoint that the only honest thing to fight for is peace. Meanwhile, the tension on 'NRL' can be cut with a knife, described by NNHMN as "the pursuit of a vision, both personal and musical. The transmission of a cosmic solitude opera station"; the voice manipulations and wobbling electronic bass boost what comes over like BOY HARSHER invading Gatecrasher.
At a more steadfast pace, if it wasn't for the airy lead vocals and cavernous reverb treatment, 'Tiger' could be mistaken for TECHNOTRONIC and that is not meant in a negative way. The minimally structured 'Lush Longing' could be Miss Kittin fresh out of carbon freeze, but the syncopated stomp of 'Schizophrenic Vitamine' retains the mystery if not the standard of its preceding tracks. However, 'Unreal' cuts an exotic if unsettling tone as it manoeuvres into classic body mode.
In its existential commentary', 'Circle Of Doom' "mirrors the state of the world we are living in" and does it with a haunted enigmatic sound. With a widened electronic palette, it acts as enjoyable and engaging dance music for the party where the enemy at the door could well be scarily knocking soon…
---
'Circle of Doom' is released by Young and Cold Records and available as a CD, black vinyl LP + download from https://nnhmn.bandcamp.com/album/circle-of-doom
NNHMN 2023 live shows include:
Geneva La Makhno (17 June), Bolków Castle Party Festival (15 July), Cologne Amphi Festival (30 July), Prague Gothic Treffen (25 August), Oostende W-Festival (26 August)
https://www.facebook.com/nonhuman.duo
https://www.instagram.com/nnhmn_
https://open.spotify.com/album/0X9WIFpXDJdVEDP6tJrR6r
---
Text by Chi Ming Lai
2 June 2023, updated 16 June 2023