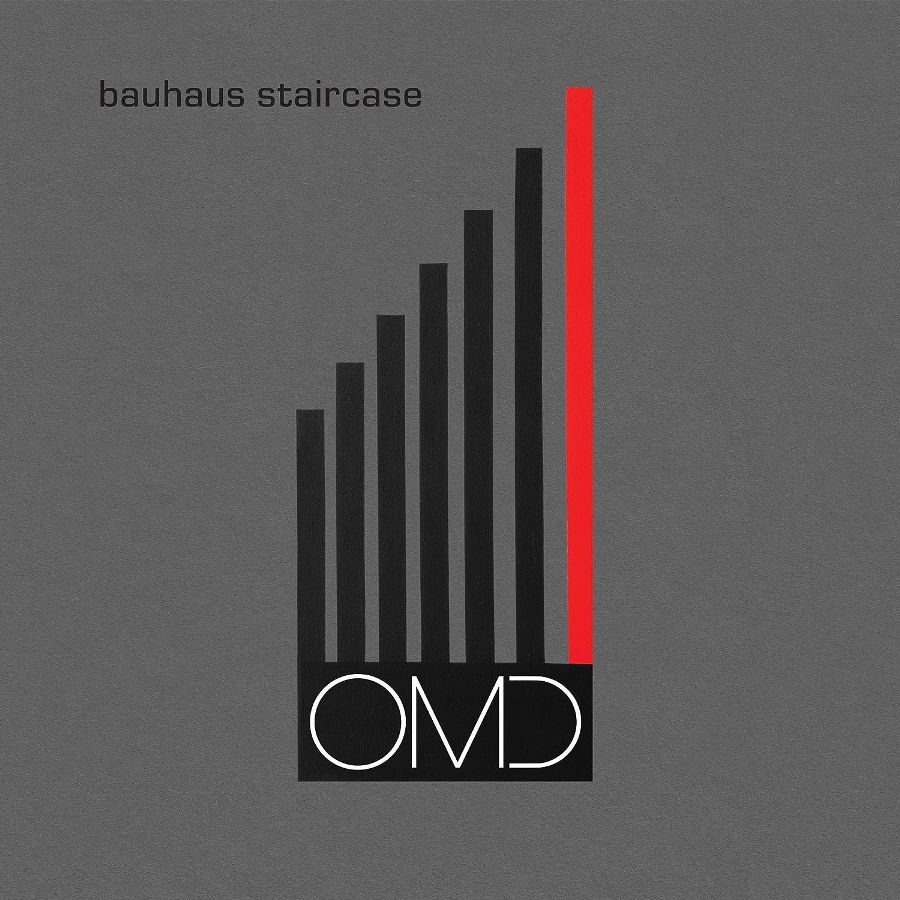 'Bauhaus Staircase' is the fourth album of original material from OMD since the original nucleus of Andy McCluskey and Paul Humphreys reunited in 2007. It is also being mooted as possibly their final album.
Driven by "the creative power of total bloody boredom", like many albums out at the moment, 'Bauhaus Staircase' was a consequence of the worldwide pandemic and lockdown. Pieced together remotely, Andy McCluskey worked from his home studio in Wirral while Paul Humphreys was in France also juggling becoming a father again. A thematic concept is the key to any good OMD LP and for 'Bauhaus Staircase', it is the fight against the rise of extreme right wing politics and the self-destructive age of Brexit.
However, when the first three tracks from 'Bauhaus Staircase' emerged, things did not look promising; the title track sounded mighty but was not much of a song with the topline seemingly inspired by 'So You Wanna Be A Boxer' from the film 'Bugsy Malone'. Then kissing the strict machine, 'Slow Train' opted for a puzzling GOLDFRAPP pastiche that went on for far too long. However 'Veruschka', inspired by the German supermodel whose father Count Henrich von Lehndorff-Steinort attempted to assassinate Hitler, was a melancholic ballad that recalled PET SHOP BOYS indicating that all was not lost.
But appearing in the first half of 'Bauhaus Staircase', 'Anthropocene' and 'Look At You Now' are much more in keeping in what one would expect quality wise from OMD, the former being what KRAFTWERK would sound like if they did spacey trance while the latter is bursting with hooks and perhaps only missing a Paul Humphreys lead vocal. Released as a single in 2019 for the 'Souvenir' compilation and given a very subtle remix, 'Don't Go' is a magnificent stand out with beautiful melodies telling the listener terrible things in that classic OMD vein.
'GEM' offers a Germanic rhythmic lollop while 'Kleptocracy' goes for the Motorik jugular with live bass guitar in an attack on destructive capitalism and fascist narcissists like Trump, Johnson, Farage and Bolsonaro, the message being that the citizens are innocent, other than voting for these obviously despicable characters in the first place… meanwhile there appears to be a recurring shouting sample from DEPECHE MODE's 'Boys Say Go!'
As well as new compositions from the past few years, 'Bauhaus Staircase' has also given OMD an opportunity to finish off various works in the vaults and one of those is 'Aphrodite's Favourite Child'; from a 2011 demo provided by Greek duo FOTONOVELA who had been behind 'Helen Of Troy' on 'English Electric', McCluskey plays again with ancient Hellenic imagery for a song about personal relationships while Humphreys provides a great whirring solo. On the closing run, 'Evolution Of Species' is computer voice generated piece that wouldn't have gone amiss on a Jean-Michel Jarre album and questions whether humankind has actually intellectually progressed.
'Bauhaus Staircase' is on a par with its predecessor 'The Punishment Of Luxury' but does not hit the consistent highs of 'English Electric', OMD's best long player since the reunion and up there with the classic first four albums. With this album, OMD will play London's O2 Arena for the very first time in March 2024 and it will be a prestigious moment for a band who have contributed some of the best music of Synth Britannia, yet have been largely overlooked in music history when compared to their contemporaries DEPECHE MODE, SOFT CELL and THE HUMAN LEAGUE.
---
'Bauhaus Staircase' is released by 100% Records in the multiple formats
OMD play London O2 Arena on Sunday 24 March 2024 with special guest Howard Jones, for other worldwide tour dates, visit http://www.omd.uk.com/
https://www.facebook.com/omdofficial/
https://twitter.com/OfficialOMD
https://www.instagram.com/omdhq/
---
Text by Chi Ming Lai
28 October 2023