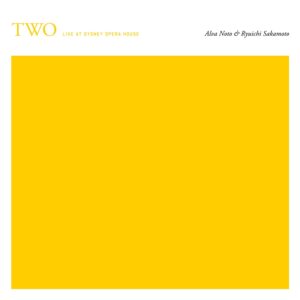 Capturing the essence of their performance at Sydney Opera House in October 2018, Alva Noto and Ryuichi Sakamoto present 'Two', a part live-part studio prepared collection of new improvised material and assorted highlights from their joint back catalogue of five albums and one soundtrack.
Incorporating computers, synthesizers, glockenspiel and grand piano, the German Japanese duo undertook a series of live events entitled 'Two' before culminating in Sydney where the two hour set was recorded and edited down to form this album.
Minimal and touching on ambient, classical, glitch, avant-garde jazz and experimental electronica, 'Two' acts as a work that can function outside of the concert hall without visuals, one that can enter an environmental listening world to provide escape and space to relax or think.
While 'Two' operates as an immersive whole, the entry points for casual listeners will undoubtedly be when electronic and soundtrack legend Ryuichi Sakamoto takes to synth and piano. 'Propho' is a case in point and sees the YELLOW MAGIC ORCHESTRA pioneer take to his beloved Prophet 5 to sculpt haunting soundscapes reminiscent of his work for the film 'Merry Christmas Mr Lawrence'.
Meanwhile, 'Trioon II' from the duo's acclaimed 2002 debut album 'Vrioon' sets Sakamoto's beautifully elegant piano playing alongside Noto's subtle interference and spatial texturing, like Debussy to a glitchy beat. These two tracks very much set up an unexpectedly soothing and meditative experience. More unsettling though is the crackle of 'Emspac' which owes a debt to KRAFTWERK's 'Geigerzähler'.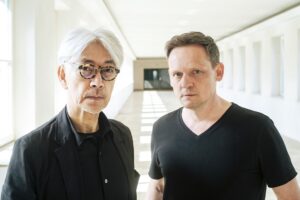 Despite Noto's gently rumbling backdrop, 'Morning' is a strangely considered and immersive discordant piece, before leading into the more percussive piano shaped mantra of 'Iano' from 2005's 'Insen'. 'Berlin' is more abstract, accurately sound painting the city's unique aura with creative use of signal noise creeping in, while the lengthy 'Naono' from 2011's 'Summvs' steadily builds into a cascading cacophony of piano, strings, noise and bleeps.
Closing the set with 'The Revenant Theme' from their soundtrack 2015 survival film drama 'The Revenant' starring Leonardo DiCaprio and Tom Hardy, the combination of hypnotic rhythmic passages and haunting orchestrations provide a glorious cinematic tension.
'Two' may have been derived in a concert setting but free of applause and audience presence in its audio only presentation, it acts as a body of work on its own that possesses an understated textural rhythmic quality, where atmosphere and melody also get their space to shimmer and shine.
---
'Two' is released by NOTON as a CD and double vinyl LP, available from https://noton.greedbag.com/buy/two-120
https://www.facebook.com/alvanoto/
https://www.facebook.com/ryuichisakamoto/
---
Text by Chi Ming Lai
15th November 2019