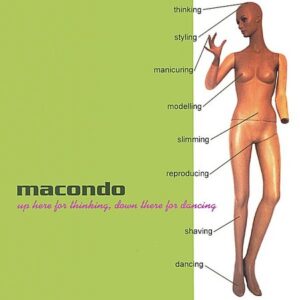 Not to be confused with the Latin rock band discovered by Sergio Mendes, MACONDO were a synthpop duo from Grays in Essex.
Comprising of Wayne Clements and his sidekick Vickie, their only album 'Up Here For Thinking, Down There for Dancing' was released in 2003 by Ninthwave Records, an American independent specializing in electronic pop founded in 2001 as part of Lexicon Magazine, originally an ABC fanzine that morphed into a more general platform featuring synthpop and new wave.
Ninthwave Records issued a number of new artist compilations including 'Electricity' which featured SUBVERSION, a synthpop act who included THE KILLERS' Brandon Flowers as one of its members. It also handled the North American release of HEAVEN 17's 2005 album 'Before / After', as well as curating tribute albums to OMD and YAZOO.
Take in the context of the period; the new millennium had begun and with the post-Britpop hangover, there was effectively no electronic music unless it was club focussed. Synthpop acts couldn't get arrested and although LADYTRON released '604' in 2001, it was done independently via their own Invicta H-Hi imprint. Even after they had achieved some critical success and signed a record deal, their second album 'Light & Magic' in 2003 was released in the USA first by Emperor Norton.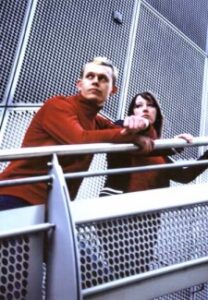 Wayne Clements had established his own synth imprint Lucky Pierre which later released a great compilation 'Robopop Volume 1' featuring CLIENT, VIC TWENTY, WHITE TOWN, KOMPUTER, EMPIRE STATE HUMAN and BAXENDALE.
But overall, it was a frustrating period for electronic music of a more pop focussed bent. It seemed North America were the saviours of synthpop, so it was no great surprise that MACONDO ended up signing to Ninthwave.
Some of that frustration came across on 'Up Here For Thinking, Down There For Dancing', an amusing collection of synthpop that brightened up the synthetic sky with its humour, wit, sadness, and disappointment.
On the opening number 'Something's Got to Happen Soon', NEW ORDER collided with ERASURE via a wonderfully nonchalant vocal and some pretty, sparkling melodies. Lyrics like "I wanted to change my life and I was going to start today but then I got up late, there's always tomorrow…" captured the essence of the proud pronouncements that people now make online, that ultimately wither away as unrealised ideas through lack of focus or just plain laziness. Undeterred, Wayne then declared 'You'll Never Walk Alone' but he did.
Following on, the brilliant 'Saturday Boys' encompassed that very English attitude to being skint and therefore, uncommitted and unambitious; who doesn't know someone like that? It's the ultimate anti-aspiration song about "doing nothing to enhance our reputation…"
With hints of FRAZIER CHORUS, the brilliantly titled honesty of 'Live Life To The Min' also accurately captured this state of apathy in a life where "I don't go out when I can stay in…" – indeed, who really gives a f*** about apathy?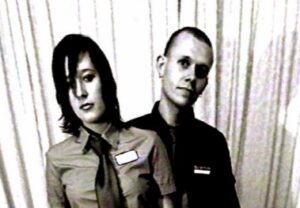 The charming 'Local Boy'z' with its deliberately off-key vocals reflected on the small town mentality revolving around the M25 with the conclusion "it never occurred to us that we could leave…" while 'Club Supper' brought Vickie into the vocal mix with a break-up duet within a 6/8 Clarke inspired synthfest. Another swung ERASURE-ish number 'He's Got A Gun' poked fun at the wannabe criminal underworld.
Within the shuffling midtempo backbone of 'Disappointed' and its Western theme harmonica solo was a great tune, while highlighting that 'Up Here for Thinking, Down There for Dancing' wasn't just built around a single pace, there was the softer, more downbeat narrative of 'What If He Doesn't Show?' and the closing cascading resignation of 'Game Over'.
'Up Here For Thinking, Down There For Dancing' was a promising, quirky debut, and although there was a download remix collection 'Down There For Dancing' in 2004, other than an outtake 'It Couldn't Be Further From The Truth' featuring Vickie on lead vocals appearing on the 'Electricity 2' sampler, that was it from MACONDO.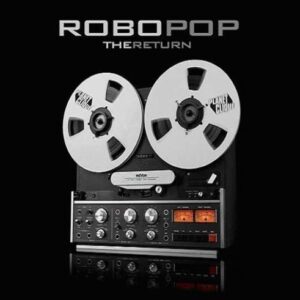 Another Lucky Pierre compilation 'Robopop – The Return'
, in association with production duo MANHATTAN CLIQUE and their label Planet Clique, did appear in 2006; on it were GOLDFRAPP, THE KNIFE, TIGA, MATINEE CLUB, ROBOTS IN DISGUISE and LORRAINE.
But there was the surprise inclusion of MACONDO with a previously unreleased track called 'CCTV', again with Vickie on lead… it raised hopes of another album, but it was not to be.
Like their fellow ironic synthers YOUNGER YOUNGER 28s and BAXENDALE, MACONDO were an amusing aural relief to the landfill indie of the times, although unlikely to have been massively successful even in the current electro friendly climate. But they would have had some friendly faces around in this internet age.
Wherever they are now, whether they are section managers at Asda, designing logos for big corporations or writing comedy scripts for the BBC, Wayne and Vickie's sub-FRAZIER CHORUS melodic pop and witty social observations are greatly missed.
---
'Up Here for Thinking, Down There for Dancing'
was released on CD by Ninth Wave Records
http://www.discogs.com/Macondo-Up-Here-For-Thinking-Down-There-For-Dancing/release/1132423
http://www.ninthwaverecords.com/
---
Text by Chi Ming Lai
21st January 2016