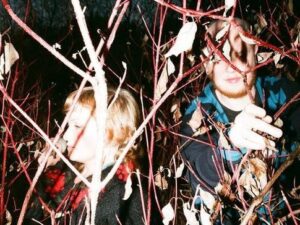 THE HORN THE HUNT are enigmatic Leeds based pop duo Clare Carter and Joseph Osborne.
They have an intriguing Nordic tinged sound which has added authenticity following a three-month spell writing on location in Greenland and spending half the time in perpetual darkness.
They released their self-titled debut album ndependently in 2009 but in early 2010 were signed by Ann Shenton of ADD N TO X's White Label Music.
The grandiose 'Raptor' is the first single to be taken from their forthcoming second album 'Depressur Jolie'. The vintage synths whirr like sirens, while the brooding bass compliments the multi-timbre vocals as they hit several octaves. Aurally disconcerting, the spectre of THE KNIFE runs throughout although the sinister edge of dark Teutonic industrialists RAMMSTEIN also lingers.
Of THE HORN THE HUNT's other recent material, 'Henry's Out' is percussively spooky with echoes of NEW ORDER fronted by Karin Dreijer Andersson while 'Old Town Cow' adds a Far Eastern flavour to some chattering cowbells. With additional inspiration from artists such as KATE BUSH, BJORK and ANGELO BADALAMENTI, Clare Carter says: "The darkness of the human mind and our difficult relationship with nature, these are the things that became apparent, and the most therapeutic way to deal with them, in all cultures, is through art."
THE HORN THE HUNT's music is mysterious but accessible. Sourced from futuristic sounds, stark beats and Pagan mythology, their sonic chill provides challenging but rewarding listening.
---
'Depressur Jolie' is scheduled to be released by White Label Music in May 2011
https://www.facebook.com/thehornthehunt
---
Text by Chi Ming Lai
2nd February 2011, updated 12th October 2013