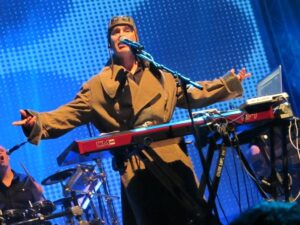 The plush confines of London's Royal Festival Hall was the venue for the wonderful 'Electronic Phuture Revue' curated by Back To The Phuture's Mark Jones and HEAVEN 17's Martyn Ware.
Forming part of the three day Vintage Festival, despite the nostalgia vibe of the weekend's proceedings celebrating five decades of British cool, this showcase was certainly no cheesy nostalgia ride.
Instead it promised a show with classic and new interpretations of synthpop NOT 80s, in a distinct move away from the dreaded 'Remember The Here & Now' type associations! Opening the Revue, Alan Wilder's RECOIL orchestrated a moody cinematic presentation that included forays into his side of the DEPECHE MODE story.
A terrific 'Jezebel' mashed-up with 'Walking My Shoes' and TUBEWAY ARMY's 'Are Friends Electric?' was the first musical highlight of the evening while despite the early start, a powerful Aggro mix variation of 'Never Let Me Down Again' third track in managed to encourage a few of the devotional to get up and do the cornfield wave. With Paul Kendall as his willing conspirator, Wilder's carefully selected cinematic segue also included elements of 'Personal Jesus' to help people to "reach out".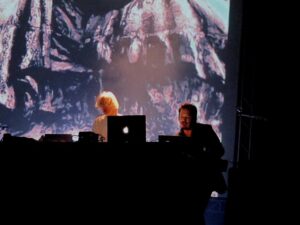 These various segments of familiarity provided accessible counterpoints to RECOIL's more organic, sample based productions like 'Prey' and 'Faith Healer'.
Speaking of DEPECHE MODE, New York based MOTOR were next and their new glam stomper 'Man Made Machine' features vocals by Martin Gore in a collaboration that sounds not unlike a camp Iggy Pop being backed by an angry GOLDFRAPP.
Tonight, it is voiced by MOTOR themselves although Gore himself lurked in the video projections as the duo delivered their brand of harder edged techno electro. Their long awaited song based album is out later this year and will feature vocals by GARY NUMAN, ELECTRIBE 101's Billie Ray Martin and NITZER EBB's Douglas J McCarthy.
The DJ interval with Mark Jones allowed a breather before the arrival of MIRRORS. Despite the obvious comparisons with a certain synth act from the Wirral Peninsula, MIRRORS live are actually more like a young KRAFTWERK meeting DEPECHE MODE.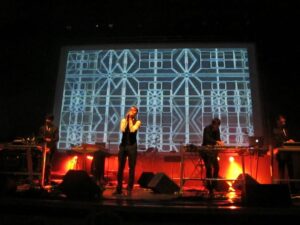 With recent appearances at fashion shows for the likes of Michalsky and Glastonbury under their belt plus their album 'Lights & Offerings' gaining the praise of many plaudits, 2011 has been very good for the sartorially chic quartet.
Their sharp but moody aura, combined with an artful sensibility shone through as they exhibited their development of the classic Synth Britannia sound.
Unfortunately though, tonight they were limited to just 'Fear Of Drowning', 'Into The Heart', 'Hide And Seek' and 'Ways To An End' for their sojourn. However, MIRRORS impressed again and much of the aftershow chat was about their potential. Avoiding worries, the future of synthpop is bright and in eight very good hands.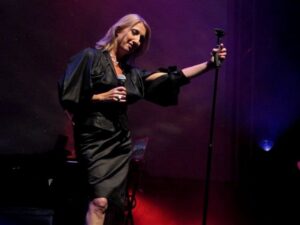 ONETWO gave a highly polished recital that delved into a variety of songs from Claudia Brücken and Paul Humphreys' corresponding histories as well as their more recent compositions.
Synthpop standards 'P-Machinery', 'Messages', 'Electricity' and 'Duel' got the audience dancing and sat nicely side-by-side with the atmospheric dramas of 'Sequentia', 'Thank You', and the Martin Gore co-write 'Cloud Nine'.
Even if the DEPECHE MODE songwriter wasn't there physically, his presence was certainly felt in spirit throughout the event, such has been his influence on electronic pop music. Ms Brücken herself was in tremendous voice as usual, her chanteuse demeanour perfectly at ease with the sophisticated surroundings of the Royal Festival Hall.
Afterwards, Paul Humphreys and Alan Wilder were spotted chatting in the foyer before the start of THOMAS DOLBY's set.
The two keyboardists hadn't seen each other in ages; had it really been 23 years since DEPECHE MODE beat OMD in that infamous cricket match, as documented in Steve Malins' excellent DM biography 'Black Celebration', during the 'Music For The Masses' US tour?
Meanwhile in a very impressive performance, THOMAS DOLBY teamed up with his tribute act THE PIRATE TWINS in a most touching musical union. What a moment it must have been for Darren Goldsmith and Andrew Down to be playing with their hero, almost mirroring the occasion when Dolby himself and his band backed DAVID BOWIE at Live Aid.
Opening with the terrific 'One Of Our Submarines', Dolby journeyed back first with 'Europa And The Pirate Twins' and later 'Hyperactive!'. On the latter, drummer Mat Hector did a brilliant job tightening his trousers to reprise Adele Bertei's backing vocal!! Of course, there was also the madness of 'She Blinded Me With Science', with Dolby affectionately reminiscing about his recording sessions with the late Dr Magnus Pyke in his introduction and demonstrating the various samples used.
But then Dolby looked to the future with a superb exotically flavoured dance number entitled 'Spice Train'. Guest singer Nicki Wells joined in and provided some alluring ethnic stylings for a great live preview of THOMAS DOLBY's new album 'The Map Of The Floating City'.
This symbolised one important aspect of all the classic acts in tonight's line-up who had played up to this point; much as they have dozens of highly popular, memorable hit songs between them, they all performed material that was either new or from the last decade ie the 21st Century. Rewind Festival this evening was most certainly not!
To climax this special 'Electronic Phuture Revue' were HEAVEN 17 who truly delivered in their position as headliners. Although they were the only classic act not to play new or recent material, they made up for it instead by making a statement "to change people's perceptions through the medium of reinterpretation" as Martyn Ware himself so eloquently put it to ELECTRICITYCLUB.CO.UK last May.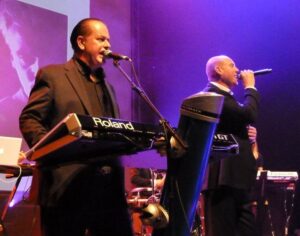 With a stark soundscape opening, the detuned tones of THE HUMAN LEAGUE's take on 'You've Lost That Loving Feeling' clanked in. So here was the sight of Glenn Gregory and Martyn Ware duetting as The Right-on Brothers.
With this surprise still causing aftershocks, 'Fascist Groove Thang' and 'Crushed By The Wheels Of Industry' quickly got everyone on their feet by way of a Friday night disco atmosphere.
But what followed was an even more unexpected moment in a magnificent updating of THE HUMAN LEAGUE's 'The Black Hit Of Space' from 'Travelogue', providing the highlight of the evening. Futuristic sounds warbled off and on – and yes, they weighed more than Saturn! Gregory was clearly enjoying his "Tonight Matthew, I will be Phil Oakey" moment and even Mark Jones left his DJ pulpit to mingle with the punters at the front for an impromptu singalong.
With 'The Luxury Gap' being played live in full at The Roundhouse in the Autumn, it made sense that 'Come Live With Me' and 'Let Me Go' got renditions to ease stunning new keyboard player Berenice Scott into the live band. But then the much heralded special guest took to the stage. Giving her spirited interpretation of 'Ball Of Confusion which first brought TINA TURNER back into the limelight on the BEF Music Of Quality Of Distinction LP was THE COMMUNARDS' Sarah-Jane Morris.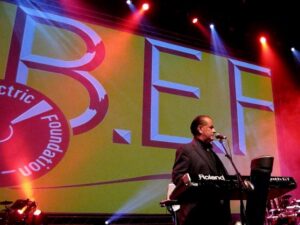 It was JANIS JOPLIN doing electro Motown and with the state of upheaval in the world at this present moment in time, the song's forthright message was wholly relevant. As an entertaining experiment, it boded well for The Roundhouse shows later this year.
With the inevitable 'Temptation' following and backing singer Billie Godfrey doing her usual star turn, to close it was another 'Stars In Their Eyes' moment for Glenn Gregory as HEAVEN 17 ended with their powerful take on 'Being Boiled'.
Despite being an absolute treat musically, a few grumbles about the occasion have to be highlighted. At no time was the auditorium ever full, even for the later performing acts. The fault with this probably has to lie with the ticket distribution. Top price tickets were anything from £85 to £100, which priced most music fans out despite the impressive line-up assembled. Ticket sales were slow but following a 2-for-1 offer in The Guardian, the online seating plan appeared to show that the 'Electronic Phuture Revue' was gaining momentum.
However, judging by the number of people who took their seats for only ten minutes at a time and then promptly left, never to return, it would seem that tickets had been given to various people associated with the Vintage Festival like stall holders and VIPs who clearly had no interest in synthpop. Surely it would have been better to have had an affordable ticket price in the first place to fill the venue with music fans? This was disappointing for all the acts playing to say the least.
But the ridiculous curfew of 10.30pm meant that RECOIL were ushered in at 6.30pm and the following acts had to be so tightly packed into the schedule that there was minimal time for any of the audience to take a comfort break without missing at least one song by the next band!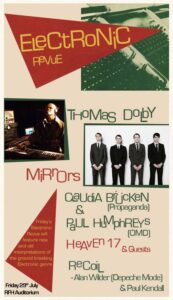 With the various Vintage themed club happenings such as Northern Soul and Rockabilly happily banging away in the complex until 1.00am, surely some kind of licensing compromise could have been negotiated by the Vintage Festival organisers, South Bank Centre and local authority to make things a lot more practical and workable for such a unique gathering? There are lessons to be learnt by all.
But these issues should not dampen what a tremendously memorable evening this actually was. Like 'Back To The Phuture -Tomorrow Is Today' and 'Short Circuit Presents Mute' earlier in the year, the 'Electronic Phuture Revue' was yet another great event that reinforced electronic music's credibility as the groundbreaking and vital cultural force it thoroughly deserves to be. Roll on the HEAVEN 17 / BEF weekender in October then…
---
www.facebook.com/pages/Onetwo/106510152747250
www.facebook.com/theworldofmirrors/
---
Text by Chi Ming Lai
Photos by Richard Price, Steve Gray and 7und70
2nd August 2011