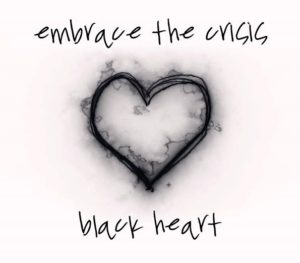 EMBRACE THE CRISIS are three Philpott brothers, Gerry, Rob and Ray with Mark Plunkett. Originating from Dublin, they describe their style as ambient synthpop.
'Black Heart' is their debut outing and the band have showcased their material during various gigs and DEPECHE MODE parties. Indeed, if you fancy listening to something that sounds like a capable continuation of DEPECHE MODE's 'Songs Of Faith & Devotion', the opening track, 'Fool For You', which is gritty, sleazy, filthy and wholesome, is bound to hit the spot.
'Never Look Back' continues the legacy of the greatest synthpop era with more of a YAZOO feel to it, with excellent vocals at times reminiscing those of Marc Almond. The title track emerges accompanied with sparse beats and adequately placed sounds, showcasing the capable knowhow of the synth meanders, while 'Bite The Hand That Feeds' picks up that dirty concept again, with a simple bassline and melodic vocal in that Dave Gahan singing style.
'Liar', with its fantastic use of electronica, slows the tempo somewhat with ear pleasing lines and eerie lyrics a la Martin Gore. 'A New Departure' showcases that melancholic feel, accented by the opening piano and haunting choir; it's a mixture of 'St Jarna' and 'Moonlight Sonata'; the additional beefy synth, intertwined with mysterious vocal manipulations procures a semi-instrumental with high capabilities.
'Looking' Around' is an instant departure from the previous sorrowfulness, with ERASURE-esque, almost Euro trance beats and Love Parade elements, all that canvassing that superb vocal. Vince Clarke wouldn't be ashamed to sign his name under that one!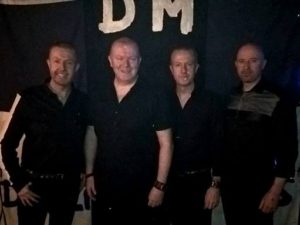 The instrumental 'Driven Away' momentarily brings the fast tempo to a halt with 'Fire In My Blood' returning to the topic in mind, and that is a proficient extravaganza of synth; another dance gem with efficient electronica and haunting vocal. 'Living In Sin' sounds like a perfectly camp club outing, with similarities to ERASURE, concocted with a dash of quirkiness and a spoonful of decadence.
The whole package is wrapped up with 'Intimacy', which reminisces Depeche's 'Shame' with its idiosyncratic sounds and sparse vocals. Full of melody and drama, however, the track is a rather beautiful ending to this highly capable long player.
While the inevitable comparisons with DEPECHE MODE will be unavoidable with EMBRACE THE CRISIS, it has to be said that their debut album blows out many an established electronic musicians out of the water. The tracks are rounded, well executed and finished off with an apt vocal, which collectively adds up to a great electronic album. Well done Ireland!
---
'Black Heart is available as a CD or download from https://embracethecrisis.bandcamp.com/album/black-heart
https://www.facebook.com/EmbraceTheCrisisOfficial/
https://soundcloud.com/embracethecrisis
---
Text by Monika Izabela Trigwell
15th December 2016