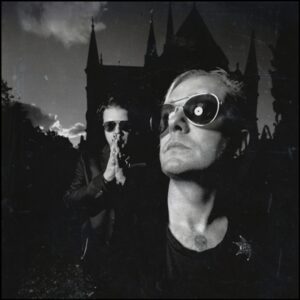 Male electronic duo MACHINISTA are the latest in an impressive line of synthpop acts from Sweden. John Lindqwister is the enigmatic vocalist and lyric writer while Richard Flow is the accomplished keyboard player and music composer.
Both have been in previous bands that had some success in their native Sweden. Richard was in VISION TALK while most notably, John was a member of dark electronic band CAT RAPES DOG. Well known in the underground Swedish electro scene, they had a rock / punk influence and could have easily been mistaken as German EBM artistes.
CAT RAPES DOG also covered 'Something To Do', a track from the cult Swedish DEPECHE MODE covers album 'I Sometimes Wish I Was Famous' that was released in 1991. John and Richard met at a gig and talked about forming a band together and so MACHINISTA was conceived at the start of 2013.
Their first collaboration was a respectable cover of 'Heroes' the David Bowie classic which, along with the video was widely received and so prompted work to start on the next track 'Molecules and Carbon', a powerful self-penned song which was also accompanied by a striking lo-fi promo video.
March 2014 saw the release of the bands first EP 'Arizona Lights' featuring catchy tracks like 'Wasted', 'Salvation' and the EP title track. All three tracks are classic synthpop alluding to the duo's early synthesizer influences, but it is the addictive 6/8 stomp of 'Pushing the Angels Astray' that highlights MACHINISTA's excellent self-production throughout the EP.
MACHINISTA performed live in London recently as part of the excellent Cold War Night Life event 'An Evening With The Swedish Synth' in February supporting Swedish electronic royalty PAGE. Lindqwister is a formidable front man, his fly-kicks on stage are impressive indeed and show that the duo are a unique, talented and tight package.
---
'Xenoglossy' is due for release in May 2014
http://www.machinistamusic.com/
https://www.facebook.com/machinistamusic
---
Text by Deb Danahay
Photo by Daniel Roos
9th April 2014