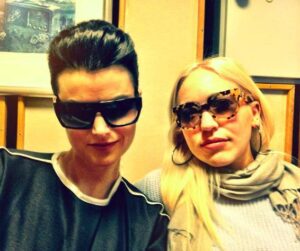 Scandipop songstresses KARIN PARK and MARGARET BERGER appeared together for a joint performance at Norway's Melodi Grand Prix, the country's selection vehicle for the Eurovision Song Contest.
MARGARET BERGER was last year's entry with the DEPECHE MODE influenced 'I Feed You My Love' and came a respectable fourth place although ultimately, it deserved to win. The song was co-written by KARIN PARK so the reunion of the pair was an apt occasion as Norway planned their next Eurovision assault.
Their marvellous duet on 'I Feed You My Love' was preceded by a medley of Park and Berger's brand new singles. Appearing with her metalhead brother David on drums, KARIN PARK's latest offering 'Look What You've Done' is a fine development of 'Restless' from her last album 'Highwire Poetry'.
Wrestling within a punchy glam schaffel, the fact that Park can appear on as mainstream a show as Eurovision while experimenting with the more leftfield side of electronic music shows that with THE KNIFE venturing into more uncompromising climes, the other Karin could fill the void now left by the Drejers in avant pop. Having already released the more esoteric 'Shine' to launch the campaign for her new album, 'Look What You've Done' is a key indicator of KARIN PARK's ambition to fit into both pop and experimental worlds.
Meanwhile, 'Scream' sees the launch of 'New Religion', MARGARET BERGER's first album since 2006's 'Pretty Scary Silver Fairy'. The one-time victor of Norwegian Idol effectively relaunched her career with 'I Feed You My Love' so her third long player is eager anticipated. 'Scream' sees her continuing the sub-ROBYN template of her Eurovision smash.
In a style which is leftfield by mainstream standards, 'Scream' possesses an inherent industrialised darkness away from her previously more overtly commercial leanings on songs such as the perfect melancholic pop of 'Will You Remember Me Tomorrow?'. Whatever, this is an approach to quality pop that sets itself apart.
---
KARIN PARK 'Look What You've Done' is available via State Of The Eye Recordings
MARGARET BERGER 'Scream' is available via Macho Records
http://www.margaretberger.com/
---
Text by Chi Ming Lai
22nd March 2014