"In 1981 or 1982, this digital technology was creeping in and it was clear a sea change was occurring. It would roll over everything and everyone, so you had to be part of it or not. I wanted to give it a go, but no-one else in the band did. It was exciting, musically enjoyable and very quick, but it wasn't what people expected of JETHRO TULL. I was influenced by THOMAS DOLBY. He fitted the bill perfectly. He had that credibility… That electronic world was very exciting. HOWARD JONES was good and GARY NUMAN was amazing. He nailed it… I saw him on 'Top Of The Pops' and wanted to hate him, but I realised how important he was. And he was British!" – IAN ANDERSON, Word Magazine (April 2012)
Right, first things first, in the interest of full disclosure: I am the token ELECTRICITYCLUB.CO.UK rocker. I love metal (it will always be Maiden before Mode for me), grunge, AOR and most of all Progressive styles of the genre. I say this happily; not for me hiding in a darkened room listening to 'Tales From Topographic Oceans' or 'The Lamb Lies Down On Broadway', though parties at my house tend not to be as filled with joyous dancing as say those at site co-founder Chi Ming Lai's…
People sneer at Prog due to the, I will agree in places, ludicrous song subjects and lengths, the dressing up and noodling of the players.
However also note that the punks that kicked against the musical systems of the mid 70s of which Prog was a cornerstone had as many GENESIS albums in their collections as releases from MC5.
But after punk, many of the classic Prog bands had changed significantly from their heydays. ELP had spectacularly imploded (it's doubtful though if any band could survive the horror of the sleeve of 'Love Beach', let alone the contents of said album), GENESIS and PETER GABRIEL had parted company in 1975 and were further dividing with the ongoing solo success of PHIL COLLINS. This would lead to all individual GENESIS parts having their most successful period sales wise and with a move towards the ultimately more commercial sound of the monster selling 'Invisible Touch'.
YES were once again a bit of a rudderless ship that would come roaring back as a straightforward rock outfit with former member, a certain Mr Trevor Horn at the production helm by the middle of the decade and in the interim JON ANDERSON would write and record with fellow Prog musician VANGELIS, no mean shakes at creating the odd synth tune himself, with a certain amount of success.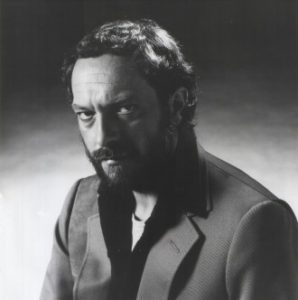 Another Anderson, JETHRO TULL's Ian, was looking to move in another direction in the early part of the decade too. In 1980, Anderson had been persuaded to release his planned solo album 'A' as a Tull album. The album and resulting tour featured Eddie Jobson, who had replaced ENO in ROXY MUSIC, on keys and was an altogether more current sounding offering. The live video 'Slipstream' showcased this perfectly not just on 'A' material but also classics such as 'Locomotive Breath'.
The pieces which lead to the album being examined here fell into place when JETHRO TULL recruited Anderson's fellow Scot Peter John Vitesse for the 1982 album 'The Broadsword & The Beast'. This was a more conventional album than 'A', albeit with a fair amount of synthesizer work across its tracks.
Anderson was fascinated by the possibilities offered by the technology PJV had at his fingertips and began work with him on what would eventually become 1983's 'Walk Into Light'.
'Walk Into Light' is a bit of a weird album, even for one both from the period and also from the bonkers musical mind of Anderson. As an electronic album from 1983, there are the usual tropes in place (the loneliness brought from technology, disaffected youth and the colourless aspects of that Winter Of Discontent era) but also much that fans of Tull would recognise, some weird time signatures, a smattering of guitar and yes flute!
I bought the album on its release back in 1983 on the strength of an interview with PJV in 'Electronic & Music Maker' magazine where he discussed using the Rhodes Chroma and Roland MC-202 sequencers extensively. This very much sounded like my sort of thing and was not disappointed. Opener 'Fly By Night' kicks on with arpeggios and sequenced strings before settling into a Linn driven groove complimented by trade mark Anderson flute. With dramatic piano chords and insistent strings and sampled vocal loops this is both accessible and edgy.
'Made In England' is the proggiest track on the album with time changes and guitars. Again the trademark flute is there and the vocal delivery is the most Anderson too, with multi-tracked parts and almost but not quite harmonies. Anderson himself is on record saying he feels the album was too cold and could have benefited from some live drumming. By and large I disagree, but do think that this could track could have come alive with some real percussion.
Title track 'Walk Into Light' is something ROBERT PALMER could have easily released around the same time, an excellent pop / rock track with some scat singing on it, now that's something don't hear that often, a man with a mighty beard getting his free form jazz vocal stylings on. 'Trains' and 'End Game' are a taste of what the next JETHRO TULL album 'Under Wraps', would sound like although lacking the latter's guitars. Sequencer driven and spikily electronic, the heartfelt lyrics are sung in a style that work surprisingly well with the musical backing.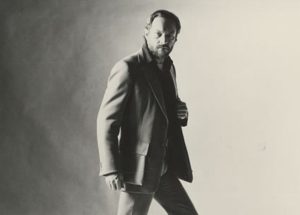 The second half of the album is more knowingly electronic. 'Black & White Television' muses on modern living even warning that the Suzuki corner boys in the lyric "will still fade to grey…"
'Toad In The Hole' and 'Looking For Eden' continue the themes of the challenges of modern life underpinned by cold choral sounds and very European bass synth programming.
This accuracy that was brought by the technology at hand was part of the attraction for Anderson, as Vitesse explained in that 1983 interview I found so compelling: "The Roland MC-202 kind of frees my hands and we can have an absolutely accurate backing track done even within a few seconds… The way I do this is by writing the music, discussing the part that I should be playing with Ian then entering the pitch data, gate data and the step data and we'll have an accurate and groovy bass track in the first take!"
Closing pair 'User Friendly' and 'Different Germany' hint at how the project could have developed if given another run out… 'Different Germany' especially embraces both the electronic and progressive sides of Anderson's career perfectly with a marvelous middle section featuring a bristling keyboard solo. The end result is not unlike JETHRO TULL fronting ULTRAVOX; of course, the circle was completed when MIDGE URE covered Tull's 'Living In The Past' in 1985.
So in the grand scheme of things where does 'Walk Into Light' sit? Certainly it's a release anyone interested in synthesizer music should give a listen to, for the list of equipment featured on the sleeve alone (Rhodes Chroma and Expander, Yamaha CP80, Roland JP8, Roland Promars, MC202, Emulator, Linn Drum Computer) and also as a document of a time where the technology on offer was almost but not quite what it would be a year or so later with the advent of MIDI. This is the sound of a time where analogue and digital synths were crossing over.
I haven't yet mentioned the obvious contemporary comparison, BUGGLES and their pair of releases from around the same time. They too had Prog credentials as former members of YES and harnessed the technology available to make Prog infused pop, to more commercial success. 'Walk Into Light' is similar in approach but sits separately in that it lacks the warmth of 'The Age Of Plastic' and 'Adventures In Modern Recording' that Anderson bemoaned. This does not do it down, as it is the sound of an artist reinventing and finding himself in a new decade.
Moving forward, the acts mentioned at the top of this piece would use the technology available and move their sound in new and exciting directions (I will argue that Tony Banks of GENESIS is the greatest exponent of the synthesizer the UK has produced and dare you to take me up on that!) that would give us classic releases such as YES's '90120' and PETER GABRIEL's '4' and 'So' Albums.
Anderson would continue with JETHRO TULL to ongoing success and return to his more folk roots as the decade progressed. As I say above, 'Walk Into Light' is a great might have been and deserves to be celebrated for what it ultimately is, a cracking album.
---
'Walk Into Light'
is available on CD and download via EMI Records
http://jethrotull.com/ian-anderson-bio/
http://www.discogs.com/artist/85485-Ian-Anderson
---
Text by Ian Ferguson
13th January 2015