Diamonds Are Forever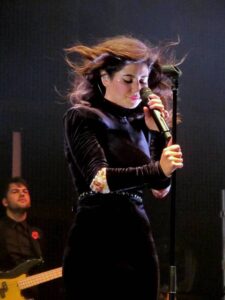 What a year so far it's been so far for the kookily charming lungsmith who is Marina Lambrina Diamandis aka MARINA & THE DIAMONDS.
There's been a top ten single with Hollywood and a gem of a debut album in 'The Family Jewels', produced largely by Liam Howe of SNEAKER PIMPS fame. This time last year, she had just sold out the Hoxton Kitchen as part of 'Levi's Ones To Watch' showcase. Even before the current campaign, her appearance at the 'New To Q' concerts at the London Tabernacle in January provoked near hysteria, particularly among many of the female 'Diamonds' in the audience. A new star and role model was born; ultra-glamourous and beautiful while witty, intelligent and forthright all at the same time.
Since then, her live show has been expanded to include the entire album and the use of tasteful video projections. Christened 'The Burger Queen Tour', this is her most theatrical extravaganza yet. The instrumental filmic overture of STARSMITH's electronic 24 Carat remix of 'I Am Not A Robot' sees Marina cast as a cat-suited Bond Girl in homage to Maurice Binder's opening title sequences for the classic 007 movies.
She arrived on the stage of The Roundhouse to rapturous applause like Aphrodite, the Olympian Goddess of Love and Beauty, all dressed up to the nines in the most elegant full length black gown. Beginning with a stripped down neo-acapella take on the album's iTunes only title track, an incessant bass sequence takes over to open proceedings proper with 'The Outsider'.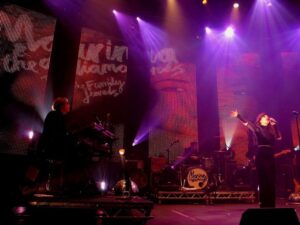 Marina has improved very much as a live performer. Becoming more animated with assorted facial expressions and affecting arm gestures, her rhapsody was no more apparent than with the WAG baiting 'Girls'."Girls oh girls, wag your tails to the beat of girls aloud, oh the journos on heat" she sneers; "Write such good stories, oh their mothers must be proud… making money off your insecurity and doubt". As with PINK's 'Stupid Girls', Marina encourages the next generation to do something more in life instead of just getting your bits out for the lads!
Accompanied as usual by her backing band of Jon Shone (synths), Sebastian Sternberg (drums), Peter Carr (keyboards) and Dan Gulino (bass), interestingly there appears to be an increased element of electronics within the live set. The brilliantly angsty 'Are You Satisfied?' is turned into a mid-Atlantic synth rock number while 'Shampain', co-written with the ubiquitous Pascal Gabriel, appears to reveal a few Synth Britannia influences; could the chorus possibly be borrowing from GARY NUMAN's Engineers and the glaring synth solo from OMD's 'International'? Whatever, Marina actually decides to briefly turn into SIMPLE MINDS with a "let me see your hands" and "singalong with me" moment… unlike Jim Kerr though, she keeps it to just the one song so things work out quite nicely without becoming irritating!
Of course, no MARINA & THE DIAMONDS set would be complete without the lost mini-symphony Seventeen while the lovely 'I Am Not A Robot' reveals Marina's tremendous vulnerability. Dedicating it to her fans, it's obviously the song that connects the most as all her Diamonds sing along with her. And there are many singalongs tonight; 'Obsessions' and 'Numb', which see Marina accompany herself on keyboards, are touching highlights that reveal the strength of her talent for quirky but memorable tunes.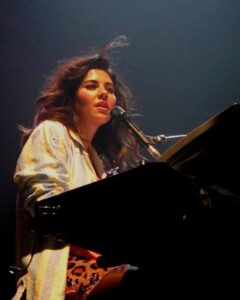 Marina's neo-operatic synesthetics and sudden octave changes (sometimes within the same word!) recall the eccentricity of classic SPARKS, none more so than on the barking mad Greg Kurstin collaboration 'Oh No!'.
Using ounces of Fe-Mael intuition and aided by the technology available to accurately recreate its Bohemian tension live, this theatre certainly ain't big enough for all of us as the blasting "I'm now becoming my own self-fulfilled prophecy! OH! OH NO! Oh No! OH NOO!… " salvo almost takes everyone's heads off!
There's a nice surprise as Marina airs a new song Jealousy, a track that has previously been available on-line prior to her recent success and missed inclusion on 'The Family Jewels'.
This unreleased nugget with its fantastic chorus and layers of synth strings is a promising sign of what could be to come with her next album. A combined love of pop and art is the key to MARINA & THE DIAMONDS. For her, BRITNEY SPEARS and ANDY WARHOL are as important as PJ HARVEY and Ancient Greece.
Coming up the home straight, The Dr Who Theme, GOLDFRAPP and KATE BUSH all merge together on the wonderfully wonky 'Mowgli's Road' for the gathered to go "cuckoo" to before the widescreen drama of 'Guilty' closes the main part of the show.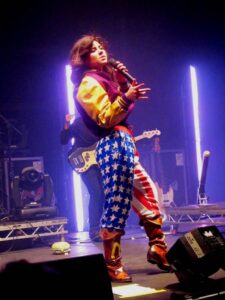 For the encore, there's an extended electronic dance workout before a quick costume change to represent "the mess that's America" on the glitzy satire of 'Hollywood'. A big blast of red, white and blue tickertape completes a superbly polished performance that presents 'The Family Jewels' in a fresh new light.
With her best show yet, it was a fine way to wind down a highly fruitful eighteen months.
As Marina herself said as she celebrated on her own website recently: "Diamonds, YOU DID IT… We won best UK act for EMA MTV Awards !!! A wonderful day for MARINA & THE DIAMONDS. We have triumphed. We are small- but strong!"
Marina, shine on you crazy diamond!
---
'The Family Jewels' is released by 670/Atlantic Records
---
Text by Chi Ming Lai
Photos by Richard Price
15th November 2010