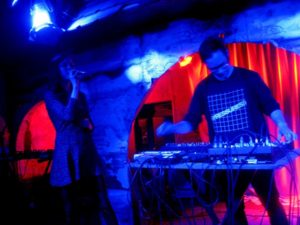 SOFT METALS delightfully impressed with their debut London gig at The Shacklewell Arms in Daltson. 
The LA based duo have felt an affinity with Europe since their 'The Cold World Melts' EP released in 2010. Indeed, the title of one the tracks 'Métaux Mous' (French for "Soft Metals") summed up their enthralling angelic mix of Detroit techno fused with minimal European synth forms as influenced by the likes of THROBBING GRISTLE and its offshoot CHRIS & COSEY.
And that's not forgetting to mention the style of singer Patricia Hall with its nods to fashion icons such as Françoise Hardy. SOFT METALS made further in-roads with their first self-titled full length album in 2011 and its naturally progressive follow-up 'Lenses' released last year.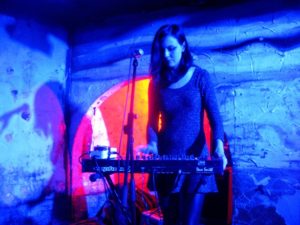 For this European tour, instrumentalist Ian Hicks' arsenal of vintage synths and drum machines was simplified to feature a more straightforward, modern but still analogue set-up that was obviously easier to carry but no less punchy.
Meanwhile, as well as providing her innocent reverbed vocals, Patricia Hall had a Dave Smith Mopho x4 at her disposal instead of her usual Juno60 and added some icy string machine sections to the bright and danceable electronic sketches that came forth.
SOFT METALS' repeating rhythms, incessant blips and uplifting arpeggios on tracks such as 'Voices', 'Lenses' and 'Always' were powerful and crisp although occasionally, Patricia Hall's vocals did struggle to be heard.
But this did not hinder her flirtatious enthusiasm as she occasionally ventured toward her studious musical partner in the engine room, clearly enjoying her first time performing in London. 'Psychic Driving' and 'When I Look Into Your Eyes' allowed for some dreamy breathers in the middle amongst all the frantic action but it was the final part of the set that stole the show.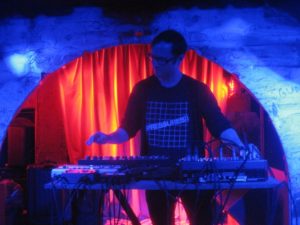 The wonderful 'Tell Me' totally mesmerised the audience into a trance, the detuned bursts providing a arty counterpoint to the dance while the sexy 'In the Air' provided a euphoric climax with Ian Hicks controlling the various pulsing layers to provide the dynamic highs and lows for a perfectly hypnotic finish.
But there was more as the good looking couple threw in a brilliantly alluring club friendly version of THROBBING GRISTLE's 'Hot On The Heels Of Love' as a bonus.
With the likes of TRUST, FEATHERS, AUSTRA, GRIMES, NIGHT CLUB, I AM SNOW ANGEL and ELEVEN: ELEVEN proving that North America is currently the proving ground for new, quality electronic pop music, SOFT METALS more than confirmed that they were part of this elite group with this first London performance.
---
The albums 'Soft Metals'
and 'Lenses'
are released by Captured Tracks and available in CD, vinyl and download formats
https://www.facebook.com/softmetals
http://soundcloud.com/soft-metals
http://capturedtracks.com/artists/softmetals/
---
Text and Photos by Chi Ming Lai
2nd June 2014