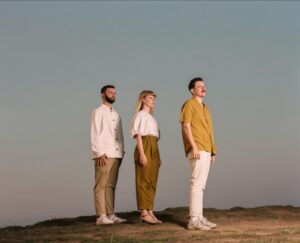 Almost an enforced product of lockdown, Leeds based trio PEAKES recently issued their debut album 'Peripheral Figures'.
Formed in in 2017, vocalist Molly Puckering, synth-player Maxwell Shirley and drummer Pete Redshaw had been steadily building their musical reputation with a number of standalone singles and a 2020 EP 'Pre Invented World'. The self-produced album takes more of a direct back-to-basics approach with songs that grow within the psyche.
Moving in separate ways, the best of the bunch on 'Peripheral Figures' is 'An Infinite Divide'; an infectious slice of synth laden pop that puts its emphasis on seductive vocal melodies and catchy electronic hooks, it features an impressive driving build for a dramatic transcendental uplift.
Taking in more distorted keyboard tones, 'Day & Age' follows a not dissimilar path to 'An Infinite Divide' and takes care not to overdrive the drums, a fault that could be pointed at many of PEAKES contemporaries in those acts attempts to sound hip and contemporary.
With a fine turn of vocal and crystalline backing, 'Lately' is Motorik guitar styled NEW ORDER but constructed primarily with synths while 'Clouds' possesses a quasi-hymn-like presence and significantly gets its point across without the use of drums. More rhythmically swung and layered in six string, 'Control' recalls the gazing abstract moods of COCTEAU TWINS although the blippy nature of 'Nameless Machines' recalls the more recent overtures of LONELADY. But with occasional militaristic percussive passages, 'Fascination' takes on a distinctly progressive approach, as does the epic album closer 'Circular State'.
While Molly Puckering naturally looks towards the likes of GOLDFRAPP, PORTISHEAD and MOLOKO as inspirations in her vocal delivery, the most immediate reference in her vulnerable contralto comes from the much missed CHEW LIPS. 'Peripheral Figures' is an impressive debut album with a promise of greater things to come.
PEAKES help their cause by avoiding pretentions towards clichéd alternative rock or R 'n' B. Appearing at this stage to be unafraid of being a band that uses synths in a period when many a hipster still sees guitars as the only badge of acceptance for making music, it will be very interesting to see how the trio artistically progress as they gain further acclaim with their more electronic direction.
---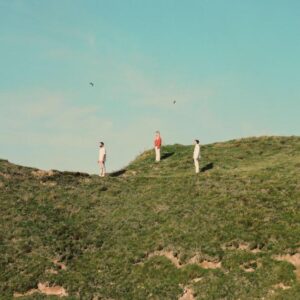 'Peripheral Figures' is released by Practice Music as a nectarine vinyl LP and download, available direct from https://peakesmusic.bandcamp.com/
https://www.facebook.com/peakesmusic
https://twitter.com/peakesmusic
https://www.instagram.com/peakesmusic/
https://open.spotify.com/artist/5MPLiljRW9DWHEj8cHnPSR
---
Text by Chi Ming Lai
Photo by Nick Porter
14th December 2021