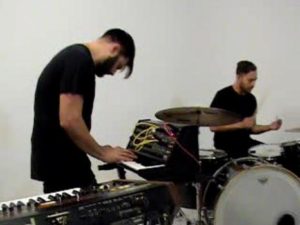 Los Angeles' BATTLE TAPES, who last year released their debut album 'Polygon', a sleek fusion of electronics and rock have just promo-ed a video for the album track 'Solid Gold'.
Featuring the vocals of PARTY NAILS' Elana Belle Carroll, the track itself hinges around a Bowie-esque 'Fame'-inspired guitar lick with fizzing synths and a blinding middle eight which showcases some quite outstanding songwriting.
The video features Carroll being kidnapped and bundled into the back of van (which features a handy karaoke set-up) and proceeds to get driven around the streets whilst vocalling her own song. The band themselves have a cameo appearance with clips of them performing projected within the van along with karaoke-style song lyrics.
BATTLE TAPES' vocalist Josh Boardman kindly told ELECTRICITYCLUB.CO.UK: "Part of the concept for the 'Solid Gold' video was a 90s style performance karaoke / music video. One of our favorite things about doing performances for videos is that we get to use the actual gear that we used on the record. If you blink you might miss it (photo from the Raw Hi-8 footage at top), but towards the end of the video you can see Riley (Keyboardist) rockin' the Juno 60 (with… a JSQ-60 sequencer) and the Korg MS-20 which make up the bulk of the synths on the track. It's always fun when you can get the older fellas out of the studio and into the spotlight!"
Over the last couple of years, BATTLE TAPES music has been featured in computer games 'Grand Theft Auto V' and 'Need for Speed' which has resulted in a wider exposure for the band.
---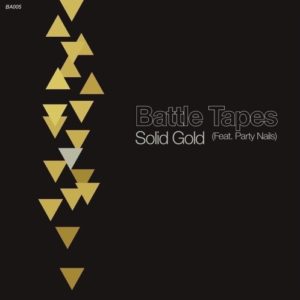 The Electricity gives its sincere thanks to BATTLE TAPES
'Solid Gold'
is released as a 7 inch single by Battle Arts or a 4 track digital EP featuring remixes by THE BETA MACHINE and STORY OF THE RUNNING WOLF. The album 'Polygon' is still available through the usual online outlets
https://www.facebook.com/Battletapes/
https://soundcloud.com/battletapesband/sets/solid-gold-ep
---
Text by Paul Boddy
28th November 2016