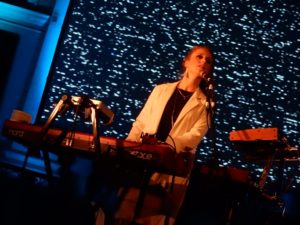 It was at "a meeting of minds on memory / art / music / literature / film" curated by Kirsteen McNish of Vine Collective in association with Alzheimer's Research UK that HANNAH PEEL launched her acclaimed second album 'Awake But Always Dreaming' with an emotional live presentation in the heart of London.
Only a stone's throw from her basement studio where most of the album was recorded, St Leonard's Church in Shoreditch was the setting for an event to raise awareness of the effects of memory loss and dementia.
It is said that one-in-three people will develop dementia. The charity Alzheimer's Research UK aims to defeat dementia through studies in prevention, treatment and cure. The experiences of HANNAH PEEL with her own grandmother's gradual decline into dementia inspired 'Awake But Always Dreaming'
and the event featured a number of artists from different fields, each with their own story to tell on the issue.
First up was poet, writer and filmmaker Lavinia Greenlaw and her short film 'The Sea Is An Edge And An Ending'. At times deeply upsetting, it was indeed a moving "study of the impact of dementia on our sense of time and place". To continue the theme, director and choreographer Shelly Love introduced her more surreal short film 'Scratch' where "A lone character inhabits a subterranean world. Stuck between worlds, she fails to move on…"

In between, music was provided by WRANGLER's Stephen Mallinder and Phil Winter with a DJ set described by Mallinder on Twitter as "all kinda 'tings with @disco_rdance visual magics". Beginning sedately, as the evening progressed, the soundtrack got louder and more distorted. But whether this was a creative aspect to proceedings or the electrics at the church struggling to cope, it was difficult to tell.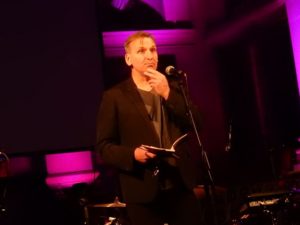 A special guest took to the stage in the shape of one-time 'Doctor Who' Christopher Eccleston; the actor lost his own father to the dementia and has become a supporter of Alzheimer's Research UK.
He read two poems 'Apart' by Robin Robertson and 'Straw Weight' by Will Burns with his passionate charisma clearly projecting through and holding the attention of all present. Alzheimer's Research UK's Christmas campaign advert 'Santa Forgot' was also shown.
Produced by Aardman Animations and featuring a voice over by Stephen Fry with music composed by HANNAH PEEL, it imagines a world without Santa Claus; it touchingly ends with the little girl Freya whispering to Santa "I believe in you".
Electronic pioneer John Foxx could be considered HANNAH PEEL's mentor having brought her to wider attention via JOHN FOXX & THE MATHS, so it was highly fitting that he eloquently introduced her to the stage.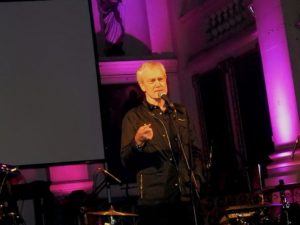 A short piano only intro of 'All That Matters' acted as an overture before the thrust of driving synth bass and sparkling arpeggios of the fully synthesized version filled the church hall.
Meanwhile second song in, 'Silk Road' from her interim 'Fabricstate' EP was a surprise but welcome inclusion in a set based around the album Awake But Always Dreaming'.
The poignant 'Don't Take It Out On Me' highlighted the main theme of the evening before the spacey cocoon of the 'Awake But Always Dreaming' title song showcased Peel's progression as an artist, with its looming, hallucinogenic squeals. It was augmented by the complimentary percussive colours of Daisy Palmer, a fabulously intuitive drummer who only played what was required and avoided the excesses found with some better known electronic based combos.
The set was enhanced with films produced by Daniel Conway and By Emmaalouise Smith comprising of mind maps and Super 8 home footage to visualise the fracturing of memory and this was particularly striking on the haunting moods of 'Tenderly'.
'Standing On The Roof Of The World' and 'Hope Lasts' added a few noisier textures as Miss Peel made effective use of her two Dave Smith Mopho x4 synths, one now specially customised with a new keyboard to suit her soloing technique.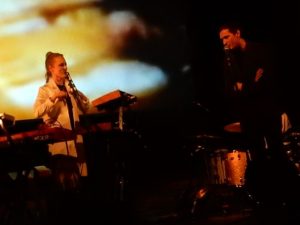 But the crowd were in total silence for an impressively forlorn performance of Paul Buchanan's 'Cars In The Garden' on music box.
Joined by Erland Cooper, her producer and bandmate from THE MAGNETIC NORTH, on harmonies, the on-stage banter between the pair revealed a closeness that can only come from being locked in a studio together as Cooper joked about Peel's white stage outfit resembling a lab coat.
The beautiful vocal melodies on 'Invisible City' continued the mood before the main segment of the show closed with the two-movement 'Foreverest'. Mutating into a heavy Glam laden stomp with screeching violin, it provided a fitting off-kilter soundtrack to the futility of the rat race while forgetting the importance of loving relationships.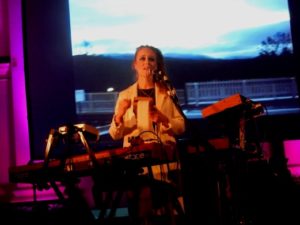 Returning for an encore, the heartfelt and very personal 'Conversations' provided an emotive focal point as to the evening's aims.
But not wanting to finish things on a downer, Peel's encouraged the crowd to sing along to a 'Rebox' rendition of 'Tainted Love'.
Despite forgetting the words to the third verse and the dark lyrics, it provided the hopeful lift that was needed to ensure the evening's message rang home.
While it was full of drama and tears, there was the optimism and hope that only art and music can provide. With HANNAH PEEL's own story of how her grandmother was able to singalong to Christmas carols despite having suffered from memory loss for several years, it is said that "Researchers have found that playing music from someone's young adult years, from around 18 to 25, is likely to provoke the strongest response. As patients enter late-stage dementia, music from their childhood may prove more powerful".
With this information to hand, ELECTRICITYCLUB.CO.UK is all for harking back and celebrating the past if it goes any way towards improving an individual's quality of life.
---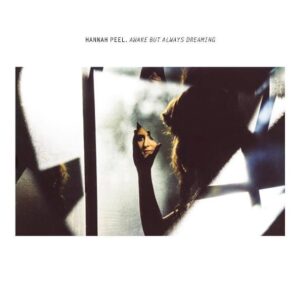 'Awake But Always Dreaming'
is released by My Own Pleasure in CD, vinyl and download formats and available from https://hannahpeel.tmstor.es/
https://www.facebook.com/HannahPeelMusic/
For information on the work of Alzheimer's Research UK and how to donate, visit http://www.alzheimersresearchuk.org/
Laura Barton's article for The Guardian 'Awakenings: Hannah Peel on how she harnessed music's power to cut through dementia' can be read at: https://www.theguardian.com/music/2016/nov/23/awakenings-hannah-peel-on-how-she-harnessed-musics-power-to-cut-through-dementia
---
Text and Photos by Chi Ming Lai
28th November 2016