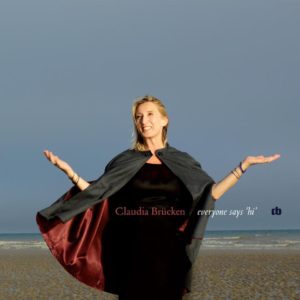 Last Autumn saw the release of 'The Lost Are Found', an emotive body of songs recorded by CLAUDIA BRÜCKEN in collaboration with top producer Stephen Hague, best known for his work with PET SHOP BOYS, OMD, NEW ORDER and ERASURE.
Each of the compositions came from their very own world and were respectively adopted to form an eleven episode triste drame.
One of the album's highlights Everyone Says Hi' has just been released as a single ahead of Claudia's upcoming UK and German tour.
CLAUDIA BRÜCKEN's lively reinterpretation of one of DAVID BOWIE's latterly compositions from 'Heathen' is dressed with catchy synth riffs and fuzzy shades. And the fabulous accompanying promo video could be interpreted as a visual dramatisation of Major Tom's final voyage from 'Space Oddity'.
Claudia only features halfway through but also look out for cameos from Glenn Gregory, Andrew Poppy, Paul Humphreys and even Claudia's dog Patsy… joyous it may be but poor Major Tom is ultimately doomed, left to drift in space's wilderness. So "Tell my wife I love her very much…"
As well as touring in March. Claudia will be making a very special guest appearance on the new OMD album 'English Electric', to be released on 8th April 2013. She will feature on a new version of 'Kissing The Machine', a track written by Andy McCluskey with the electronic godfather Karl Bartos in 1993 for the ELEKTRIC MUSIC album 'Esperanto' which has been reworked by her ONETWO partner and OMD founder member Paul Humphreys. The track which could be perceived by many to be KRAFTWERK vs OMD vs PROPAGANDA is eagerly awaited.
---
'Everyone Says Hi' and 'The Lost Are Found' are released by There (there)
CLAUDIA BRÜCKEN's 2013 Spring tour includes:
Glasgow O2 ABC2 (12th March), Birmingham O2 Academy 3 (13th March), Manchester Academy 3 (15th March), London Borderline (16th March), Brighton Concorde 2 (17th March)
http://www.claudiabrucken.co.uk
---
Text by Chi Ming Lai
26th February 2013