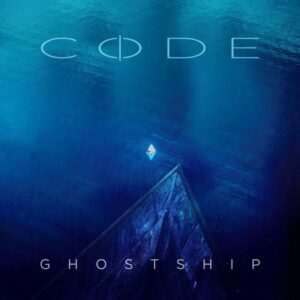 Seen as something of a cult classic, 'The Architect' by Kent based electronic quartet CODE came out in 1995 on Third Mind just as the label folded.
Seen as contemporaries of ORBITAL, LEFTFIELD, UNDERWORLD and THE ORB, CODE made an impression with their first three EPs '505 345 675 Delta 9', 'Cities' and 'Criminals'.
But little was heard from Andy Phillips, Graham Cupples, David Mitchell and Darren Till after they morphed into MORTAL but now 25 years later, a follow-up to 'The Architect' has appeared!
'Ghost Ship'
effectively takes up where 'The Architect'
left off but then there's a reason. Recent requests to reissue 'The Architect' saw the quartet of revisiting material that had been shelved after its recording.
However, CODE said "the original sequencing and arrangement programmes are lost in time and the sampling hardware is no longer available either, so all these tracks are constructed from the stereo mixes. The melodic and textural content was already there, it was a question of remaining faithful to the original recordings, editing and layering and in some cases adding new parts."
So whether this material can be classified new or not is down to the listener; but all the material is previously unreleased, save a 2020 rework of the superb 1991 single 'Light Years'. Uptempo, club friendly and moved along nicely by a precise but also grooving rhythmic backbone, it is one of the highlights of 'Ghost Ship' and there's a suspicion Richard Barbieri's 'Solar Storm' from 2017 may have used it as inspiration.
With the title inspired by the MV Alta cargo ship that washed up intact on the coast of Ireland a year after disappearing en route to Haiti, 'Ghost Ship' contains other worthy tracks. Opener 'Origin' is an immediate slice of punchy electro Schaffel using the HAL 9000 speech from '2001: A Space Odyssey' that also appeared on NEW ORDER's 'Murder'; "Well, I don't think there is any question about it" states the conflicted sentient computer, "It can only be attributable to human error. This sort of thing has cropped up before, and it has always been due to human error."
Although 'Ghost Ship' is largely instrumental with spoken samples throughout, 'The Building' springs a surprise as a song with stark vocals and backing in a manner not far off FLUKE and its offshoot SYNTAX. This connects straight into another song cut from a not dissimilar cloth called 'Midnight' with sweeps and virtual orchestrations enhancing the driving nocturnal atmosphere.
There's another diversion where jazz combines with breakbeat on 'Bourbon Street' but 'Love Perfection' squelches within a lush widescreen setting and 'Breathe Slow' hypnotises with its chilled beats and digital chorals. A funkier demeanour shapes 'Listen To Me' while vibes compete with a crunchier approach on 'Hall Of Mirrors'. Coming as a fitting laid back closer, 'Marin Headlands' is augmented by shades of countrified guitar reminiscent of Daniel Lanois' work on Brian Eno's 'Apollo' soundtrack.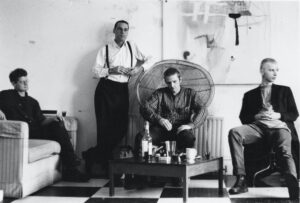 The crisp dynamic production of 'Ghost Ship' cannot be faulted and captures a presence that can often be missing from a lot of modern electronic music recorded on the latest affordable technology. Plus with the bulk of it constructed not long after 'The Architect', those waiting all these years for more CODE material will be more than satisfied. Without the distraction of trying to be too contemporary, 'Ghost Ship' may even encourage newer listeners to check out the CODE back catalogue.
---
'Ghost Ship'
is released by Lo-Tek Audio Ltd in vinyl LP, CD and digital formats on 6th November 2020, available direct from https://code16.bandcamp.com/album/ghost-ship
https://lo-tek.co.uk/artists/code/
https://www.instagram.com/code_the_architect/
---
Text by Chi Ming Lai
16th October 2020