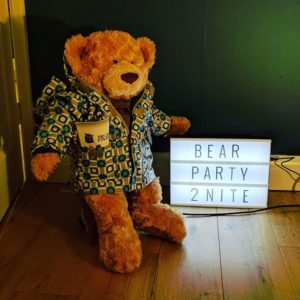 When Andy Pandy and Teddy were "waving goodbye" at the end of each episode, what was actually going on once the box was shut? Was it really "time to go home" or were the pair partying the night away?
London-based combo FAKE TEAK with their brilliant new video 'Bears Always Party The Right Amount' show that like girls, bears just wanna have fun. Cleverly filmed around the city and on the London Underground with seemingly no strings attached, Bear joins his pals Monkey, Giraffe, Dolphin and FAKE TEAK themselves for a night of disco revelry.
Self-directed by the band themselves, their puppetry skills have certainly not been in vain and the end result is one of the best independent low-budget music videos to have been made in recent years.
Giving away some of their trade secrets, singer and instrumentalist Andrew Wyld recalled: "We used broom handles with fishing line on them—since the breaking strain on fishing line is quite high, it was enough for the weight of the stuffed animals, but it's also very fine and mostly doesn't show! For close up work, we also used coathanger wire, which we slid inside the stuffed animals' arms, for example, as in the scene where they share a drink…guitarist Alastair Nicholls came up with the concept for the video, I storyboarded it and then between us we figured out the shooting script and how we were going to move the stuffed animals"
It's proof that once a band puts their mind towards some inventive visual representation to accompany their music, anything is possible. The song itself is an appealing quirky mix of LCD SOUNDSYSTEM and TALKING HEADS, driven by synth-derived organ sounds and a groovy rhythmic backbone from Andrea Adriano.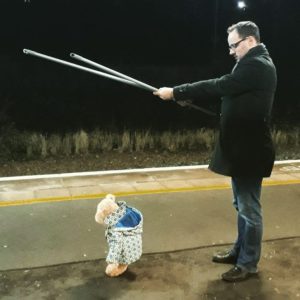 The second single from FAKE TEAK's upcoming debut album, the band's ARP Odyssey Goddess Joanna Wyld said: "'Bears Always Party The Exact Right Amount' is about everyone being welcome to be exactly who they are and to party exactly how they want. It's about seizing the day and not caring how you look or whether you made a mistake. However much you want to dance: that's the right amount. However we just played it: that was the right way"
Just a quick note that the Bear was not hurt during filming and even if he was, IT'S A PUPPET! 😉
---
'Bears Always Party The Exact Right Amount' will be available as a download single from the usual digital platforms
FAKE TEAK launch the single with a gig at The Finsbury, 336 Green Lanes, Harringay, London N4 1BY on Friday 29th June 2018 – nearest tube is Manor House on the Piccadilly Line
https://www.facebook.com/faketeak/
https://www.instagram.com/faketeak/
https://soundcloud.com/faketeak
---
Text by Chi Ming Lai
25th June 2018