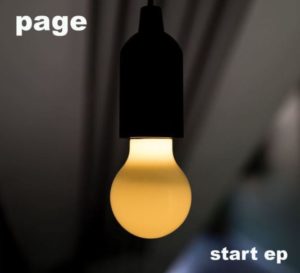 The Count and Countess of Swedish electronic pop are back-back-BACK!
Eddie Bengtsson and Marina Schiptjenko initially came together in PAGE as far back as 1980, releasing their first single 'Dansande Man' in 1983. Since then, the pair have parted and reunited on a number of occasions although both continued to make sine waves at home and internationally.
Bengtsson had his ongoing solo mission SISTA MANNEN PÅ JORDEN but found fame with S.P.O.C.K while Schiptjenko joined Alexander Bard from ARMY OF LOVERS in VACUUM and then BWO. More recently as PAGE, the pair released an enjoyable trilogy of albums 'Nu'
, 'Hemma'
and 'Det Är Ingen Vacker Värld Men Det Råkar Vara Så Det Ser Ut'
which have affirmed their position as one of Sweden's leading electronic pop pioneers.
Their latest EP 'Start' comprises of three new songs plus a remix by Norwegian EBM trailblazers APOPTYGMA BERZERK. Having already covered Gary Numan's 'Tracks' in Swedish as 'Spår' and paid an initial Numanoid tribute on 'Utanför' for 'Det Är Ingen Vacker Värld Men Det Råkar Vara Så Det Ser Ut', PAGE have gone the full hog with the ultimate homage to the imperial years of the man born Gary Anthony James Webb.
The appropriately named 'Start' remembers a time before 'Dance' ever happened with buzzing Minimoog basslines and swirling Polymoog strings coming over like a mash-up of 'Tracks' and 'Metal'. Yes, there are machine music overtures but there is melody too, a skilful trait often forgotten with vintage Numan.
'Stör Ej' goes a step further and as well as borrowing from 'This Wreckage', it actually samples the Compurhythm pattern from 'Love Needs No Disguise' halfway through. But despite the familiar aesthetics, this is a song that stands up on its own with a fabulous retro-futuristic tone.
Best of all though is 'Nere För Räkning', an urgent slice of pulsing synthrock with a piercing vibratoed lead line akin to the keyboard acrobatics of Billy Currie from ULTRAVOX who was part of the Numan band for the UK leg of 'The Touring Principle'.
Assisted by Per Aksel Lundgreen, Stephan Groth of APOPTYGMA BERZERK provides a redux of 'Krasch' from 'Det Är Ingen Vacker Värld Men Det Råkar Vara Så Det Ser Ut'. Now while the union with PAGE may seem unlikely, APop's most recent long player 'Exit Popularity Contest' was a wonderful instrumental retreat into the territory of Jean-Michel Jarre and NEU! It showed that Groth had as much of a sweet ear for electronic melody as PAGE, even if it was usually hidden by noise and aggression. With an Italo-derived octave shift bassline replacing the more rigid structure of the album version, APOPTYGMA BERZERK's rework greatly improves on the original.
Yes, this EP does party like it's 1979, but that familiarity helps it to possibly be one of PAGE's most immediate and accessible bodies of work in their long career. If you have never checked out the work of Eddie Bengtsson and Marina Schiptjenko before, then this release is no better way to start…
---
'Start' is released by Energy Rekords as a limited edition CD, available direct from https://hotstuff.se/cdm-page-start-ep-digipack-limited-edition-300-copies/68573
https://www.facebook.com/PageElektroniskPop
https://www.instagram.com/page_svensk_pop/
---
Text by Chi Ming Lai
27th June 2018