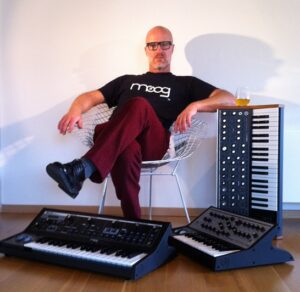 Following the success of 'An Evening With The Swedish Synth' featuring PAGE last March, Nordic friendly blog Cold War Night Life have announced their next live event 'A Secret Wish' on SUNDAY 19TH APRIL at The Lexington in London.
It is headlined by SISTA MANNEN PÅ JORDEN (SMPJ), the solo project of Svensk synth mästare Eddie Bengsston from PAGE, while VILE ELECTRODES and John Fryer will also be on the bill.
SISTA MANNEN PÅ JORDEN (translated as "last man on earth") were formed back in 1986 by Bengtsson and Matts Wiberg. Wiberg left the band in 2004 and was replaced on stage by Christer Hermodsson. The first EP 'Först I Rymden' ('First In Space') was released in 1998 as a limited edition of 500. It featured songs such as 'En Blå Planet' and 'Jag Kommer Ner', all of which were based on a space travel theme.
After that, SMPJ released several albums including 'Ligg tyst ett tag med', 'Luft' and 'Tredje Våningen', with most of the songs having Swedish lyrics. The band have attracted a very loyal fanbase in Sweden and people of all ages can be seen enjoying their live performances. More recently, SMPJ released the single 'Stadens Alla Ljus' ('All The Lights Of The City') backed with 'Vem Gör Det Då?' ('Who Does It Now?') via Electronic Sound Sweden.
With 'A Secret Wish' just a few weeks away, SMPJ mainman Eddie Bengsston chatted to ELECTRICITYCLUB.CO.UK
SISTA MANNEN PÅ JORDEN is a unique and special name for a band. Please tell us the story behind it?
The name we got from the single 'Being Boiled' by THE HUMAN LEAGUE; the B-side 'Circus Of Death' mentions "the last man on earth". THE HUMAN LEAGUE offshoot HEAVEN 17 got their name from the movie 'A Clockwork Orange', those names appear on a 'billboard' in the record shop that Alex in the movie is visiting. And since we also were fans of that movie, we wanted to do the same but most of those names were already taken. As only 'Ed Molotov' was unpicked, we went for tributing THE HUMAN LEAGUE instead… to make a long story short.
The single from last year 'Stadens Alla Ljus' was very well received by the fans as was the B-side 'Vem Gör Det Då?' – Are you working on some new material now, maybe for a full length album?
Right now, I'm not working on any new SMPJ material, contrary to what I'm expected to answer. At the moment, I'm collecting ideas, some for PAGE and some for SMPJ. I'm also working with another band from Sweden called MY GOD DAMN TERRITORY. I'm producing an album for them and it's planned to be released this coming autumn. I have also been asked by NAKED LUNCH to work on an EP for them, but the details concerning that aren't all set yet.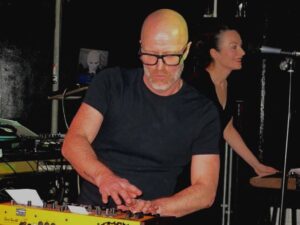 Last year played as PAGE in London with Marina Schiptjenko. What was that like and how was your music received by the audience?
That gig in London was amazing. I met so many friendly music loving people there. And judging by their reaction to us when we played, I think they liked it very much. I do hope SMPJ will receive the same warm welcome as PAGE did. It's going to be wonderful to play in London again.
What is the status of PAGE right now?
The status is, as I said I'm collecting ideas. Apart from that, PAGE is resting at the moment. If all goes well, I think there will be some new PAGE stuff before next winter.
What do you think of the other artists performing at the Cold War Night Life's 'A Secret Wish' event, VILE ELECTRODES and John Fryer?
I have never seen VILE ELECTRODES live, only on YouTube. But what I've heard and seen, I like very much. They are doing great electronic pop and they are presenting it in a very tasteful way with all that gear on stage. John Fryer is a legend himself, and that says it all.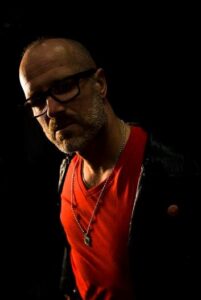 Christer Hermodsson has been on stage with you for rather a long while now. Will he become a permanent member of SMPJ and will he join you in London?
Hermodsson will perform live with SMPJ as always. The answer to if he is a permanent member in SMPJ is harder. He is a part of SMPJ and in a way he is a guest performer. I think that's the way he himself wants it to be. It would be hard, if not meaningless to do SMPJ without him, to tell the truth.
He is SMPJ's producer and main keyboardist. And yes, he is in the band, when he not focusing on his own band BIOMEKKANIK.
Last year you were part of making the Swedish punk covers album 'Electronically Up Yours' where both PAGE and SMPJ did covers with a bunch of other great electronic acts. How was the album received?
To do covers of my favourite punk songs has been a thing I've wanted to do for a very long time. It's only that I never had the time to do it. So when I asked the Swedish electronic music collective 'Electronically Yours' if they wanted to help me make it a reality, they all agreed it was great idea! If I had done it by myself, it would have taken a lot of time and the result wouldn't have been as diverse as it became. As far as I know, 'Electronically Up Yours' was very well received, even though I think it hasn't reached as many as I would have wished for. Then on the other side, the album is far from dead so it still has a chance to reach more people. Punk never dies!
You did a great Svensk cover of OMD's 'Stanlow'. Why the choice of that song?
The answer to that is very simple, it's a wonderful song. And it's always fun to take a favourite English song and make a Swedish version of it. And this one turned out very well.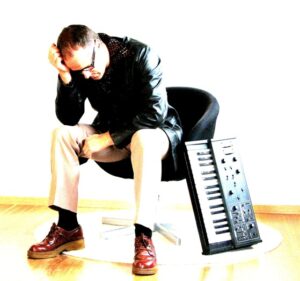 Do you have any other musical projects going on right now? Maybe something with Ulrika Mild, who you performed with at the Electronic Winter event in Gothenburg last December?
Sometimes it feels like I have too many projects going on. But I try to limit it. The 'project' with Ulrika Mild from COMPUTE is called THE VOLT and we are currently recording an EP. Right now we are focusing on doing covers from The Atom Age (50s). Some kinda post nuclear-tronica.
Ulrika Mild is a fantastic singer and a very good songwriter. I enjoy very much working with such a talented person like her.
---
'A Secret Wish' featuring SISTA MANNEN PÅ JORDEN, VILE ELECTRODES + John Fryer takes place on SUNDAY 19TH APRIL 2015 at The Lexington, 96-98 Pentonville Road, London N1 9JB. Doors open at 6.00pm
Tickets are £10 in advance or £15 on the door, available from https://billetto.co.uk/asecretwish
A special, limited edition EP will be available to mark the UK debut performance by SMPJ.
http://www.moonbasealpha.space/
http://www.coldwarnightlife.com/
For regular updates on 'A Secret Wish', please visit the Facebook Event page
---
Text and Interview by Sophie Nilsson
2nd April 2015