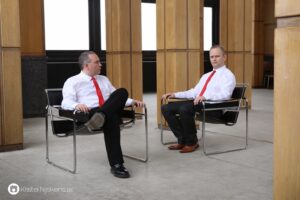 When KRAFTWERK's 'Trans-Europe Express' was released in 1977, it was a landmark album that showcased European Modernism and synthesizer technology at its highest level.
With futuristic sounds produced using instruments by Moog, ARP, Vako and Matten+Wiechers, these machines however were beyond the pockets of most aspiring young electronic musicians.
But as Walter Gropius, founder of the Bauhaus art school said: "Today's luxuries are tomorrow's norm" and those aspiring young electronic musicians subsequently took advantage of the affordable synthesizers that had emerged from Japan, made by the likes of Roland and Korg.
Today in 2015, Gropius' vision is total reality, with the sounds and timbres of KRAFTWERK now able to be purchased for less than £100 via the Synth-Werk VST and controlled from a home workstation.
Gropius' theories about uniting art and technology in his 1932 lecture 'Kunst Und Technik – Eine Neue Einheit' are celebrated by METROLAND on their ambitious new concept album 'Triadic Ballet'.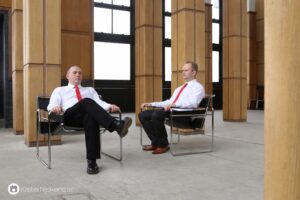 "Art begets art" so the saying goes; Passenger A and Passenger S have developed on the Gesammtkunstwerk of their debut long player 'Mind The Gap'.
But now inspired by the basic principles of design; unity, hierarchy and variety, the duo have recorded their musical tribute to the German movement led by Walter Gropius, Hannes Meyer and Ludwig Mies van der Rohe.
The epic three part opener 'Design' salutes those principles with an impressive barrage of blips and blops in an impressive 11 minute musical journey. It starts sedately with 'Unity' before a sonic blast into 'Hierarchy' before it sweeps into a widescreen dance experience for 'Variety' without entering into four-to-the-floor monotony. In another triadic approach (geddit?), Gropius, Meyer and van der Rohe are honoured in '3 Directors' with a track that changes mood throughout its 5 minutes. It is wonderfully stern, propulsive stuff that captures the internal political tensions affecting the Bauhaus movement.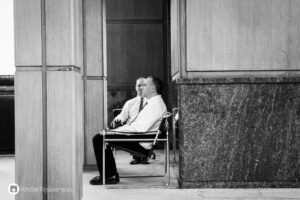 While voice and dialogue samples are prevalent throughout the album, there are no vocal toplines as such to speak of, even vocodered ones. All the tuneage comes from synthesizers and rhythmical passages, so this is effectively, an instrumental record in all but name.
'Ikone Der Moderne' borrows from ORBITAL and displays the urgency that 'Triadic Ballet' possesses compared with some of the steadier soundscapes of 'Mind The Gap'.
That dreamier approach though does make a return for the single 'Zeppelin' but it's a red herring… following on, a harder, more industrial stance becomes embroiled in the template of 'Machines Gone Mad' and the Gothic laden title piece.
A METROLAND album cannot get reviewed with a mention of the 'K' word so the spectre of Düsseldorf, Deutschland's art capital, looms most heavy on 'Art + Technology' and the more frantic 'Struktur'. The mood continues with 'Les Trois Couleurs' but the pulsating kinetic energy of 'The Manifesto' is less Kling Klang and acts as a sound sculpture to articulate the values of Bauhaus.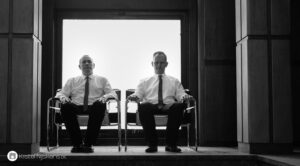 Some pretty Synthanorma Sequenzer effects on 'Utopia'
provide the backbone for a progressive soundscape that nicely encompasses the Bauhaus vision of a utopian world as one true man machine.
It is a fitting, conclusion to a geometrically sharp meisterwerk that the house of construction would truly be proud of.
For those that wish to extend their viewing, 'Triadic Ballet' adventures into remix territory over two further albums with reinterpretations by the likes of FOTONOVELA, DEUTSCHE BANK, NATTEFROST and many more. These work as enlightening variations on the theme, like all good artworks.
THRESHOLD's take on '3 Directors', although not radically different, is turned into an express train ride while OBERKAMPF's version plays rather a lot with the portamento setting. The rework of 'The Manifesto' by FRANCK KARTELL though is barer, yet driven by some fat white noise whips.
But for those happy with a purer art form where less is more, the main act from Belgium's favourite fulfils the role quite nicely. They may have the spectre of KRAFTWERK looming over them (doesn't everyone?) but with 'Triadic Ballet', METROLAND have proved they are now a credible, sustainable electronic entity on their own.
'Triadic Ballet' uses the following synthesizers and drum machines…
Novation Supernova, Novation Bass Station, E-MU Proteus, Kawai K1, Oberheim Matrix 1000, Roland JP8000, Waldorf Microwave, Quadrasynth, Yamaha CS6X, Casio SK5, Nord Lead 4, Roland Juno 60, Korg MS10, Korg MS20, Roland D50, Akai XR10, Boss DR Rhythm 55, Boss DR Rhythm 110, Roland CR78, Roland TR808, Roland TR909
---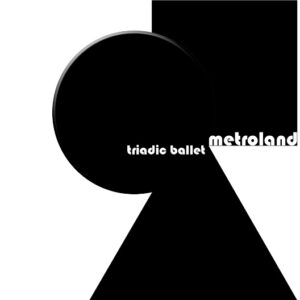 'Triadic Ballet' is released on 16th April 2015 by Alfa Matrix as a 3CD deluxe boxset and digital download which can be pre-ordered from http://alfa-matrix-store.com/metroland-triadic-ballet-3CD
http://www.metrolandmusic.com/
https://www.facebook.com/metrolandmusic
https://twitter.com/MetrolandMusic
http://soundcloud.com/metroland
---
Text by Chi Ming Lai
Boekentoren Photos by Kristel Nijskens BE
29th March 2015