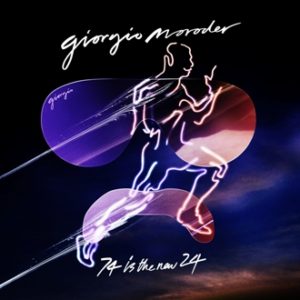 If there was ever a musical statement of intent, it has been made by GIORGIO MORODER's most recent offering '74 Is The New 24', the calling card for his brand new album out in 2015.
It shows once again how electronic dance music should be done, and that there is no need to stoop down to guetta level or the retarded formulaic drops of harris and garrix… and no, their names do not merit the use of capital letters! Distinctly Giorgio, with hints of his own 'Chase' from 'Midnight Express' as well as his defining productions for DONNA SUMMER and SPARKS, '74 Is The New 24' could almost be a medley of all his pioneering work.
But he has given plenty to music so it is now time for him to grab it all back. The record will be GIORGIO MORODER's first solo album in 30 years and is set to feature SIA, BRITNEY SPEARS, KYLIE MINOGUE, CHARLI XCX and FOXES. Will '74 Is The New 24' reach the heights of 'From Here To Eternity' or 'E=MC2'
? It really doesn't matter because based on this single and its predecessor 'Racer', Moroder has shown those chancers on their laptops how it's actually done!
As Da Maestro put it himself: "Dance music doesn't care where you live. It doesn't care who your friends are. It doesn't care how much money you make. It doesn't care if you're 74 or if you are 24 because… 74 is the new 24!"
So if '74 Is The New 24', then ELECTRICITYCLUB.CO.UK must be the new teenagers!
---
'74 Is The New 24′ is available as a download single via Giorgio Moroder Music LCC under exclusive license to Sony
https://www.facebook.com/GiorgioMoroderOfficial
https://twitter.com/giorgiomoroder
---
Text by Chi Ming Lai
30th December 2014