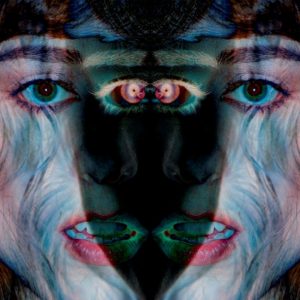 Following her synth assisted 'Fabricstate' EP earlier this year, multi-instrumentalist singer / songwriter HANNAH PEEL has recorded her most overtly electronic song yet and it's a seasonal offering too.
Recorded with synth collector extraordinaire and Chief Mathematician Benge at the renowned MemeTune Studio in Hoxton, 'Find Peace' is a Christmas song longing for the cold but merry winters of yesteryear under the modern day spectre of global warming, armed conflict and political tension. It is certainly a suitably poignant message for the festive season.
Following her previous collaborations with OMD and JOHN FOXX, the delightful Miss Peel has been steadily turning her hand to more synthesized instrumentation, inspired by the likes of female electronic pioneers like Delia Derbyshire and Suzanne Ciani. With hints of fellow MemeTune resident and musician GAZELLE TWIN, the off-kilter analogue buzzing and almost random sequences make for a striking listen as a frantic percussive death rattle and an emotive synth drone take hold to provide an appropriate backdrop for Miss Peel's eerie but beautiful voice.
HANNAH PEEL first became known to the synth world via her debut EP 'Rebox' in 2010 which featured musicbox covers of 'Tainted Love' made famous by SOFT CELL, NEW ORDER's 'Blue Monday', OMD's 'Electricity' and COCTEAU TWINS' 'Sugar Hiccup'. She continues this tradition on the flipside of 'Find Peace' with a cover of GREG LAKE's 1975 hit, 'I Believe In Father Christmas'.
Certainly after the recent madness of Black Friday 2014, the song's lyrical protest, that the traditional values of Christmas as a time of family warmth, love and a feeling of acceptance have been lost in the midst of commercialism, is suitably apt again.
---
With thanks to Marietta Longley at Outpost Media
'Find Peace' b/w 'I Believe In Father Christmas' is released by Snowflakes Christmas Singles Club on snow white 7" vinyl single as a limited edition of 500 and available from from http://snowflakes.bigcartel.com/
The single is also available as a download from iTunes, Amazon and other digital outlets
http://www.facebook.com/hanpeel
---
Text by Chi Ming Lai
2nd December 2014