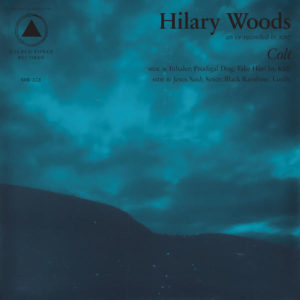 Sacred Bones is home to many quirky acts; artists that have the very best of the alternative outlook on music and life.
Amongst Zola Jesus and John Carpenter plus the one and only David Lynch, the Irish songstress Hilary Woods feels like she belongs.
Since the music has been the driving force for the once band member of JJ72, with whom Woods (then a teenager) started her wild love affair with performing, it made sense for the multi-talented artist to cross over into film and visual arts.
Her early recordings culminated in the release of a couple of EPs, 'Night'
and 'Heartbox'
. Writing film scores and theatre pieces gave way to the latest project from the multi-faceted Irish lady; 'Colt'
is a very private and mysterious debut album, "an intensely personal journey through grief, abandonment, and mutating love".
Written in an abandoned Dublin flat she was living in with her daughter using the equipment collected over the years, with synths, tape machines, and various odds and ends and utilising any other technology at hand, the "completely broke" Woods set off to create a "way to process and make sense of the everyday".
Dealing with personal loss, sadness, pain and long lost love, the self-confessed minimalist begins the journey with 'Inhaler', a poignant cry for air. The simple piano with nothing much else but sparse strings and a voice of Julee Cruise, meanders through concepts of desolation and loss, eerily floating away Lynch style. What a perfectly dreamy start, but not without the punctuated feeling of uneasiness and dread, and that's what makes Woods so special.
'Prodigal Dog' continues the weightless feel with a gentle rhythm and dedicate vocal, at times reminiscent of Dolores O'Riordan's capabilities, while 'Take Him In' is a musicbox tale of abandonment sung in layered voices with only a piano to fall back on. 'Kith' brings strings in, simply showcasing the delicacies of Woods' audio wizardry à la Marnie, pleading to her lover to "lay with me", again culminating in palpable uncertainty and fear.
The only track with more prominent beats on 'Colt' is 'Jesus Said'. In this semi-religious piece, arguing the existence of God and wanting her life back, with her child like expression, Woods experiments with offbeat piano sounds and other elements randomly added to create a cacophony of arty musical approach.
'Sever' returns to a simpler form with a metronomic beat, monochromatically embossed with a Kate Bush-resembling vocal, where the need to "sever these ties… they bide me" is expressed with found sounds in their simplest form over a grainy recording.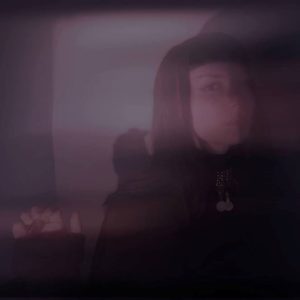 'Black Rainbow' could have easily been used by David Lynch in many of his productions, being particularly suited to 'Twin Peaks', with the stunning similarities to Julee Cruise's style. This delicately placed track with its celestial qualities describes a sad ending of a beautiful relationship.
"'Black Rainbow' was so named because I loved that image, the idea that when that's all one can see overhead / when a relationship is dying between two people that once loved each other very much – there is no choice but to believe that there is something better for you at the end of it all" says Woods.
The closing 'Limbs' offers no change of musical direction, continuing the heavenly serenity, the simplistic approach with delicate piano and bare vocal, and instrumentation sounding like a Japanese koto, with its soothing and fragile properties.
The concept for 'Colt' was to achieve "a siren's song, once mysterious, dark and beautiful, pulling you in" and the Dublin based songwriter certainly achieves that with her first long player.
For Woods, the album was a perfect medium created "as a means to speak with inner voices, explore aloneness, and understand the complexities of desire. As a vehicle for imaginative flight, as a quest for resilience and connectivity to the outside world, as a medium through which to journey into the present, to temper the mind and inhabit the body."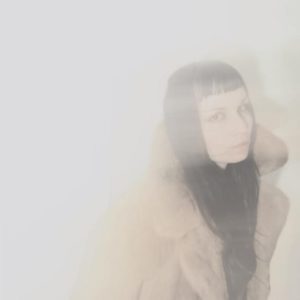 And for the listener, 'Colt' is the perfect calmer in the world full of noise, interruptions, deception and rejection. What the ex-JJ72 bassist has achieved here is a wonderfully balanced, beautifully exercised and marvellously presented piece, which has the power to cut through the ordinary and lift to higher levels of consciousness.
Hilary Woods, you've given us a beautiful album and proven that it's not the endless supply of cash and fancy equipment that makes a great record; rather, it's the talent and musical knowhow.
---
'Colt'
is released on 8th June 2018 by Scared Bones Records
Hilary Woods 2018 live dates include:  London St Pancras Old Church (11th June), Robert Smith's Meltdown (20th June), Dublin The Sugar Club (14th September)
https://www.facebook.com/HilaryWoods.Musician.Artist/
https://twitter.com/_hilary_woods
https://www.instagram.com/_hilary_woods/
https://hilarywoodsmusic.bandcamp.com
---
Text by Monika Izabela Trigwell
4th June 2018