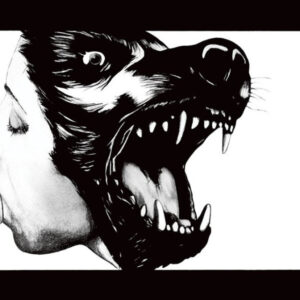 The core of HOLY GHOST! are New York duo Nick Millhiser and Alex Frankel.
They released their debut full-length eponymous album in 2011 following the 6 track 'Static On The Wire' EP a year earlier. HOLY GHOST! gained a fair amount of musical media attention by using LCD SOUNDSYSTEM main man James Murphy as co-producer on 'Holy Ghost!' and also for the cheeky shot-for-shot remake of NEW ORDER's 'Confusion' video for their own single 'I Will Come Back' with legendary producer Arthur Baker reprising his original role in the new promo.
By its nature, electronic music can sometimes be criticized for lacking feeling and emotion due to the way its generated and sometimes it's easy to forget that many stellar synth-based acts from KRAFTWERK to CABARET VOLTAIRE and from NEW ORDER to ULTRAVOX have all at times used traditional instruments alongside the synthesizers and sequencers that they are more readily known for.
The first thing that strikes you about the music of HOLY GHOST! is that it breathes… and this is down to the use of live drums and overdubbed percussion on most of their tracks. This is obviously not lost on the band, as by calling their second album 'Dynamics', they are acknowledging the fact that their music is not quite as rigid as some of their peers. The band do blatantly wear their influences on their sleeves, stemming from the 'Bizarre Love Triangle' aping bridge on early single 'It's Not Over' through to elements of OMD, Tangerine Dream and even FLEETWOOD MAC(!) on their current work. Thankfully, the NEW ORDER influence has reaped major dividends for HOLY GHOST! Thus securing them a support act with the Manchester legends earlier in the year on their US tour.
Album opener 'Okay' is probably the most synthetic track on 'Dynamics', taking its melodic cues from OMD and KRAFTWERK's 'Neon Lights' with a generous smattering of "Pew! Pew!" disco syndrums thrown into the mix for good measure, it gives a pretty good introduction of what's to follow. Lyrically the track revolves around a drunk dialing ex-couple and by the end of the track it becomes apparent that despite a large amount of alcohol being involved, feelings still remain between the two.
The epic / hypnotic 'Dumb Disco Ideas'follows and really throws the kitchen sink into the mix, funky Hohner clavinets which recall TALKING HEADS' 'Life During Wartime' battle with arpeggiated synths, vocoders and overlayed live percussion. Although the track starts to lose momentum towards the end of its 8 minute length, it's certainly worth sticking around to the 5 minute mark when a funky mid-period THOMAS DOLBY staccato synth horn riff joins the huge range of other sounds.
'Changing Of The Guard' has a real New Wave sound about it, recalling ROBERT PALMER's dabbling with synths on tracks like 'Looking For Clues'. Probably the most hooky track on the album, the vocal chorus melody provides a real earworm which burrows itself into your brain after a single listen and makes you wonder why more acts don't reference music from that era which isn't quite so obvious. 'It Must Be The Weather' starts with a lo-fi Roland drum machine, synth arpeggios and lush LITTLE DRAGON-style synth swoops before expanding into a widescreen epic track which is surely begging for use in a film such as Drive which wonderfully showcased artists such as COLLEGE and KAVINSKY. The track ends beautifully with swooping octaved synths and a final flourish for the drum machine at its climax.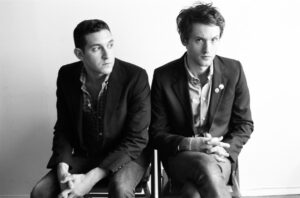 The instrumental '1 For Edgar' provides a mid-point break and you could wager that the 'Edgar' in question could be Edgar Froese from TANGERINE DREAM, primarily because this track features the sort of electric piano beloved of the band. Further strengthening the case is the fact that album closer 'Cheap Shots' takes it's cues from seminal TANGERINE DREAM track 'Love On A Real Train', it's cyclical sequencer introduction recalling the hugely influential 'Risky Business' soundtrack piece. Once the latter track gets up and running, the NEW ORDER influence takes over with octaved Barney Sumner-ish vocals on the "your friends will desert you" lines.
After what's gone before, the title 'Don't Look Down' has you fearing that HOLY GHOST! have taken their retro obsession a little too far and are about to blow it with a GO WEST cover! But if anything, this tips things over the edge even further with what has been described in another review as being similar to the 'Mannequin' theme song! The track showcases another OMD type synth riff, 'Heroes' infinite guitar and a cheeky vocal sample which references the outro to FLEETWOOD MAC's 'Everywhere'. On paper, this shouldn't really work and sounds like a real Frankenstein's monster idea of a track, but again, the audacity of throwing together such disparate elements surprisingly works.
In summary, it is really desperately hard to talk about HOLY GHOST! without mentioning other artists, but what they do well is to assimilate all of their influences and produce electronic music which is a) unashamedly melodic and b) not afraid to take risks by not immediately going for the obvious steals / references. The album may well have some hipsters scratching their beards, shaking their heads and running for their FACTORY FLOOR records, but you will be hard pushed to find another album this year which celebrates the heritage of electronic and new wave music in such an unashamed and joyful way.
---
'Dynamics' is released by DFA on CD, vinyl and download
https://www.facebook.com/HolyGhostNYC
https://twitter.com/HolyGhostNYC
---
Text by Paul Boddy
1st November 2013