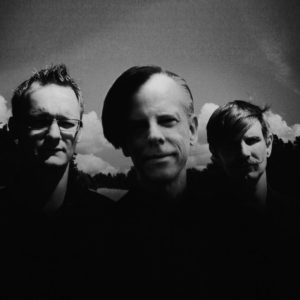 Imagine if RAMMSTEIN were reincarnated as DEPECHE MODE but without the flame throwers?
TITANS' vocalist Dan Von Hoyel sounds like a lower register Dave Gahan in SOULSAVERS mode crossed with a less Teutonic Till Lindemann and his larynx has a rich body which is unusual for a sub-genre known for its shouting.
Despite ELECTRICITYCLUB.CO.UK's editorial not being big on industrial or futurepop, love is being belatedly thrown on one particular track 'It's Dark' which first sprung in March of this year with a wonderfully creepy video directed by Fredrik Karlsson and starring Hasse Blomkvist.
Menacing like MECHANICAL CABARET's excellent 'Meat Closet' but with broader textural palettes and accessible melodic counterpoints, it lifts enormously in the chorus showcasing the trio's ability to play with dynamics.
The parent album 'For The Long Gone' is an enjoyable listen and fans of DE/VISION, COVENANT and VNV NATION will like TITANS. The vibrant electronic backing from Fredrik Mattsson and Jimmy Svensson is well produced, energetic without being bombastic and tuneful without being twee.
The foreboding synth atmospheres of 'All There Is' are reminiscent CAMOUFLAGE while the Olympian effort of 'For The Long Gone' could be ULTRAVOX meeting RAMMSTEIN for an electronic collaboration. 'Dried Out' is more EBM and is NITZER EBB without the blaring, trancelike in its hypnotism.
The trick TITANS pull off compared to their contemporaries is perhaps their willingness to be multi-dimensional in their sound. The Swedish trio's self-confessed doompop is very promising and a pleasant surprise to these ears.
---
'For The Long Gone' is released by Progress Productions
The album can be heard on Spotify: http://open.spotify.com/album/07sHZknDCQFfMv5KqnrN7w
http://www.facebook.com/TitansOfficial
---
Text by Chi Ming Lai
9th September 2012