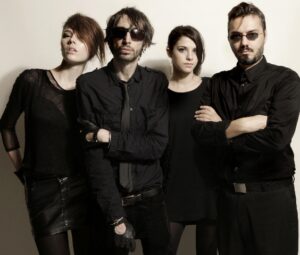 Following remixing OMD's 'If You Want It', Athens minimal electro duo IT95 return with the stark number 'Wave (Are We Alone)'.
As IN TRANCE 95, Alex Machairas and Nik Veliotis first got together in 1988 and with their debut single 'Desire To Desire' became one of first Greek acts to succeed using primarily electronic instrumentation within a song format.
Their 1990 debut album 'Code Of Obsession' remains a cult favourite within Europe.
After a period during which Nik left to undertake other projects and Alex continued in various guises including a subtle change of name to ITENEF, a full reformation took place when they were invited by Alan Wilder to open RECOIL's Athens gig in April 2010.
The original line-up as IT95 has now been augmented on stage by Magdalena Sverlander and Anna Athanasouli on synths while their return with 'Wave (Are We Alone)' displays hints of DEPECHE MODE and CABARET VOLTAIRE.
Dressed in black and decisively monophonic, 'Wave (Are We Alone)' creeps along like a mutant electronic soundtrack in the vein of John Carpenter's 'Assault On Precinct 13'. The interrogation room styled promo video directed by George Katsanakis just adds to its sinister chill.
The reunion has led to the recording of a brand new album 'Abovearth' plus a re-mastering of their early tapes for a collection entitled 'Cities Of Steel & Neon'. Both will be released by New York label Minimal Wave Records in 2011. There will be also short European tour planned for the latter part of the year.
---
https://www.facebook.com/intrance95/
---
Text by Chi Ming Lai
Photos by George Katsanakis
20th January 2011