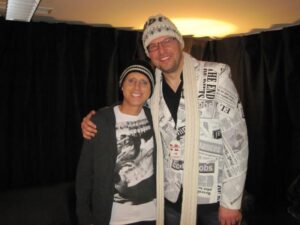 The release of DEPECHE MODE's 'Delta Machine' this week has been welcomed by Devotees around the world. Cited by many as a return to form, Mode fans are in a happy place right now.
One fan who is especially happy is noted Slovakian harpist MICHAL MATEJCIK who was invited by none other than Martin Gore to play at the weekend's album launch party in Vienna which DEPECHE MODE also attended and performed at.
He came to prominence within the DM Community following a solo European tour performing DEPECHE MODE songs such as 'Pimpf', 'Enjoy The Silence' and 'A Question Of Time' rearranged for the harp. His performances drew acclaim and praise, culminating in a special broadcast of one show on Bratislava's Radio FM last December.
He once described playing harp as being like a union between music and painting for him. As well as playing in large orchestras and smaller ensembles, Michal also teaches piano and harp. Last year he toured with GEORGE MICHAEL and the multi-national popoperatic vocal quartet IL DIVO.
Michal kindly spoke to ELECTRICITYCLUB.CO.UK about the motivations for his moving, classical reinterpretations of Basildon's finest and opening for his favourite band…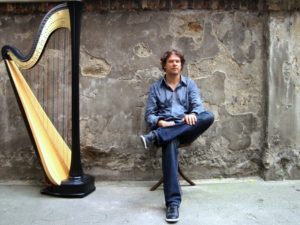 How did you first discover DEPECHE MODE?
It was sometime in the late 80s when I got hold of some tapes from a school mate of mine. I grew up in ex-Czechoslovakia in the times when the music from The West was under strict censorship. The sources for this music were only the smuggled tapes in very bad quality with not even whole songs and recordings from Western radio stations. After hearing those synth sounds, it was love at the first sight.
So were you at any time interested in taking up the synthesizer in your own musical career rather than the harp?
I have been playing piano since my childhood and as a child I wanted to have some synthesizers and make music like DM. Only when I was 18 did I start playing harp and at that time, DM were already using more guitars and drums than synthesizers. So I didn't think about the change in the end.
How did you get inspired to arrange DM songs for the harp?
I arranged DM songs for the piano and guitar first so when I begun to play the harp I tried only 'Enjoy The Silence' because it's very melodic. I thought it was impossible to arrange other songs. A few years later , a very good friend of mine – Martin Vladar (who you might be familiar with from his collaboration on Alan Wilder's 'Collected' film) organised a DEPECHE MODE party and asked me if I could play some songs on harp at the party, because that would be something brand new, not what fans have seen and heard before. I thought it was a very good idea – bringing DM songs to fans but in a completely different way. So I started to arrange more tracks.
Of course in your day job, you have been integrating classical into pop music and recently toured with GEORGE MICHAEL. What was that experience like for you?
It was the best experience in my life. The touring is very exciting and playing in sold-out big arenas with a popstar like GEORGE MICHAEL was always my dream. This tour with GM was very important for me and it was nice to play song 'I Remember You' alone with him on stage, only the two of us. I was lucky to experience everything backstage and see all crew in action, see whole process of building the stage and meet interesting people like Kerry Hopwood who is also programmer on the DM tour.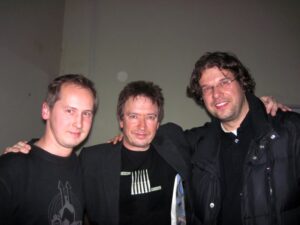 As a classically trained musician, you are in a better position than most to assess the music. So what is it about the quality of DM's work that makes them so appealing in a theoretical sense?
In theory, musically speaking, it is combination of all the harmonies, sound colours, rhythm ideas, instrumental riffs, tones range, overall development and timing in the track, the minor/major key of the song and also Dave and Martin's voices. All these factors make the songs interesting.
I think Alan used to mix them all very well with his meticulous sense for soundscapes and I guess something's got lost from their songs after his departure. Anyway, this question would be very good topic for a dissertation at the Royal Academy Of Music. 🙂
'It Doesn't Matter Two' is a case in point as that appears to have been influenced by modern composer Philip Glass?
Oh really? Thank you, my students like to play Glass, so for the next lesson, their homework will be 'It Doesn't Matter Two' 🙂
Well, I don't think I have the right to say it was influenced. If the influence for this song was by Philip Glass, I know that Alan at that time was listening to his music. We could as well say that 'Speak & Spell' was influenced by Mozart, because the album is very simple, easy, funny – just like Mozart's music.
What is your favourite DM song to play live on the harp?
'It Doesn't Matter Two' works well and I like to play 'Clean' also. This last track from 'Violator' is very emotional and atmospheric with a heavy melody and I am glad that I could arrange it for such an instrument like harp. Actually I have adapted the acoustic version DM played during PTA studio sessions.
Always when I come to play the DM covers on harp I ask this question: "Will the audience accept my arrangements?". DM fans are not really that kind of people who visit classical music concerts and don't have the experiences to listen to one classical instrument for one hour. So for some tracks, I use programmed drums or Dave's vocals and try to make it more interesting for the audience.
Has there been a DM song you've wanted to do but that just doesn't work on the harp?
Oh yeah, plenty of them of course. There are many reasons why DM songs wouldn't work on harp. Firstly, there are emotional lyrics people relate to and when I arrange DM songs for harp in the instrumental form, the lyrics are lost and they just don't work that well. I can work with melodies only and if there is a good strong one, then it's good for harp. But the most problematic tracks to adapt for harp are 'Songs Of Faith & Devotion' songs. Every song has a fantastic development, graduating layering of sounds with every verse and every chorus plus there are really big atmospheres in the songs. That's why it's difficult to play them only on one instrument.
How was it performing at the Vienna album launch party with DEPECHE MODE present?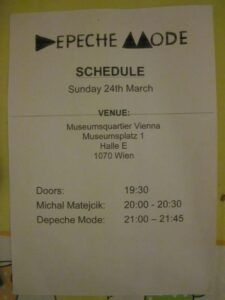 It was really an honour to open for DEPECHE MODE as I am a big longtime fan. Everything came all of a sudden and clicked easily. I received an email with an offer to support DM in Vienna and then the things just happened. And I don't remember in DM's history that a support act would actually play their own songs!
The crowd's reaction was fantastic and they enjoyed the harp covers because people were singing to what I was playing and even waved their hands in 'Never Let Me Down Again'. Martin and Peter Gordeno came to watch my performance from the backstage and they laughed when the fans were singing to harp. I am really glad I got such opportunity and my dream came true.

What are your own favourite DEPECHE MODE memories?
Many of my favourite life memories come with DM's music really. There are many tracks that remind me particular event or era, or there's a track that evokes some mood or emotional state I was in.
---
ELECTRICITYCLUB.CO.UK gives its grateful thanks to MICHAL MATEJCIK
Special thanks also to Deb Danahay
MICHAL MATEJCIK gives a performance in Bratislava on 6th April 2013 the Nu Spirit Club as part of an official release party for new DEPECHE MODE album
Also on 22th April 2013, he gives another performance in Slovakia for another release party for 'Delta Machine' in the city of Banska Bystrica at Klub 77. And on 30th May 2013, there will be a performance at Babylon in Berlin as a part of a book presentation. This has been written by Dennis Burmeister and Sasha Scherbelberg who have one of the biggest DM collections in the world. This book, entitled 'Monument', details their collection
http://www.michalmatejcik.com/
http://www.facebook.com/Michal.Matejcik.Harpist
https://www.youtube.com/user/TheMusicforharp
---
Text and Inteview by Chi Ming Lai
26th March 2013