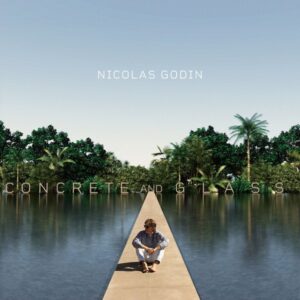 Any AIR-related side project can be guaranteed to not deviate too far from the band's tried and tested template of downtempo atmospherics, retro synths, dry stripped-back PINK FLOYD style drumming and occasional vocoder flourishes.
Unsurprisingly, Nicolas Godin's second solo album 'Concrete & Glass'
features plenty of tracks which would seamlessly slot into an AIR album.
It is a concept-based work of sorts with each song being inspired by buildings and their architecture.
With there not seeming to be a hurry to release new material with long-term musical partner Jean-Benoît Dunckel, there is plenty here for long-term AIR fans to enjoy.
It is hard to downplay the significance of 'Moon Safari'
when it arrived in 1998; a wonderfully retro-sounding but groundbreaking piece of work, it would go on to ultimately define AIR's sound and influence many other acts including ZERO 7 along the way.
A couple of the high points of 'Moon Safari' were the vocal-based songs 'All I Need' and 'You Make It Easy' featuring Beth Hirsch, so Godin has followed a similar route with 'Concrete & Glass' which has contributions from HOT CHIP's Alexis Taylor, Russian vocalist Kate NV, Kadhja Bonet, Cola Boyy and Kirin J Callinan.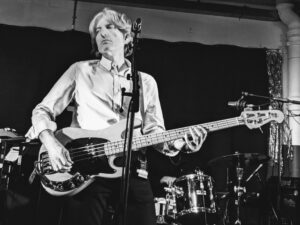 Opener 'Concrete & Glass' is a blissful combination of rising and falling synths combined with Latin percussion and trademark vocoder work with Godin "…looking for a house, made of concrete and glass".
Latterly Godin's vocal has a call and response with his own live bass playing and the track instantly lowers the listener's heart rate setting the scene for the rest of the album.
'Back to Your Heart' with Kate NV sets up the run of guest vocalist-featuring tracks and is beautifully produced with layers of CR78 percussion, synthetic brass and real strings. Unashamedly retro in sound and delivery, 'Back to Your Heart' evokes lounge icons THE CARPENTERS and leads into 'We Forgot Love' which features a cyclical descending synth figure throughout and yearning vocal by soul singer Kadhja Bonet. These two tracks are easily the strongest song-based works on 'Concrete & Glass'…
'The Foundation' which features Californian Cola Boyy has more of a modular synth aesthetic and again would comfortably pass muster on an AIR album; conceptually based on Pierre Koenig's groundbreaking 'Case Study House #21', the song features a neat sci-fi based promo video directed and shot on 16mm film by Greg Barnes. The highlight of the song is the outro which has some luxuriant vocoder and synth interplay which on the album version runs for an extra minute and could quite easily run for longer such is its beauty.
'Time On My Hands' which features Aussie vocalist Kiran J Callinan is a midpoint album lull, spending roughly 4 and a half minutes going nowhere whilst HOT CHIP's Alexis Turner fares little better on the saccharine 'Catch Yourself Falling'; arguably both of these tracks would have been more successful as instrumental workouts as their vocal contributors add little to the respective pieces.
The intro to 'The Border' evokes Clint Mansell's wonderful theme to sci-fi doppelganger movie 'Moon' before taking more of a song-based direction with Godin's vocodered vocals drifting through the remainder of the piece. Ambient pads and a sparse electric bass part underpin subtly building sequencer parts, the "take me to the border" line is possibly overused and makes the track feel unnecessarily repetitive, which is a shame as the song's soundbed is wonderfully hypnotic and (again) beautifully produced.
'Turn Right Turn Left' is possibly one of the few songs primarily vocalled by a SatNav and features a soaring string arrangement whilst it's left to album closer 'Cité Radieuse' to provide the only real radical departure in sound aesthetic on 'Concrete & Glass'.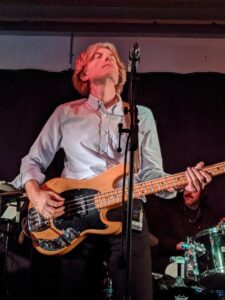 Initially sounding like a homage to Philip Glass, the first three minutes are comprised of concise Serial Music-style synth arpeggios with a melodic synth break thrown in.
The final minute and a half unexpectedly makes a U-turn into ambient jazz territory which recalls German act BOHREN & DER CLUB OF GORE, creators of funereal tempo music of this ilk with upright bass, sax and brushed drums.
'Concrete & Glass' certainly won't disappoint fans of AIR, not all of it hits the heights of Godin's main act, but there is more than enough substance here to make the album bear up to repeated listens.
The building-based concept is an intriguing one and something that KRAFTWERK could have kicked themselves for not pursuing at some point; however, Nicolas Godin has got there first and 'Concrete & Glass' neatly draws parallels between the worlds of music and architecture in one grand design…
---
'Concrete & Glass'
is released by NCLS in vinyl LP, CD and digital formats
https://www.facebook.com/nicolasgodinmusic/
https://www.instagram.com/nicolasgodinmusic/
---
Text and Live Photos by Paul Boddy
4th February 2020