While it appears to have been a comparatively quiet 2019 for NINA, she has been busy touring the US and Canada with PARALLELS as well as recording.
At the start of the year, there was a brand new song called 'The Calm Before The Storm' which was coincidentally released during one of the coldest wettest spells in England.
Then in the Autumn, she teamed up with FUTURECOP! for a collaboration entitled 'Against The Tide'. But with the year almost up, the London-based Berliner has unleashed the vibrantly appealing magenta splash of 'Automatic Call'.
Developing further her bridge between synthpop and synthwave, NINA said of her new creation: "'Automatic Call' is about the challenges we encounter when going through a break up and how hard it is to let go and finally move on."
Uplifting but melancholic, the song is the result of another collaboration with Oscillian who produced seven songs on NINA's 2018 debut long player 'Sleepwalking'
. The producer was also responsible for the song's 'Grand Theft Auto' inspired cityscape video.
"Oscillian filmed, directed and edited the video as well as producing the music" NINA said, "We were inspired by synthwave aesthetics, late night driving, highways, LED lights, and we used a vintage Dodge Challenger car in the video. As soon as we started to film, torrential rain started and didn't stop all night. Luckily we did have cover and in the end, it all played in our favour, as the light reflecting on the puddles on the ground tied in really well with the overall feel of the video."
But getting intimate with her romantic leading man provoked some unintended amusement as "there was a scene where I had to get really close to Tommy, the other actor in the video, and we just kept giggling. It was very hard to keep a straight face."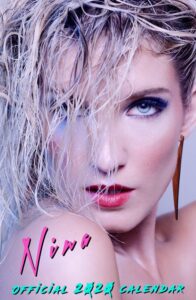 While it appears to have been filmed is Los Angeles, the location of the video was actually a bit closer to home.
"We filmed 'Automatic Call' in Sweden over 2 days. We discovered Tommy, the actor in a club in Malmö when we played a show there and he looked like he just came out of an 80s movie" NINA remembered, "so we approached him there and then and asked him if he wanted to be part of my music video. He loved the idea right away, even though he didn't have any previous acting experience, so he flew from his home in Finland just to do the shoot."
'Automatic Call' comes from NINA's upcoming second album 'Synthian' due sometime in 2020.
---
ELECTRICITYCLUB.CO.UK gives its warmest thanks to NINA
'Automatic Call'
is released as a digital single with a bundle of remixes, available now from https://ninasounduk.bandcamp.com/
NINA's 2020 Calendar is available from http://www.ninasounduk.com/store/calendar
https://www.iloveninamusic.com/
https://www.facebook.com/iloveninamusic
https://twitter.com/iloveninamusic
https://www.instagram.com/ninasounduk/
---
Text and Interview by Chi Ming Lai
19th December 2019