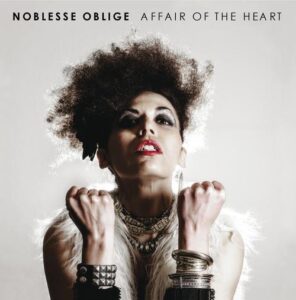 NOBLESSE OBLIGE are French theatrical performer Valerie Renay and German producer Sebastian Lee Philipp, who released their debut album 'Privilege Entails Responsibility' in 2006.
Their name is French for "nobility obliges" and basing themselves in Berlin from 2008, the duo issued two further albums 'In Exile' and 'Malady'. MARK REEDER loved their track 'Duel' from the former and included his Shot At the Crack of Dawn Remix on the 2011 'Five Point One' collection alongside his reworks of highly regarded luminaries such as DEPECHE MODE and JOHN FOXX.
Around this time, NOBLESSE OBLIGE came to the attention of Chris Corner who invited them to support IAMX on the European leg of the 'Volatile Times' tour. Their abstract Weimer cabaret combined with a dose of electro Chanson impressed and this month sees the release of their fourth album 'Affair Of The Heart' recorded at Corner's countryside studio near Berlin. Renay and Philipp have said the long player is "a romantic journey in the classic sense of the term. Our study of human passion from its most uplifting to its gloomiest…"
It all harks back to a time when EURYTHMICS actually meant "European rhythms" and not "sell out to the 'States". The lead single from the album 'Runaway' is a superb electronic ditty complimented by Renay and Philipp harmonising over Eurodisco arpeggios and danceable beats recalling 'Some Great Reward' era DEPECHE MODE. And to contuine the IAMX connection further, its accompanying video has been directed by Chris Corner…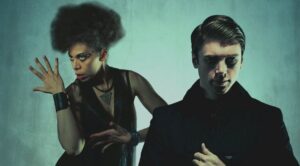 'Affair Of The Heart' features several other highlights which combine the artful romantic sensibilites of HURTS and VISAGE with the sinister ambiguous sexual overtones of SOFT CELL.
New single 'Mata Hari' captures this tension marvellously by telling the story of the Dutch exotic dancer and femme fatale who was accused of spying for Germany during the First World War and subsequently executed by the French.
Meanwhile, 'Burn' with its pulsing synths and uptempo clattering percussion sees Renay vocalise in a higher register to provide a eurphoric lift to a track that will undoubtely go down well at Gothic discos.
'Break Your Heart' is a close relative to 'Runaway' but while not quite hitting the same heights, is just as enjoyable. 'Vagabonde' is more minimal and squelchy though but full of Gallic charm as Renay sexily oozes in her mother tongue.
It's not all dancefloor material though as 'Chasing Shadows' explores more organic textures in more esoteric surroundings. And if that wasn't enough, there is NOBLESSE OBLIGE's funereal deadpan cover of THE EAGLES' 'Hotel California' in which the chilling subtext of the lyrics is now fully enhanced to its murderous conclusion!
With this latest opus, NOBLESSE OBLIGE "hope that this energy and emotion are felt by the outsiders, and will entice them into our world". Despite a second half lull, 'Affair Of The Heart' certainly is as accessible and accomplished as any of the impressive electronic based albums that have appeared in 2013.
---
'Affair Of The Heart'
is released by Repo Records on 24th May 2013 as a CD and download
http://www.noblesseoblige.co.uk/
http://www.facebook.com/noblesseobligeofficial/
https://twitter.com/noblesseoblige1
---
Text by Chi Ming Lai
23rd May 2013