The third volume in BRITISH ELECTRIC FOUNDATION's 'Music Of Quality & Distinction' series has been long awaited.
Subtitled 'Dark', it was first announced back in 2007 and the majority of it was premiered at a special BEF weekend showcase at The Roundhouse in 2011.
'Music Of Quality & Distinction Vol1' was issued in 1982 to great fanfare, a sophisticated K-Tel album recorded under the musical directorship of Martyn Ware, then recently departed from THE HUMAN LEAGUE and soon to find fame as part of HEAVEN 17.
Featuring vocalists such as Tina Turner, Sandie Shaw, Paul Jones and Billy Mackenzie, it was a critical if not a commercial success but effectively revived the career of the Soul Siren born Anna Mae Bullock as well as kickstarting Ware's impressive production portfolio which later encompassed ASSOCIATES and ERASURE.
1991 saw the release of 'Music of Quality & Distinction Vol2' which had much more of a mainstream soul vibe; Tina Turner and Billy Mackenzie returned while other notable vocalists included Chaka Khan, Billy Preston, Green Gartside and Terence Trent D'Arby whose massive selling debut 'Introducing The Hardline…' was produced by Ware.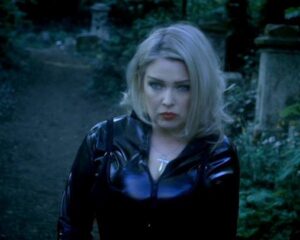 The concept of 'Music Of Quality & Distinction Volume 3 – Dark' though is dark interpretations of perceivably upbeat songs.
The chilling, stark electronics and eerie soundtrack arrangements on several tracks have led to Ware producing some of his most distinctly industrialised work since his days with THE HUMAN LEAGUE. The tremendous opener 'Every Time I See You I Go Wild' is a case in point.
Using just a Roland System 100, instrumentally it could have come from 'The Dignity Of Labour' or 'Reproduction'while Kim Wilde's spirited vocal adds a human twist to what sounds like THE HUMAN LEAGUE meets DEPECHE MODE. There's even a tongue-in-cheek reference to 'Don't You Want Me' thrown into the metallic mix for good measure!
Another great fusion of soul mechanics is 'Don't Wanna Know', a John Martyn cover voiced by former COMMUNARDS co-vocalist Sarah Jane Morris. Still sounding like a lower register Jimmy Sommerville, Morris' bluesy tones contrast well with the synthesized backing. In a variation to the theme, Green Gartside adds his distinctive raspy touch on The Delfonics' 'Didn't I Blow Your Mind This Time' which absorbs the senses with its silky sonics and complimentary guitar textures.
Andy Bell provides one of the album's standouts with his rendition of Kate Bush's 'Breathing'. A song that was never that upbeat in the first place, its narrative on the nuclear holocaust is given an even more disturbing counterpoint when Bell audibly recites scientific data on the effects of an attack.
While Bell's distinctive timbre remains intact, on the orchestrated rock of 'I Wanna Be Your Dog', Boy George takes on a turn of deadpan and aggression that makes him almost unrecognisable! One of the stars of the BEF showcase at The Roundhouse, his onstage tale about going with Martyn Ware to see Gary Glitter in concert and getting the convicted felon's autograph was priceless; "I don't think it's worth much money now" he quipped! That alone deserves a second track and appropriately enough, it is a near faithful 'Make Up' from Lou Reed's 'Transformer'. "We're coming out…out of our closets" indeed!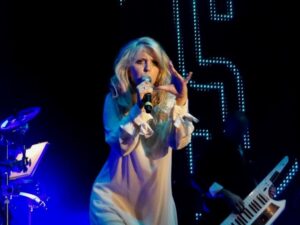 Another thematic pairing comes with the return of the barefoot Queen of Pop, Sandie Shaw. After tackling 'Anyone Who Had A Heart' on 'Vol1', she gives it some Northern Soul welly on 'Just Walk In My Shoes', a tune written by one-time Motown signings The Lewis Sisters.
Meanwhile the Bacharach and David cover duties on 'Dark' go to the kooky Polly Scattergood who delivers a lovely 'Felt Mountain' era Goldfrapp styled performance of 'The Look of Love'.
Trivia fact: 'The Look Of Love' (which featured in the original film version of 'Casino Royale') was beaten to the 1968 Oscar for Best Original Song by 'Talk To The Animals' from 'Doctor Dolittle'!
'Dark' is a large collection of work, 16 songs in all and they appear to fall into three categories. As well as dark electronics, there are more contemporary dance assisted numbers and filmic ballads. Of the dancier numbers; melodramatic Sheffield newcomer David J Roch doing Bill Withers' 'Same Love' is one of the big surprises with an emotive neo-acappella intro segueing into a meaty pulsing bassline, spacey whistles and haunting invader games.
HEAVEN 17 backing vocalist Billie Godfrey features on a similar but extended treatment of Bronski Beat's 'Smalltown Boy' while Maxim aka Max Pokrovsky of the Moscow-based rock band Nogu Svelo! goes all campy Europop on an enjoyably over-the-top reading of ABBA's 'The Day Before You Came'; a virtual unknown before 'Dark'… not anymore! The clarinet solo just sums up how gloriously loopy this rendition is!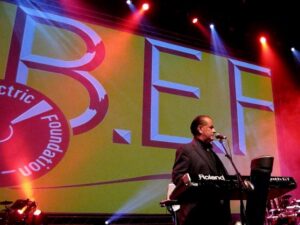 The late Billy Mackenzie left this earth in 1997 and after his presence on the first two volumes, 'Dark' would not be complete without his legacy being represented.
This comes in the shape of a sparse, slowed down waltz rendition of 'Party Fears Two' by Glenn Gregory which first appeared on HEAVEN 17's 08 versions compilation 'Naked As Advertised'. An unexpected inclusion, this is an important centrepiece that sits well with the other songs in the compendium.
And Gregory almost steals the show with Frank Sinatra's 'It Was a Very Good Year'. Held together by a sampled drum loop and dressed with Ware's bubbling synths, Gregory makes a perfect crooner in the tradition of Scott Walker, with echoes of his 'Always Coming Back To You' in the delivery. The 60 year old song itself takes on a magnificent dimension that will please any early HEAVEN 17 fan.
However, 'God Only Knows' and 'Picture This' performed respectively by Shingai Shinowa from The Noisettes and Kate Jackson from The Long Blondes are, while sweetly performed, possibly the two least essential items to ELECTRICITYCLUB.CO.UK's ears on this album. But, such are the strengths of Ware's curation and production that they are highly likely to be appeal to others. And this is one of the important selling points of 'Dark'… there really is something for everyone.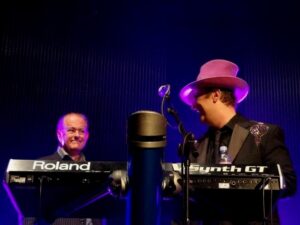 Ending with new HEAVEN 17 backing vocalist Kelly Barnes on Teena Marie's 'Co-pilot To Pilot', this is maybe the most incongruous item on the set with the backing track having been originally recorded for 'Music of Quality & Distinction Vol2'.
Its Trans-Atlantic soul vintage is quite apparent, especially when belted out in that classic manner by the Macclesfield youngster.
Overall, 'Music Of Quality & Distinction Volume 3 – Dark' is a worthy adventure and Martyn Ware can pat himself on the back for realising his most challenging project to date. Whereas the first two volumes had record label support, 'Dark' has been self-funded, hence the time span of the work; Ware's dedication, musical ear and co-ordinating abilities deserve recognition and reward.
---
'Music Of Quality & Distinction Volume 3 – Dark'
is released by Wall Of Sound on 27th May 2013 as a single CD, deluxe 2CD with bonus instrumental disc and download
http://britishelectricfoundation.com/
http://www.facebook.com/BritishElectricFoundation/
---
Text by Chi Ming Lai
Photos by Richard Price and Chi Ming Lai
21st May 2013