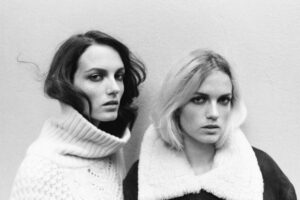 ELECTRICITYCLUB.CO.UK loves dream laden electronic sophistication
Recent offerings from HANNAH PEEL and KID MOXIE have been fine examples of that template.
Cut from that same cloth is 'Julian', the beautiful new single from SAY LOU LOU, who comprise of the highly photogenic Scandipodean twins Elektra and Miranda Kilbey.
The track features subtle elements of ROBYN, LANA DEL REY, KARIN PARK, MARSHEAUX and THE SOUND OF ARROWS. Meanwhile, the lavish video directed by Philippe Tempelman chronicles what turns out to be a mysterious bizarre love triangle.
It is full of tension and intrigue like a Nordic Noir mini-series compressed into a three minute pop song that fuses both darkness and light as the lyrics suggest:"I'll get us through the checkpoint, I know we'll be alright!"
Flitting between Sydney and Stockholm, the Kilbey sisters have been impressing since their more organic first single 'Maybe You'. None other than Richard X is rumoured to be working with them on songs for their debut album. Perhaps not surprisingly with their steady tempos and art house cinematics, SAY LOU LOU are also being thought of as a female HURTS, having recently supported Messrs Hutchcraft and Anderson on tour in Europe.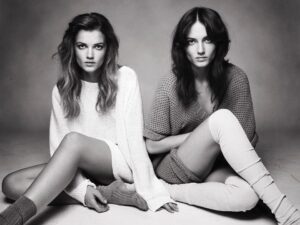 The B-side of 'Julian' entitled 'Fool Of Me' which features Australian singer Chet Faker is a highly tasteful compliment to the main feature.
While it is difficult to fully judge the potential of any new act with such as small catalogue, ELECTRICITYCLUB.CO.UK did get it right with CHVRCHES and VILE ELECTRODES. So here's to SAY LOU LOU delivering further on their brand of shimmering escapism.
---
With thanks to Sophie Sarigiannidou of MARSHEAUX
'Julian' b/w 'Fool Of Me' is available now as a download or 7 inch vinyl
http://www.facebook.com/SayLouLoumusic
https://soundcloud.com/sayloulou
---
Text by Chi Ming Lai
18th May 2013