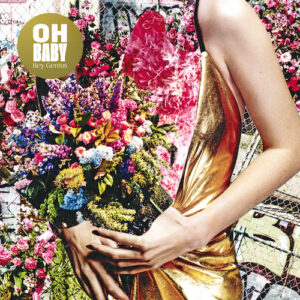 "We want it to sound like the truth, and we want it to be the sound of two people with a passion" say OH BABY.
Distant cousins, OH BABY are Rick Hornby and Jen Devereux who set up an outdoor home studio during the Summer of 2020's lockdown. Acquiring an old Roland Juno, a Korg MS20 and Boss DR55 Doctor Rhythm, they began working by trial and error while making the most of the limitations of the equipment at their disposal. Although this was partly for financial reasons, they avoided being overwhelmed by choice, a trap that many fall into with the music software available today.
Fascinated by the fact that the human body has a very small electrical current running through it, the idea of electricity creating emotion became a compositional muse on 'Hey Genius', the five track follow-up to their more guitar led 2019 debut EP 'The Art Of Sleeping Alone'.
Featuring an appealing vocal and occasional guitar to provide syncopation, the minimal synthpop of 'Cruel Intention' touches on the uncertainties of personal relationships and the dangers of not knowing someone until their mask is lowered when it is far too late! Meanwhile, with an electro-funky resonance, 'I Need Somebody To Love Tonight' throws in some airy moods for the dancefloor.
Despite featuring more prominent guitar, 'L.I.A.R.' heads towards nocturnal synthwave with its synthetic bass throbs sweetened by exotic percussive traits. 'High-Teens' adopts a metronomic groove towards a club friendly synthetic post-punk amalgam to offset the girly tone. With a processed drum box, 'In Her Car' works within a spacious collage of synths, bass sequencing and six string, with room to breathe vocally to come over like BLONDIE meeting THE CURE.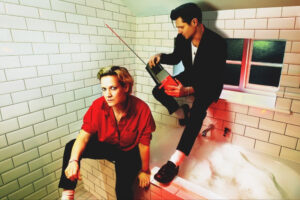 Extremely well produced and superbly sung, 'Hey Genius' is an accomplished body of work. While primarily electronic in construction, the use of guitar adds a twist that sets OH BABY apart from other modern British electronic duos and recalls a time when synths and conventional instruments sat side-by-side in the pursuit of pop. While not nostalgic by any means, OH BABY provide a fresh take on those past eras without actually sounding like anyone from that time at all.
---
'Hey Genius' is released by Burning Witches Records, available via the usual online platforms and on special limited edition gold colour vinyl with insert print and download card at https://burningwitchesrecords.com/releases/oh-baby-hey-genius
https://www.facebook.com/ohbabyband1
https://www.instagram.com/weareohbaby/
https://open.spotify.com/album/1d7iGlPacMFL1ZyoUWCPsr
---
Text by Chi Ming Lai
23rd July 2021