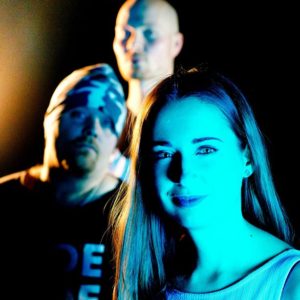 Swedish synthpoppers TRAIN TO SPAIN have recorded their best song yet in their new single 'Believe In Love'.
Highly exuberant and featuring a poptastic four chord progression, the track is to first to feature producer Lars Netzel aka NOT LARS as a full-time member.
'Believe In Love' develops on the promise of their debut album 'What It's All About' released in 2015 and significantly features more space within Jonas Rasmusson's classic synthpop framework for lead singer Helena Wigeborn to work in.
Jonas Rasmusson has been releasing music as TRAIN TO SPAIN since 2011, but it wasn't until the recruitment of Helena Wigeborn in 2013 that things begin to gather momentum. With Lars Netzel, who did the final mixdown of 'What It's All About', now joining the duo, TRAIN TO SPAIN's journey has taken an exciting new route while still heading towards the same destination of synth city.
In an interview earlier this year, Jonas said: "There are only good things about having Lars as a full time member. We complete each other just great". Helena added: "On 'What It's All About', Lars was putting his effort into mixing. As a full member, he will be involved from the start with all tracks and most probably write new songs together with me and Jonas, he's got some interesting pop-tricks up his sleeve"… and indeed he has!
---
'Believe In Love' is released as a download single, available from
http://subculturerecords.bandcamp.com/album/believe-in-love
https://www.facebook.com/pages/Train-To-Spain/252355014792419
https://twitter.com/TrainToSpain
---
Text by Chi Ming Lai
14th February 2016