As described by Andy Bell himself, Torsten has been "the biggest challenge of (his) career so far".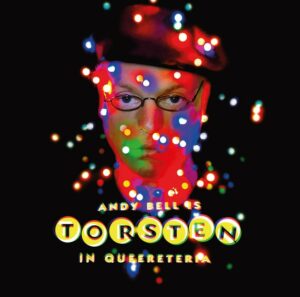 Having released solo projects before, 2014 saw the birth of an age-defying polysexual in a stage production that bent genres and shook values, shocking as well as eliciting love and empathy towards the wounded figure of a hedonistic individual who endlessly looks for love and acceptance.
The first in the series, 'Torsten The Bareback Saint', was "sporadic, psychotic, quite confusing to people" according to Bell, describing the hero's early days, his time as a schoolboy, the first jobs, the first loves of both sexes as well as Torsten's fragile mental state.
'Torsten The Beautiful Libertine' painted a clearer picture of his character, delving deeper into the past and showing the cracks in his existence. It's the tale of a man who "finds himself in extraordinary circumstances" and simply trying to continue his endless being.
Written as a collaboration between Andy Bell, poet playwright Barney Ashton-Bullock and the musical genius of Christopher Frost, the Torsten productions enjoyed viewings during The Edinburgh Fringe Festival and a four week run at Above The Stag Theatre in London respectively.
And now Torsten returns 'In Queereteria', which covers four acts depicting various aspects of the semi-immortal's life story and his self-realisation.
Act one, entitled 'Remembrance, Youth and Beauty' ushers the sadness that defines Torsten's existence, the eternal fight that goes on in his mind, the realisation that his "beautiful libertine" times will pass, and 'A Hundred Years Plus Today' he may or may not be here. While 'You Stampede An Open Wound' of a "broken man", this bossa nova deepens the melancholy further, leading "so far from home" on 'Lowland Lowriders'.
The nautical sounds of 'I Am Of The Sea' float ominously over the storms of life, fighting the tempest of survival over the "seven seas from home".
The second act, 'The Hedonism And The Hurting' brings back the city lights in 'Cabaret Awayday'; a highly melodic piece which crudely describes the random sexual encounters "in a toilet cubicle" under "flickering strip lights" performing the chosen "subtle perversion". But it is the 'Queereteria' club with its "musical diarrhoea" where the debauchery reigns above all, even 'If We Want To Drink A Little', while duetting with Hazel O'Connor.
'Bitter Regrets' is Act Three, where 'Thou Shalt Be My Vibe' portrays an intoxicated Torsten, who's realised he's hit the bottomless hole. The rent boy status of 'Money With Menaces' doesn't seem to suit him anymore, while he tries to deny the fact his drinking is beyond control in 'Let's Be Sober Another Time', even inviting his remaining acquaintances to 'Come And Taste My Breakdown'. Like in a dark circus of "insanity and breakdown", Torsten seems to lose himself thoroughly.
Some balance is restored in Act Four 'To Mourn And To Miss', seeing an older Torsten who's trying to distance himself from the years of partying and loose lifestyle. 'To Know Good Men From Perverts' is a lesson of being able to distinguish between those who wish one harm and those whose intentions are pure. The leading single from the album, 'We Haven't Slept For Twenty Years', describes the crazy times of constant over indulging "cruising for kicks" and "not giving a toss years" with a romantic approach, as if watching one's life like a series of slides. Incidentally, the song has also been separately remixed by the Welsh duo SHELTER, with frontman Mark Bebb providing additional backing vocals.
A tribute to an aged lover recently lost is presented in 'Silence Is Golden'. The closing 'Not Opting Out' brings the realisation that Torsten's life may be coming to an end, yet he's still adapting to the changes it's bringing, even if it's becoming harder and harder to keep up.
'Queereteria TV' is scheduled to open to audiences at Above The Stag Theatre in London, where Torsten finds himself in post-apocalyptic Britain, wanting to reinstate live TV transmissions from 'Queereteria' cruising club. This time joined by Peter Straker of 'Hair' and 'Doctor Who' amongst others, alongside Barney Ashton-Bullock and Christopher Frost, Andy Bell is likely to bring Torsten to life again, signing his heart out, portraying the melancholy and sadness of Torsten's long existence.
---
'Torsten In Queereteria'
is released by Cherry Red as a CD and download on 12th April 2019; available from https://www.cherryred.co.uk/product/andy-bell-torsten-in-queereteria-cd/
Andy Bell stars in 'Queereteria TV' at Above The Stag Theatre from 10th April to 28th April 2019, this is a musical comedy set in a post apocalypse Britain where three egotistical misfits attempt to reinstate live TV transmissions from the infamous 'Queereteria' cruising club. It also stars Peter Straker alongside the other two members of 'Andy Bell is Torsten' collective, Barney Ashton-Bullock and Christopher Frost – tickets available from: http://www.abovethestag.com/vxl/whatson/torsten/
https://www.facebook.com/officialandybell
https://twitter.com/AndyBell_info
---
Text by Monika Izabela Trigwell
9th April 2016