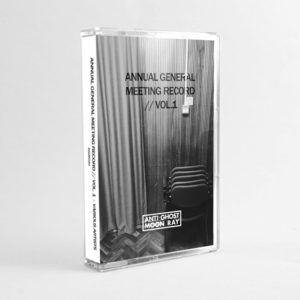 Since establishing itself in 2010, the Brighton based artistic co-operative Anti-Ghost Moon Ray has successfully launched acts such as GAZELLE TWIN and BERNHOLZ to a wider audience, thanks to the patronage of key veterans such as JOHN FOXX and BLANCMANGE.
With a manifesto that "explores common ground in a strong aesthetic approach towards art, film, music, technology, science, and nature", the collective's founding quartet also includes ACQUAINTANCE and GREAT PAGANS.
To start 2016, Anti-Ghost Moon Ray have curated a compilation entitled 'Annual General Meeting Record – Volume 1', with profits in aid of Médecins Sans Frontières (MSF), an organisation dedicated to providing independent aid for victims of war, disease and famine across the world.
As well as featuring new music from GAZELLE TWIN, BERNHOLZ, ACQUAINTANCE and GREAT PAGANS, 'Annual General Meeting Record – Volume 1' also includes a variety of artists from outside of the collective. The result is a collection of "diverse electronic music ranging from contemplative, crystalline ambience to overdriven tape canons and experimental dance".
It begins with the cascading sequenced magic of 'Septobel' by Anti-Ghost Moon Ray associate BENGE; it's a track that will be appreciated by anyone who has loved his 'Twenty Systems' tribute to the history of the synthesizer, or the more transcendental side of his work with JOHN FOXX & THE MATHS.
But contrasting the mood almost immediately is 'Ravoir', an industrial flavoured collage by AUSSCHUSS utilising chorals, metallics and gunshots. This sets the scene for three more experimental excursions, from the Gothic ambient drone of BERNHOLZ's '33' and GREAT PAGANS' abstract statement 'Disquiet' to some futuristic sound sculpturing from German artist NIKA SON. More conventional in comparison though with a chattering drum box and primitive string machine is the appropriately titled 'Fizzy Logic' by DEEDS.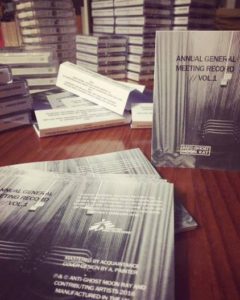 With a distinctly uptempo template, the squidge fest of 'Polite Applause' by ACQUAINTANCE begins like KRAFTWERK through a drum 'n' bass filter.
Following ROSEN's eerie instrumental piece 'Iliim', GAZELLE TWIN continues to demonstrate her interest in the metaphysical with the spacious 'Outer Body'; driven by a Geiger Counter, the glitchy patchwork of sounds merged with her voice provides an intriguing listen.
Meanwhile 'Slipping' is the work of DON'T LOOK, a young Hastings based bedroom producer. A Sci-Fi drama building around a hypnotic rhythm construction and assorted 'Clangers' noises, its inventiveness should not be entirely unexpected, given his links to VILE ELECTRODES.
FUTURE IMAGES' digitally percussive broadcast montage 'Resolute' livens up the pace again, before the closing 'New For You!' from CARDINAL FANG begins with simultaneous radio noises in the spirit of JOHN CAGE's '12 Radios'; however, a lead vocal unexpectedly appears amongst the lo-fi noisescape. While possibly well-intentioned for variety, the track does spoil the continuity of what has been until this point, a cohesive wordless listening experience. But this is a minor quibble to what is in the main, a well-thought out compilation.
Despite there being twelve artists involved, the esoteric concept of this collection does provide an inventive thematic core. In an age of attention seeking and "buy me" culture, this understated compendium of artistic integrity is a worthy 49 minutes of your time, and all for a good cause too.
---
'Annual General Meeting Record – Volume 1' is available now as a download or cassette from
https://antighostmoonray.bandcamp.com/album/annual-general-meeting-record-vol-1
All profits are in aid of Médecins Sans Frontières – Doctors without Borders (MSF)
http://www.antighostmoonray.com/
https://www.facebook.com/antighostmoonray/
---
Text by Chi Ming Lai
9th February 2016