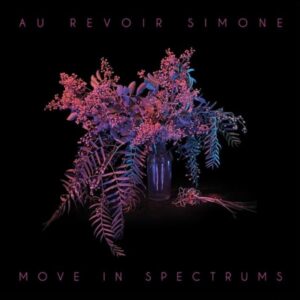 AU REVOIR SIMONE released their last album 'Still Night, Still Light' in 2009 and from it, 'Another Likely Story' was their breakthrough to wider acceptance.
But while songs such 'Tell Me'showed there was nothing awry with their songwriting, an epic gothic disco reworking by MIRRORS and a bouncily percussive reinterpretation by VILLA NAH indicated that production and arrangement wise, the threesome's numbers were maybe not always fulfilling their potential.
After three albums in four years, the studious trio took a well deserved break.
Annie Hart started a family, Heather D'Angelo completed her University studies while Erika Forster took a buswoman's holiday and released a solo EP as ERIKA SPRING which included a cover of EURYTHMICS' 'When Tomorrow Comes'.
On reconvening, the threesome's drum machine guardian Heather D'Angelo expressed her concerns that after three albums, ARS' instrumentation manifesto was becoming too restrictive to develop much further. Thus after eschewing the perils of the drum kit since their formation, 'Move In Spectrums' becomes their first album to fully embrace nosier live percussion. But interestingly, although a drummer James Richardson performs on two tracks, the girls' approach on the rest has been to tackle the duties themselves, much like the early days of OMD when Paul Humphreys took on the percussive role.
Indeed, on the opener 'More Than', the combination of the looser rhythmical template, deep drones and organic swimmy synths evoke the atmospheres of early OMD. 'The Lead Is Galloping' is dark and mature but following on, there's a surprise with the album's second single 'Crazy'. With a harder, almost rockier NEW ORDER guitar driven sound, the resigned refrain of "Ooh, you girls, you drive me crazy…" empathises with the more aggressive backing and shows that AU REVOIR SIMONE are in reality, more CAMERA OBSCURA than MARSHEAUX.
Producer Jorge Elbrecht of VIOLENS has noticeably beefed up the dynamics but while the fresh rhythmical outlook adds a new dimension, the classic ARS hallmarks of repeated synth riffs and drum machine still remain, particularly on the DMX dominated 'Just Like A Tree' and the mechanical conga drive of the sweet launch single 'Somebody Who'.
There are also several other interesting diversions on 'Move In Spectrums'; 'We Both Know' for example is instrumental for over three of its four and half minutes with the tension building up accordingly while 'Hand Over Hand' mutates into something boomingly hallucinogenic. 'Gravitron' on the other hand is decisively militaristic before the drifting wispiness of 'Boiling Point'.
Otherwise, the usual down-to-earth, charm of the trio exudes over a melancholy that is never depressing but always tinged with hope.
However, one regular criticism of AU REVOIR SIMONE in the past has been that they can usually only be sampled in small doses.
In that respect, 'Move In Spectrums' doesn't change that, especially with the album's washy, chilled-out but noodling final third. The timely solution may be that elusive AU REVOIR SIMONE 'best of' compilation; "Smithers… release the album!" 😉
---
'Move In Spectrums' is released by Moshi Moshi Records as a CD, vinyl and download
https://www.facebook.com/aurevoirsimoneband
---
Text by Chi Ming Lai
25th September 2013