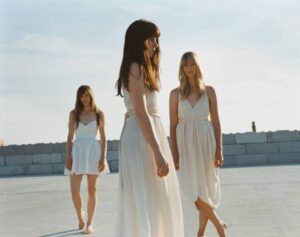 Brooklyn's AU REVOIR SIMONE have returned with a stylish new video for the song 'Somebody Who' to launch their highly anticpated new album 'Move In Spectrums'.
In it, Erika Forster, Annie Hart and Heather D'Angelo have glammed up for what looks like Hello magazine shoot in a stately home but retaining their girl next door aura, they poke fun at the process by brushing their teeth and blowing bubblegum.
It's been four years since their last long player 'Still Night, Still Light' and during this period, Annie has started a family while Erika Forster released a solo EP in 2011 as ERIKA SPRING.
But the girls are back with their psychedelic electro sound. 'Somebody Who' beefs up the dreamy earthy atmospheres of previous single adventures 'Another Likely Story' and 'Tell Me'
which incidentally was given a tremendous gothic disco makeover by MIRRORS in 2010! However, 'Somebody Who' still retains the band's trademark triple keyboard eloquence with repeating riffs and counter melodies but embellishing with more noisier off-kilter synth elements than previously heard on their work.
The trio started out when Erika and Annie exchanged stories on a train journey home and realised that they had a common desire to form an all-keyboard covers band. Heather joined later and they started playing shows locally with a manifesto to make "warm and organic electronic music with forthright female vocalists". They have now earned a reputation for being a most charming live act with the on-stage banter at times coming over like a Casiotone slumber party. The band have announced a European tour including a date at London's XOYO on Tuesday 17th September.
---
'Move In Spectrums' is released by Moshi Moshi Records on 24th September 2013
AU REVOIR SIMONE European Tour Dates include:
Helsinki Tavastia (13 September), Leffinge Festival (14 September), London XOYO (17 September), Paris Nouveau Casino (18 September), Kaserne Basel (19 September), Zurich Stall 6 (25 September), Rimini Sala Vertigio (26 September), Roma Circolo deli Artisti (27 September), Berlin Kantine am Berghain (30 September), Prague Meat Factory (1 October)
https://www.facebook.com/aurevoirsimoneband
---
Text by Chi Ming Lai
8th August 2013